[ad_1]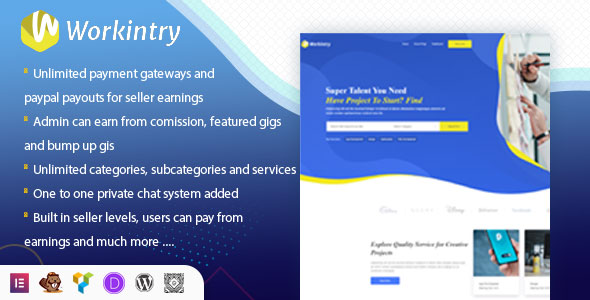 Promotional price is only for limited time actual price will be $99
Demo Login Details for Workintry WordPress plugin demo website
https://workintry.theme-zilla.com/
User Name: rayan
Password: rayan
Features List
Workintry is rich in features and here are glimpse of features available
Free or Paid option to set your business website as free or paid one
Allow free gigs upon registration, great for promotions
Earn from featured gigs, bump up gigs and gigs commission
One to one real time chat system included
Built in user dashboard system
Seller can pay from his/her earnings
Unlimited payment gateways
One click admin payouts options to pay to sellers
Adman can set commission of his/her own choice
Built in stats and analytics
Built in seller levels from fresh seller to top rated one
PayPal payouts added
Seller profile page added
Unlimited categories
Unlimited sub categories
Unlimited services
Each service can have unlimited multi services
Can be used for almost any digital freelance business
Easily extendable
Built in shortcode builder
Email notifications
Approve gigs by admin or auto approval
Seller rating system included
Full video guide coming soon as well
Best and dedicated support
Free future updates for lifetime
Question: Can I create categories, sub categories, services and service items of my own choice ?
Answer: Yes you can. Create as many items as you want and it will work perfectly.
Question: Can I change commission and earning settings ?
Answer: Yes you can. You have every single setting to set commission in percentage, minimum payment amount withdrawal limit for sellers, and much more
Question: Can I get this theme ?
Answer: We are using our own premium theme but few first buyers can get this theme free from us.
Question: Can I set limit of free gigs for seller ?
Answer: Yes admin can set free gigs limit. Admin can also set free or paid system and can also set options to approve gigs manually or automatically.
What about refunds and disputes ?
Answer: Our new extensions are coming soon for email templates, disputes and refunds.
Proudly developed with metabox io plugin
Note: We are using websocket based one to one chat system so you should consult with your hosting if it can run on your server. But the orders chat will work on any server and if anything is wrong our team is there to support you
[ad_2]
Source