[ad_1]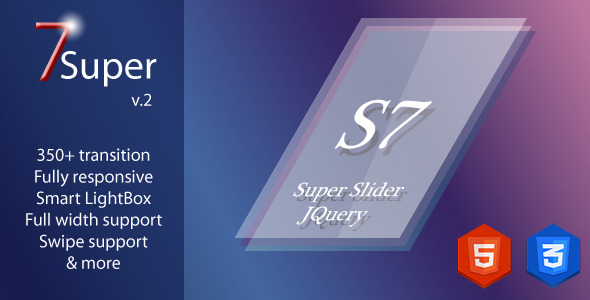 Current Version: v. 2.0.0
Compatible with: jQuery 1.10+, jQuery 2.0
Requirements jQuery 1.8.3+
LOOKING FOR THE WORDPRESS VERSION? CLICK HERE!
General Overview
Super 7 is one of the most complete image slider ever.
It is built in latest jQuery and mobile compatible so anyone can easily use it without any restriction.
And it is fully responsive and modern features like Video embed,Smart Lightbox are supported which make it more stunning.
Specially designed for anysize image adaption and speed is optimized as well.
Supports plenty of 2d/3d transitions so users will have great choice of modern & smooth animations.
It's especially flexible for users to customize which makes the slider most complete ever.
If you like Super 7 , don't forget to leave us 5 stars.
.
Key Features
350+ wonderful animations(2d,3d) – Animations will come more as new version released.
Easy to implement and customize
Unlimited slides – Users can insert as many slides as he wants.
Unlimited Title Caption
Native browser support
Html5/Css3 transitions support – It uses html5/css3 transition for modern browsers.
Image Overall Loading – Super 7 loads all images at once so that he/she doesn't wait again while slides.
Image Preview support – Super 7 provides image preview option on hover.
Customizable width and height – Width and height can be set.
Fully responsive – It's fully responsive so it can be attached in touch device.
Full width functionality involved – Full width slider is available
Lightbox support – It supports lightbox based on users' demand.
Touch device support – Touch events are supported.
Mouse swipe navigation support – Swipe functionality is available so users feel comfortable to navigate.
Video content support(Youtube,Vimeo) – Embeded videos are supported.
Carousel support – Carousel viewmode is supported.
Bullet support – Bullet viewmode is supported.
Several customizable skin supported – 6 predefined skins are there and More importantly,Users can customize skin as he wants.
Keyboard navigation available
Multiple browser configuration(IE8+,Opera,Chrome,Safari,Firefox)
Automation support
Progressbar type can be set(linear/circle)
Support
The followers of Super 7 are always supported by us.
For any complaint or queries, Do not hesitate even a sec to contact us who will be happily assisting you to solve the problem.
Credits
Many thanks to all of them who made this slider come into the world.

jQuery: http://jquery.com/
jQuery Easing Plugin: http://gsgd.co.uk/sandbox/jquery/easing/
jQuery Flippy Plugin: http://guilhemmarty.com/flippy
jQuery Knob Plugin: https://github.com/aterrien/jQuery-Knob/blob/master/js/jquery.knob.js
jQuery Modernizr Plugin: http://modernizr.com/download
jQuery SliceBox Plugin: http://tympanus.net/codrops/2011/09/05/slicebox-3d-image-slider/
Monkey Patch: https://github.com/zachstronaut/jquery-animate-css-rotate-scale
Background Texture(textured_stripes) : http://subtlepatterns.com/
Update/Release Log
12/5/2013: Version 2.0.0
100 Animations added to the list
Swipe functionality improved with 4 directions
Touch functionality improved
User Interface Improved
Lazy Loading && Smooth Transition
Anchor Hyper Link Function
4 More API Added
Smart Light Box
Pause on Hover Function
Known Bugs Fixed
10/23/2013: Version 1.0.1
70 Animations added to the list
Swipe functionality improved
Touch functionality improved
Keypress bug fixed
10/21/2013: Version 1.0.0
Initial Release
[ad_2]
Source