[ad_1]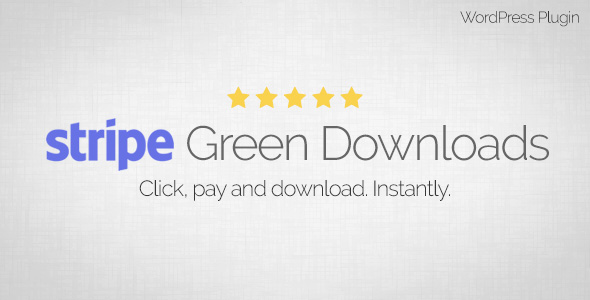 Stripe Green Downloads is a plugin that allows to sell files and accept major credit cards (through Stripe). Workflow is handled by smart CSS3 button: customer click the button, submit credit card details and download file instantly.
Features
Stripe integration. Easily configure the plugin to accept payments through Stripe with Strong Customer Authentication.
Native button or any link. Use native button or attach functionality to your own link, button and menu-item (any <a>-element) using "href" attribute.
Button styling. Easily style payment button with overall styling settings. Tons of options for any needs.
Encrypted download link. Plugin generates encrypted download link that is valid for limited time. It's up to you how long the link is valid.
Various file sources. Host files in secured folder, Media Library (WordPress plugin only) or anywhere on your server.
Amazon S3 supported. If necessary, host files in Amazon S3 bucket and generate temporary link to access them.
X-Sendfile supported. Download huge files through X-Sendfile mode if mod_xsendfile module installed on your server.
Free downloads. Let your visitors to download some files without payments.
Email notifications. Send custom email notifications to buyer and administrator after successful payments.
Button/file statistics. Collect statistics of button impressions, payments and downloads for any file for any period.
Remote use. Easily embed any payment (download) button into 3rd party sites (just copy-paste couple JS/HTML-snippets).
CSV export. Export all download links, payment transactions and details into CSV-file for further processing.
Performance optimized. Plugin is well optimized for better performance. It doesn't affect the Google PageSpeed Insights score.
Multisite ready. (WordPress version only!) Plugin is ready for multisite installation.
Best Practice. (WordPress version only!) Plugin was built according latest WordPress guidelines. No alerts from Plugin Check and WP_DEBUG.
Front-End Demo
Visit demo page and try the power and simplicity of the plugin.
Back-End Demo
Try the power of admin panel by yourself.
Admin panel: https://halfdata.com/green-downloads/…
Login: demo
Password: demo
Installation
Stripe Green Downloads is a WordPress plugin and it is installed as regular WordPress plugin.
Go to WordPress dashboard and click left side menu "Plugins >> Add New".
Click "Upload" link and upload zip-archive downloaded from CodeCanyon.
Activate uploaded plugin.
If you have any difficulties with uploading zip-archive, please do it manually using FTP.
Use any FTP-client to connect your server.
Unzip archive downloaded from CodeCanyon.
Upload unzipped folder to plugins directory: /wp-content/plugins/
Go to WordPress dashboard, click left side menu "Plugins" and activate uploaded plugin.
Once installed and activated, plugin creates "Green Downloads" menu section in left side menu. All further actions, related to plugin functionality, are done through this menu section. Please read documentation.
Updates
Download latest version of the plugin from CodeCanyon and overwrite exiting files in folder /wp-content/plugins/halfdata-stripe-green-downloads/ by new ones.
You won't lose data and settings. They are stored in MySQL database.
Requirements
Your WordPress-driven website and server must match the following requirements. All modern servers already do it.
WordPress version 4.6 or higher.
PHP version 5.5 or higher.
MySQL version 5.0 or higher.
Support
If you have problems regarding using the plugin, please contact us and we'll help you ASAP.
Changelog
Please visit Changelog and check out what we added/fixed in latest version of Strip Green Downloads.
[ad_2]
Source