[ad_1]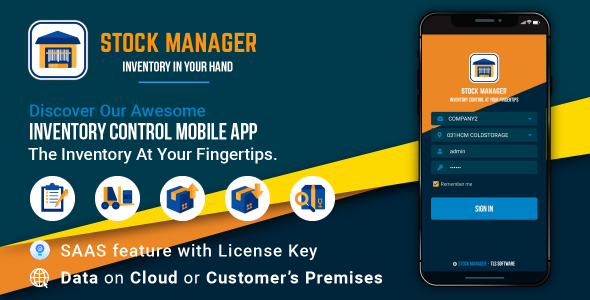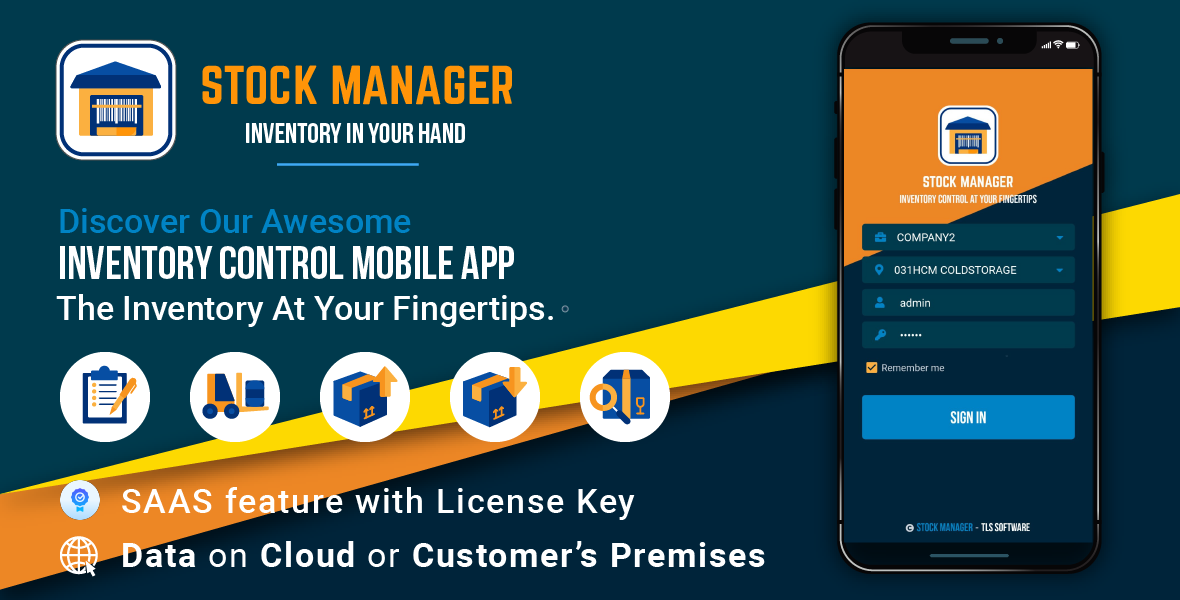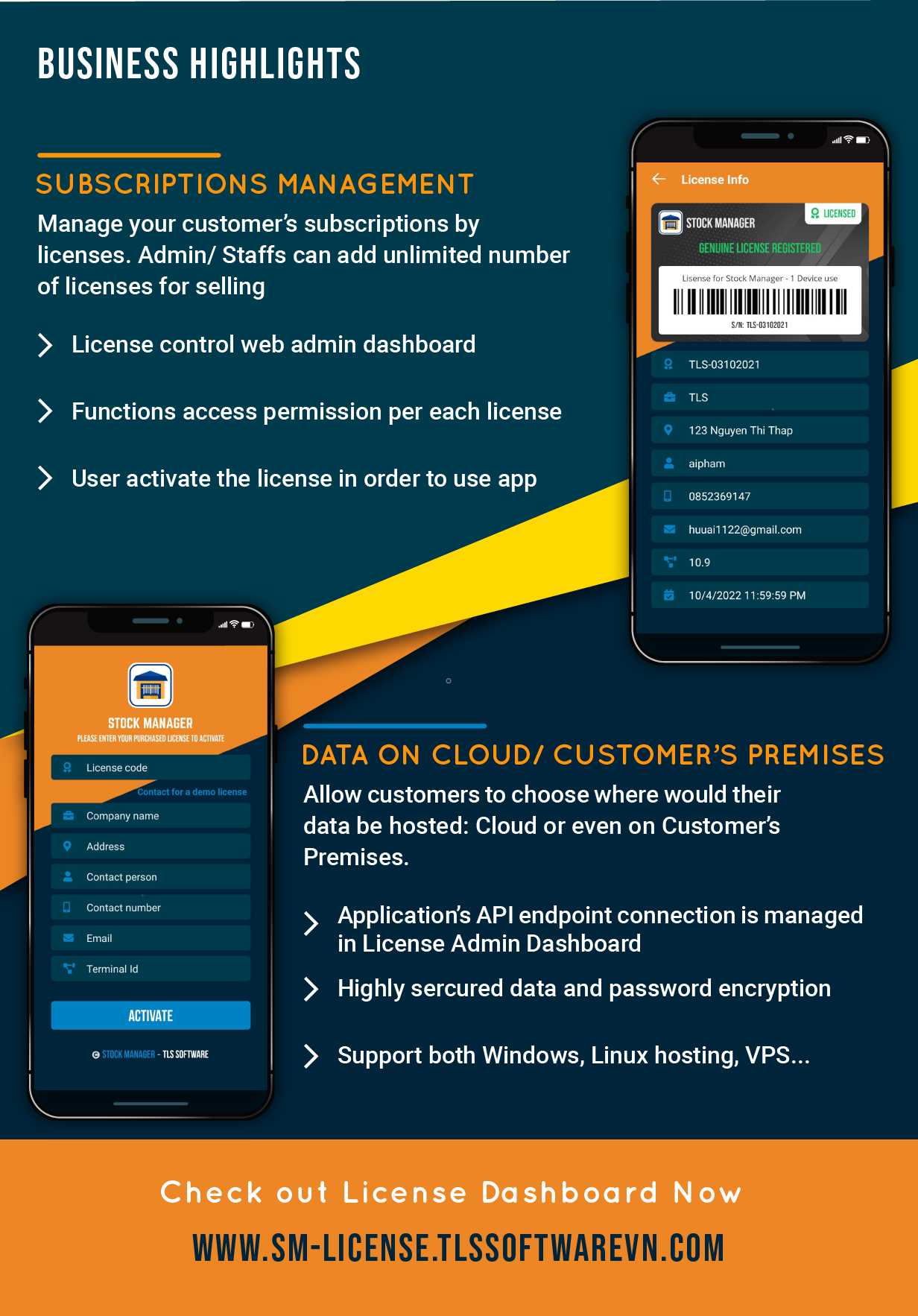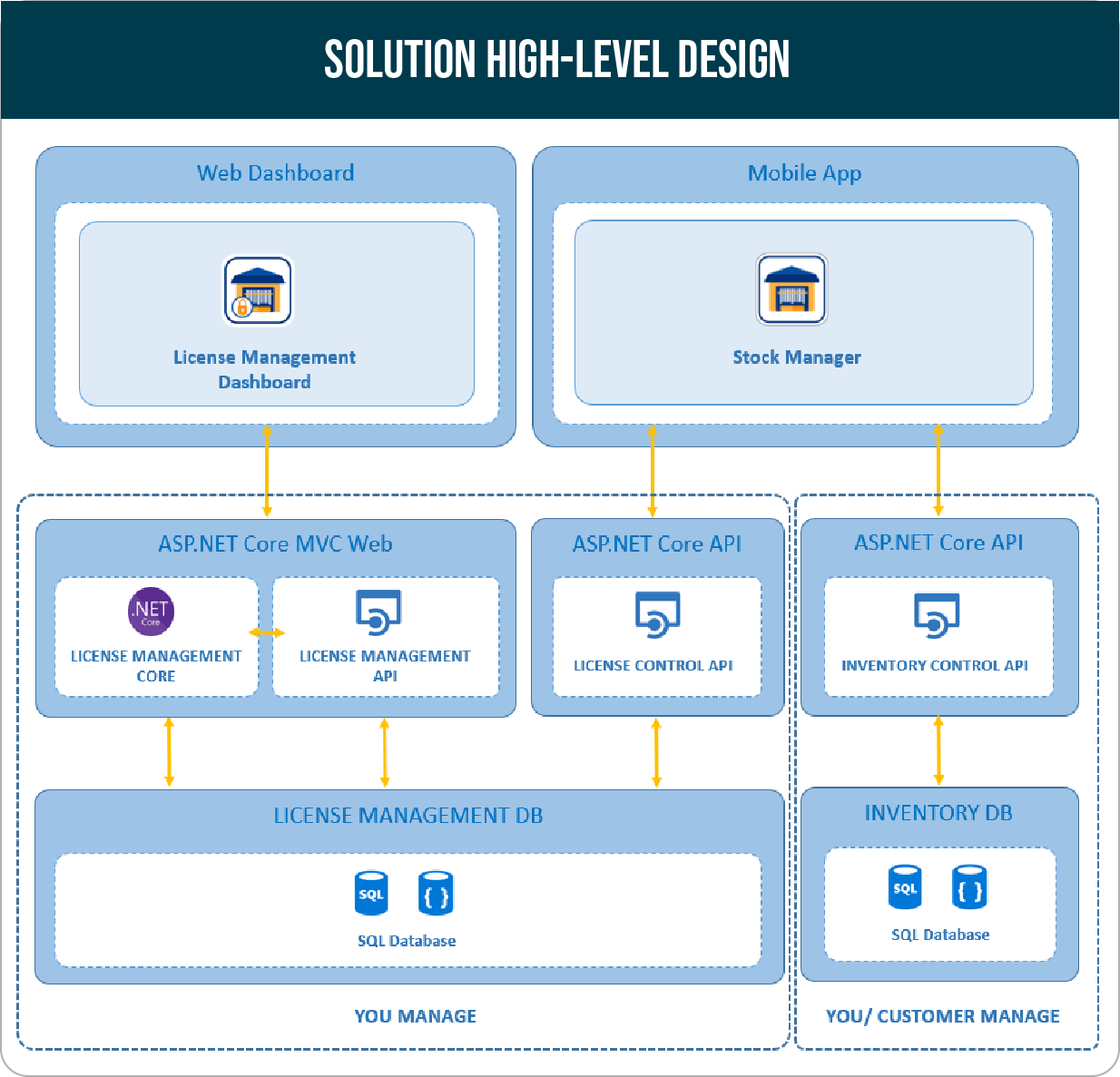 Demo Information:
How it work?
Step 1: Create new License Key in License Management Web Dashboard,
Step 2: At License Activation screen in mobile app, enter the License Key to activate your device,
Step 3: A Login screen will appear once activated, use default credentials to login.
License Management Web Dashboard:
Click here to checkout
Admin credentials:
superadmin@gmail.com | 123Pa$$word!
User credentials:
basicuser@gmail.com | 123Pa$$word!
—–—–—–—–—–—–—–—–—–—–—–—–——-
Android App:
Download from Google Play
Direct APK
Download APK
Admin credentials:
admin | 123456
Staff credentials:
user 1 | 123456
—–—–—–—–—–—–—–—–—–—–—–—–——-
Sync API Server (Inventory Cloud Db)
Click here to checkout
Auth credentials:
Same as mobile app credentials
☕ Stock Manager is a Warehouse/Stock Management Solution that runs on your mobile devices
With Stock Manager, you can now handle all Warehouse/Stock Inventory activities including Good Receive, Delivery Order, Stock Transfer, Stock Take, Purchase Order and GAP Check directly from your mobile devices.

☕ Turn Stock Manager into Your New Business Opportunity
– You can sell Stock Manager to your customers as a service by selling License.
– The Licenses is managed in a Web Admin dashboard.
– Highly flexibility structure that allows customers to host their database in Cloud or Self-hosted.
– Admin/Staffs can create unlimited number of license for selling.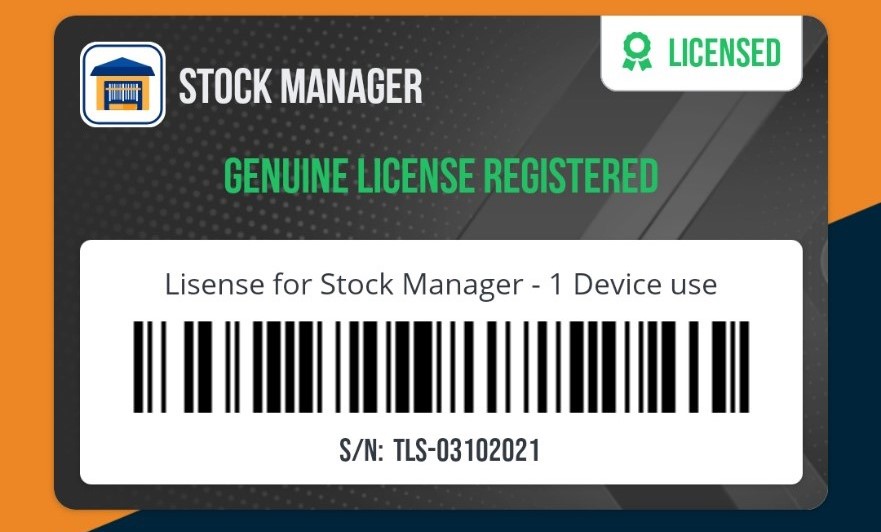 License Web Admin Dashboard features
1. User Management Module:
Login
Registration
JWT Authentication (WebAPI)
API: with Swagger documentation
User Profiles
Permissions Management
Role Management
2. License Management Module:
License management with customer details
Add, View, Update or Delete licenses
3. Audit Tool:
Access logs: record login history
License logs: record license modification logs
What You Will Get by Purchasing Stock Manager?
Once purchased, you will get full solutions source code, databases and documentation as below:
⚡ License Management Web Dashboard with Database and API)
– All Web + APIs are developed using latest ASP.NET Core Framework (.Net 5.0)
⚡ Android Mobile Application with Cloud DB API Project
– Built with latest release Xamarin.Forms, targeted Android this time
✨ A Premium, Intensively Documentation
For your quickly getting started with Stock Manager, we made a premium, clean and clear documentation Choose your Theme, save your eyesight with Dark Mode .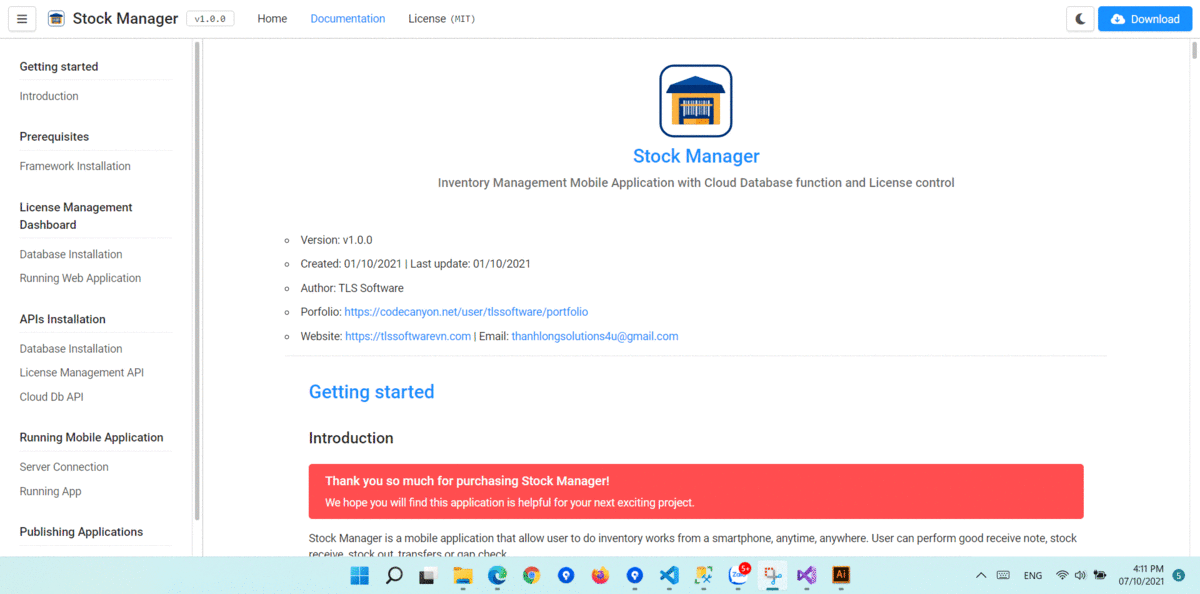 ✨ Bonus App Flyer Design
You will get a nice App Flyer design in AI + PSD format for your campaign or business promotion.
Important Note:

– An Extended License is required when you redistribute, publish and sell this application to your customer. Please purchase the Extended License from Codecanyon in this business case.
Purchase Stock Manager Now!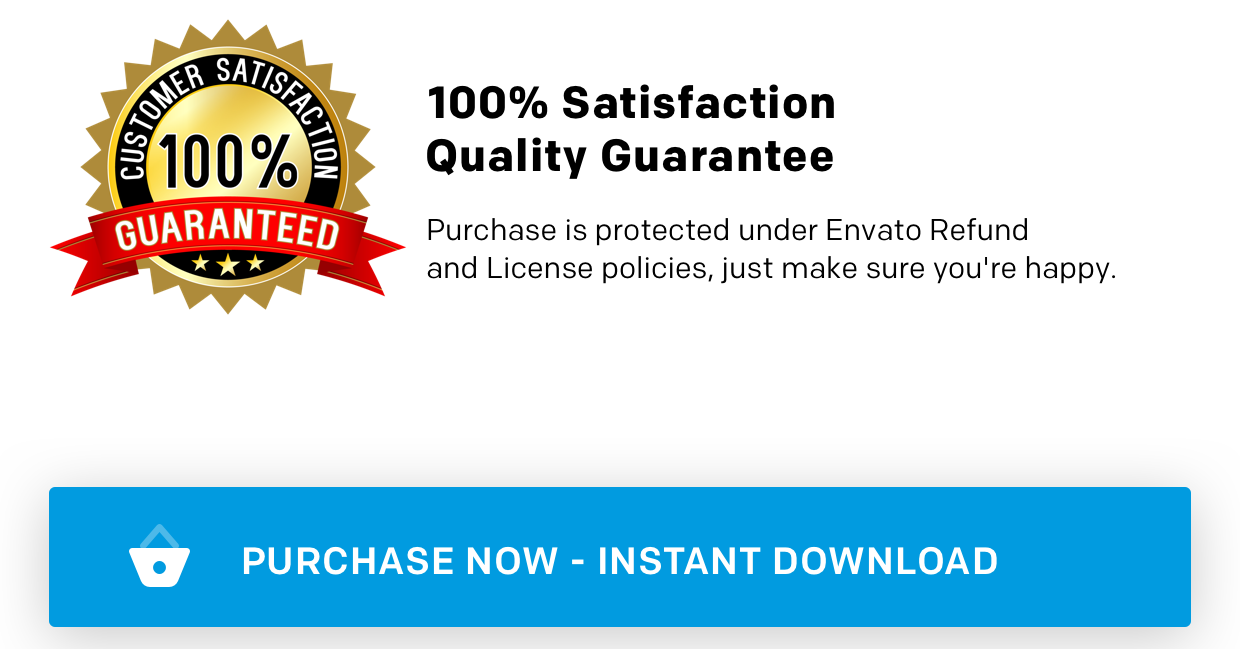 Logs:
Version v1.0.3 – 21 Apr, 2022

   - Upgraded Xamarin.Forms lib to latest stable version (5.0.0.2401)
   - Upgraded Syncfusion components to latest version (20.1.0.47) 
   - Allow to set store avatar in Store setting.

Version v1.0.2 – 12 Nov, 2021

  - License Dashboard: redesign login, register and forgot password pages.
  - Added translation template for all supported languages
  - UIUX enhancements.

Version v1.0.1 – 12 Oct, 2021

  - License Dashboard: added QR code image for license key 
  - Added QR code scanning for license key in Mobile app
  - Fixed crashed issue when tap view inventory records 
  - Fixed crashed issue when importing products
  - UIUX enhancements.

Version v1.0.0 – 9 Oct, 2021

   - Initial release.

[ad_2]
Source