[ad_1]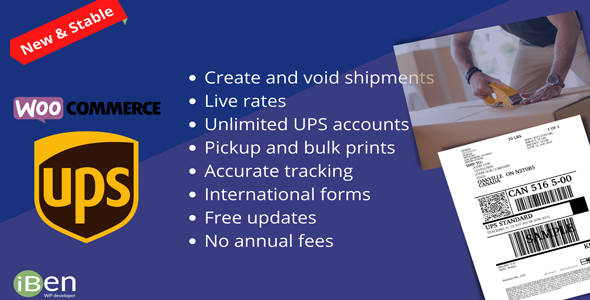 iBen UPS Labels and Live Rates is an all-in-one WordPress/WooCommerce plugin that automates your UPS shipping and tracking. If you are looking for the easiest and most proficient way to incorporate UPS (United Parcel Service) shipping with your WooCommerce Store, iBen UPS Labels and Live Rates for WooCommerce is your one-stop solution.
Generate forward or return shipments, and print labels through your WooCommerce dashboard with a single click.
Fetch live UPS public or negotiated rates, and display on cart and checkout according to user's cart content.
Have full control of complete shipping data for each order before it is sent to UPS servers.
Speed up your online store's ordering process and optimize your procedures to grow your business.
iBen UPS Labels and Live Rates for WooCommerce is designed to meet the needs of growing businesses as well as large online stores with a heavy inflow of orders.
It's fast
Ergonomic
Does not burden the loading speed
Completely automate your UPS shipping and tracking with iBen UPS Labels and Live Rates plugin for WooCommerce, and have peace of mind.
No Annual Fees
Free Updates Forever
Admin Demo
iBen Woo UPS online documentation
6' Video Backend Tour
This plugin does not support Ground freight shipping
Key Features
Display live and Negotiated UPS rates on checkout
Estimated delivery date on checkout.
Add Fees or Discounts on UPS rates based on percent or fixed value
Create pickup and void a shipment
Create and print Label of an individual shipment
Create bulk shipments of selected orders and combine labels into 1 file
Create return shipment and print label with a single click
Re-download UPS labels
Utility to print single labels in custom sizes etc A4, A5, A6
Utility to print bulk selected orders in up to 4 in A4, up to 2 in A5, and up to 1 for A6
Automatically send emails with tracking numbers
Print commercial invoice, Packing, list, NAFTA
Review shipping and get rates before finalizing shipment
Get available UPS access points. Send the shipment to an available access point near to you (Option on administration, not on checkout)
Check the delivery status of all shipments manually or automatically
Tech Advantage
Easiest to use
Simple and clear interface
Shortcodes supported for customization
Ajax-based
Quick response time
Very light, doesn't impact the backend performance
Debug system and tool integrated to send diagnostic report to iBen support
Accessible, desirable, and friendly UX
Unlimited UPS accounts
Different settings for each account
Address classification for US/PR only
Easy to switch from one account to another
International forms supported
Reduce to a minimum of any mistakes
Helps you upgrade the ordering process of your WooCommerce store
Bird's eye view of shipments history in the dashboard for better management
Six months support included in the price
Extended support is available for an additional cost.
How Does iBen UPS Labels and Live Rates for WooCommerce Work?
It's as simple as 1, 2, 3!
Install the plugin, fill in your account details, and enable real time rates and shipping labels.
Customers will see their UPS shipping rates based on products in their cart before placing an order.
After an order is placed, you can manage postage, print labels, and generate tracking information from within the WooCommerce order page.
You can also customize the plugin using various settings, and can also contact our support if you want further customize it to meet the specific needs of your business.
Key Benefits of Using iBen UPS Labels and Live Rates for WooCoomerce
UPS (United Parcel Service) is one of the most popular methods of package delivery around the world, that's why many WooCommerce stores need robust functionality to integrate UPS shipping features within their store. 
iBen UPS labels and Live Rates plugin is the best option for this integration because it is:
Cost effective
Stable
Secure
Easy to use
The best part is that it comes with 6 months of support which can be extended for as long as you need it for a nominal cost.
This is what makes the plugin super efficient and your number one choice:
Simple Setup
iBen UPS Labels and Live Rates for WooCommerce enable you to connect unlimited UPS accounts with your WooCommerce store. Switching between accounts is simple.
Easy to Use Interface
Once the client completes an order, you can create the UPS shipping label for your individual shipments by pressing the button "Create UPS Label". You can also modify your parcel before you print your shipping label and can also print labels of different sizes as per your requirement.
Managing Returns
Dealing returns is also very simple using this plugin. With a simple click, you can print your return labels and send it to the party making the return.
Bulk Labels & Prints
Instead of wasting your time in creating shipments and printing labels for each individual order, you can create shipments in bulk, print shipping labels in bulk, and combine all these labels into 1 PDF file using iBen UPS Labels and Live Rates plugin for WooCommerce.
Shipment History Dashboard
An easy to use dashboard with clear and structured information on shipment history is your step forward to better time management, and making quick decisions to grow your business to the next level!
Pickup & Void a Shipment
Using the plugin you can schedule a pickup for your shipment. Simply set up a date and time for the pickup right from your WooCommerce store and the UPS shipping service will pick up the orders from you once you have requested.
The plugin also provides you the opportunity to void shipment within your WooCommerce store. Within the 90 days of creating your shipping label, you can void your shipment through shipping history. Select the package you want to void and then select void shipment.
Shipment Tracking
Every time a shipping label is printed using iBen UPS Labels and Live Rates plugin, a tracking code is created and included in the order notes. It is also sent to the customer as part of the order completion email. This enables shipment tracking for customers as well as shop owners.
Using the plugin you can also check the delivery of all the shipments manually as well as automatically for better management and to avoid any risk and insecurity.
Live UPS Rates  
iBen UPS labels and Live Rates plugin for WooCommerce once connected to your UPS account fetches the postage and shipping rates from your account for both the domestic and international shipping services.
The rates are determined by box dimension, shipping destination, product weight and other factors which the plugin processes very well and displays the most accurate rates to your customers. You also have five different packaging options to offer competitive shipping costs and improve customer satisfaction.
Why to choose iBen UPS Labels and Live Rates for WooCommerce?
It is highly recommended to install and use iBen UPS Labels and Live Rates plugin for your WooCommerce store because it is one of the most stable and well-structured plugins.
One-time purchase, lifetime benefits
Automation that gives you peace of mind
Personalized support whenever you need it
How Simple is it to Integrate UPS labels & Live Rates to Your Woocommerce Store?
It is only a matter of a few minutes. Install the plugin and follow these simple steps.
Get your UPS User ID from the UPS developer site when you signup.
Set up your UPS Password on your own choice.
Set UPS Access Key which will be sent to you after signup.
Enter UPS Shipper Number. It will also be sent to you after sign-up.
Enter your Origin Postcode from which you will ship. It is sent to the UPS Shipping Application Programming Interface (API).
Set your Origin Country from which you will ship. This will also be sent to the UPS Shipping Application Programming Interface (API).
And you are all set to automate UPS shipping on your WooCommerce Store!
Changelog
2022-03-01 - v1.0.4
Minor: Maximum JS compatibility

2022-02-03 - v1.0.3
Vendors updated
Improve capabilities

2022-02-02 - v1.0.2 - Minor edits
2022-02-01 - v1.0.0 - Initial release

[ad_2]
Source