Latest Version: 1.2.0 – May 16, 2022
Coupons + is an awesome WooCommerce extension that extends the default WooCommerce coupon functions to allow you to create very complex offers & deals like Buy One, Get One (BOGO) deals, discounts on new customers, shipping discounts, tiered & quantity discounts and much more using a very powerful and flexible offers builder. Design almost any type of offer with Coupons +!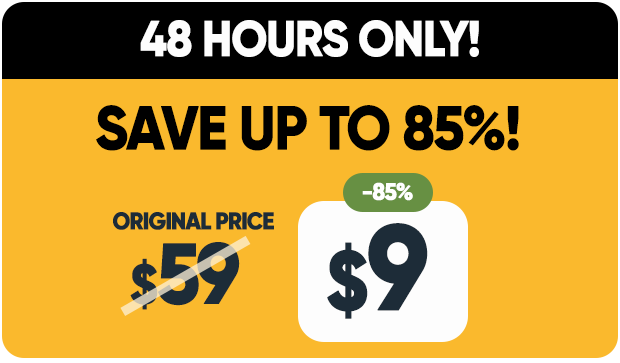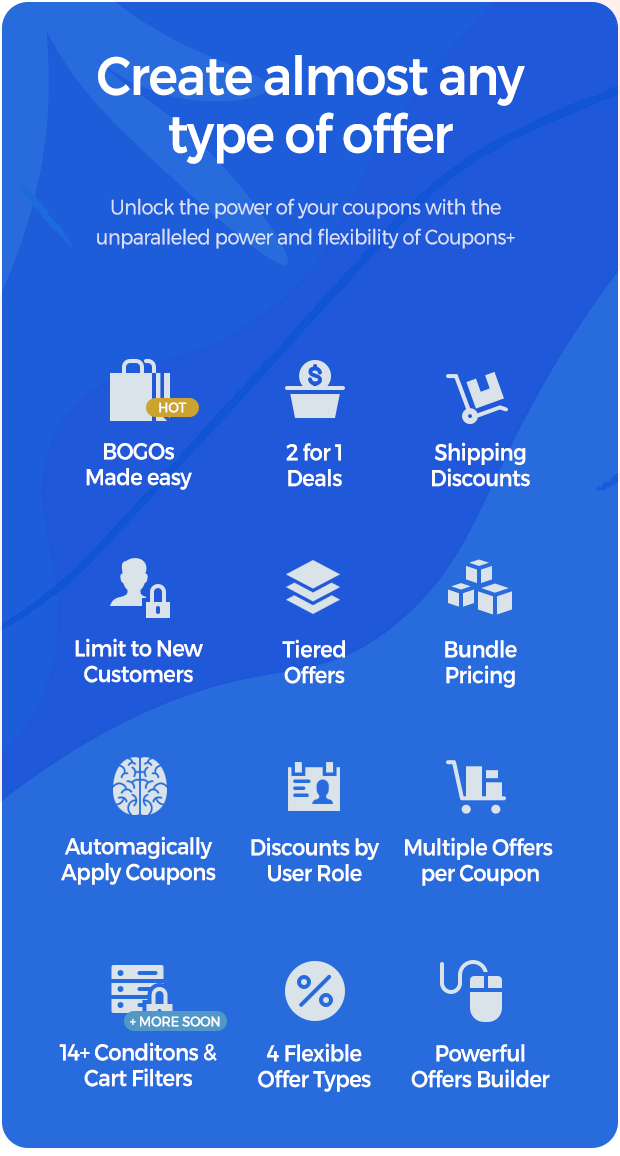 We're here to help – Premium Support

If you don't know where to start, or need help setting up your Coupons+ coupon, contact support and we'll give you personalized recommendations and more. Contact Support Here (Customers Only)
Full Features List
8+ Conditions (+ more coming soon!)

Customer Purchase History
Cart Subtotal
User Role
Checkout Field
Coupon Usage Number Of Times
Customer Type
Custom User Meta
User Registration Time
+ more already in development

6+ Cart Filters

Specific Products
Combined Cost Of Items
Number Of Items
In Categories
In Tags
Featured Products

4+ Offer Types

Extra Product
Discount
Bundle Pricing
Shipping Discount

5+ Column Types

Simple
And
Or
Tiered
Multi

Powerful offers builder
Automatically apply coupons
20+ built-in presets
Advanced quantity & tiered discounts
One-click presets import
Create fixed-price bundle deals
Offer shipping discounts
Limit to new customers
Offer different discounts based on user role, number of times used, amount of items, cart subtotal + more
Full WooCommerce Support
FREE lifetime updates
Premium Support with personalized recommendations
Clean code – 1500+ passing automated tests
Updates (Changelog)
VERSION 1.2.0 – May 16, 2022

#NEW: Location condition. You can now restrict offers based on the location of the customer and/or shipping address.
#UPDATE: Columns now display their type before the close button.
#UPDATE: Added some missing translatable strings.
#FIX: Fixed server error with cookies on the front-end of some servers.
#FIX: Improved WooCommerce dependency functionality.

VERSION 1.1.3 – Minor Update – May 8, 2022

#UPDATE: Some sites were having problems with the cookies on the admin side. This minor bug has been fixed.

VERSION 1.1.2 – Minor Update – May 6, 2022

#UPDATE: Improved support for javascript translations as well as setting a preferred directory for translation files.

VERSION 1.1.1 – Minor Update – May 4th (b w/ u), 2022

#UPDATE: Improved support for translation strings

VERSION 1.1.0 – Major Update – Internal

#NEW: ExtraProduct can now add products dynamically from the filtered items.
#UPDATE: improved the filters and conditions algorithm when using ExtraProduct.

Source