[ad_1]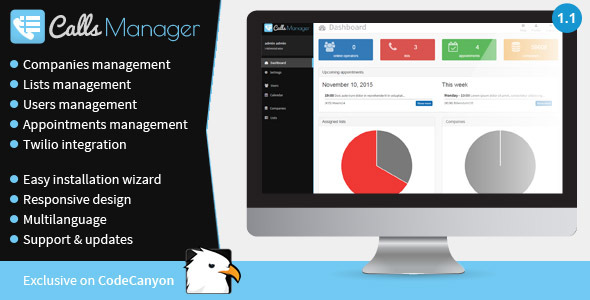 This version of Calls Manager will no longer receive updates and is no longer supported.
Soon it will be removed from CodeCanyon to become a cloud application, stand-alone and outside of Codecanyon and any other marketplace.
The application will be available in cloud, so you can create your full and modern Call Center in a few minutes and without a line of code, just with a cheap subscription and a trasparent pay-per-use phone system, with volume-based discounts.
We are developing a lot of features for the new SaaS application, something of these are:
Manage automatic you incoming or outbound calls and sms with the Calls Manager Flow System. This features allow you to make your IVR, SMS-autoresponder and a lot of other things in just few minutes.
Advanced Flows features, as voicemail and speech recognition, to take your customer support to another level.
Keep the control about the work of your agents with our dashboard: live calls and live queues, and berge in a call.
Manage employees and, if you need it, assign them difference roles, as operator or agent.
Manage a lot of employees or different departments by group them in teams and assigning it to a Team Manager user.
Manage, import and export contact details of your customers or leads.
Assign tasks, as call a number or a list.
Make and receive calls directly in your browser, using the Calls Manager Phone System.
Send and receive SMS directly in your browser, using the Calls Manager Phone System.
Advanced in-call features, as warm transfer, conferencing and call recording.
Manage easy the contact status and notes during and after a call.
Mark and manage appointments.
AND MANY OTHERS!
If you are interested in Calls Manager, subscribe now to our newsletter, you will receive a special coupon code, exclusive for the pre-launch mailing list.
We are also developing other cloud application for small and medium business.

PSSST… DO NOT FORGET TO FOLLOW US ON SOCIAL MEDIA!
If you are interessed in the reseller, agency or partner programs, please contact us on info@weitsoftware.com.
If you are an old buyer or you plan to have more the 50 users on the platform, please contact us on sales@weitsoftware.com, we will be happy to make you a special price.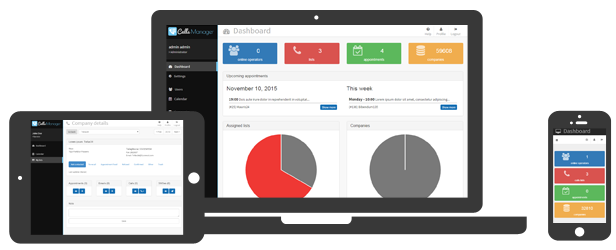 Calls Manager is a web-based application for marketing departments or call centers.
It allows you to manage companies, group them into lists to be assigned to an operator that can see the company's details, contact it, and more…
The application is fully responsive, then viewable from any devices.

Companies management
You can find a company and sort the results, more than fully manage it.
You can also use the import/export with .csv and .sql files, to move easy the companies or import a ready csv from another platform.
You can add an appointment, call, send an sms or email, or manage contact information.
Lists management
Manage lists of companies to contact.
The administrator can create lists of companies and assign it to an operator.
Also you can group companies selecting a field (as city or category) in settings, and can assign these rather than single companies.
Users management
There are two ranks: administrator and operator.
The administrator has full control of the platform, instead the operator can use the call interface and has a limited access to calendar.
Appointments management
You can manage appointments with a calendar and the appointment system integrated with the companies.
This interface allows you to see past and future appointments.
Company's details
The operator can read company contact information with this intuitive and complete interface, that allows him to make appointments, write note, send emails and change the company state.
Twilio integration
You can make a call or send an SMS directly by the application with the Twilio integration.
You can make 3 types of call: connect an operator with a customer, play a text message or you can use your URL or application SID to handle a call.

Easy installation wizard
The installation wizard is simple and intuitive, it requires very few minutes, it is not required programming knowledge.
Fully responsive design
The application is fully responsive, to use the application from any device.
Multilanguage
Use the application in your language!
If it is not already available, you can translate it.
Clean and simple design
The application have simple and clean design, to use easy the platform and its features.
Built with ajax
Different platform features was developed with Ajax to speed up loading and simplify management, so to improve the user-friendly.
Free updates
Releasing of free updates to fix bugs and errors, or add new features.
Support
If you need help, or have questions, you can contact me with the support form in the documentation, or you can use the contact form available from CodeCanyon.
If you have found a bug or think miss something important feature, you can use the relevant forms in the documentation.
Codeigniter MVC standard
The platform was built with Codeigniter 3.0.1, to have a reference standard and use a MVC architecture, so to simplify the maintenance and customization.


Go to online demo
Administrator:
Username: admin
Password: admin
Operator:
Username: operator
Password: operator

Version 1.1 – 11/15/2015
ADDED: multilanguage and RTL support
ADDED: english language
ADDED: italian language
ADDED: Twilio integration (calls and smses)
ADDED: load companies in operators' lists with "load more" button
ADDED: allow send email
ADDED: date and time settings: timezone and date format
ADDED: custom tables prefix in the database
ADDED: user states (online/offline) in view user
FIXED: issues with calendar on mobile
FIXED: issues with scrollbar of sidebar on mobile
FIXED: other little issues
Version 1.0
[ad_2]
Source