Reduce shipping costs & time with our advanced Multi Warehouse Inventory Plugin for WooCommerce. Our plugin allows store owners to create unlimited stock inventories, warehouses or stores around the world. This ensures customers not only get their products faster, it also makes sure you have reduced transportation costs.
Why do you need this?
Create multiple Warehouses with easy
Manage stocks for all inventories locally
Decrease Shipping costs & time due to near inventory locations
Let customers choose their favourite ivnentory store
Make use for radius based order flows
Multi Inventory Locations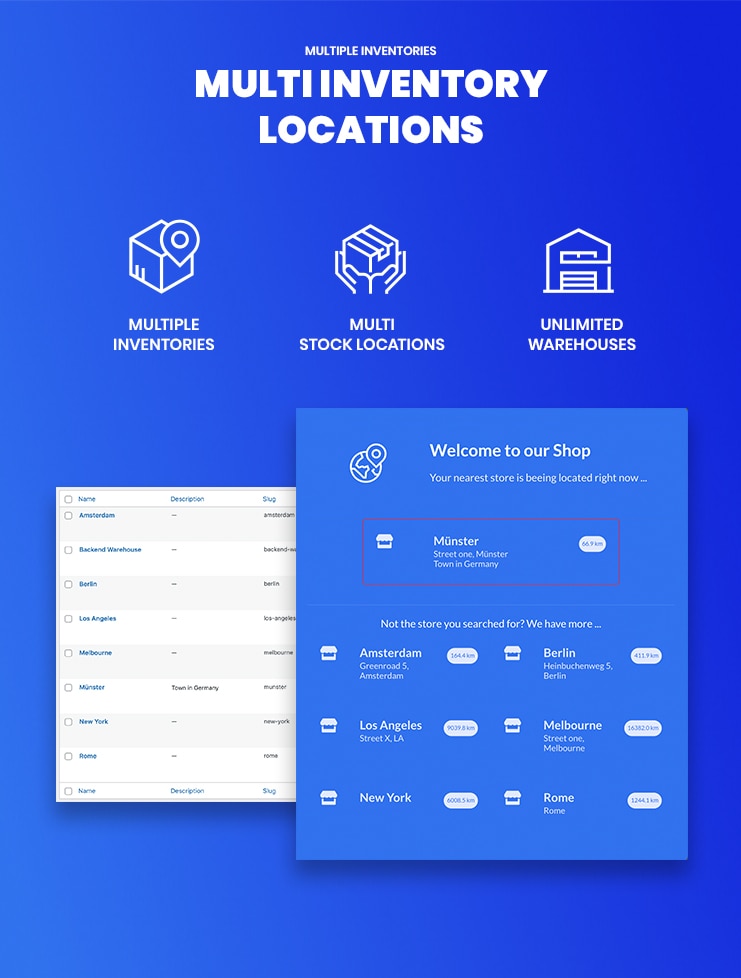 Setup unlimited inventory locations or stores in your WooCommerce shop. Let customers select their nearest or favourite store theirselves. Manage stock inventories worldwide with ease.
3 Product Page Inventory Warehouse Styles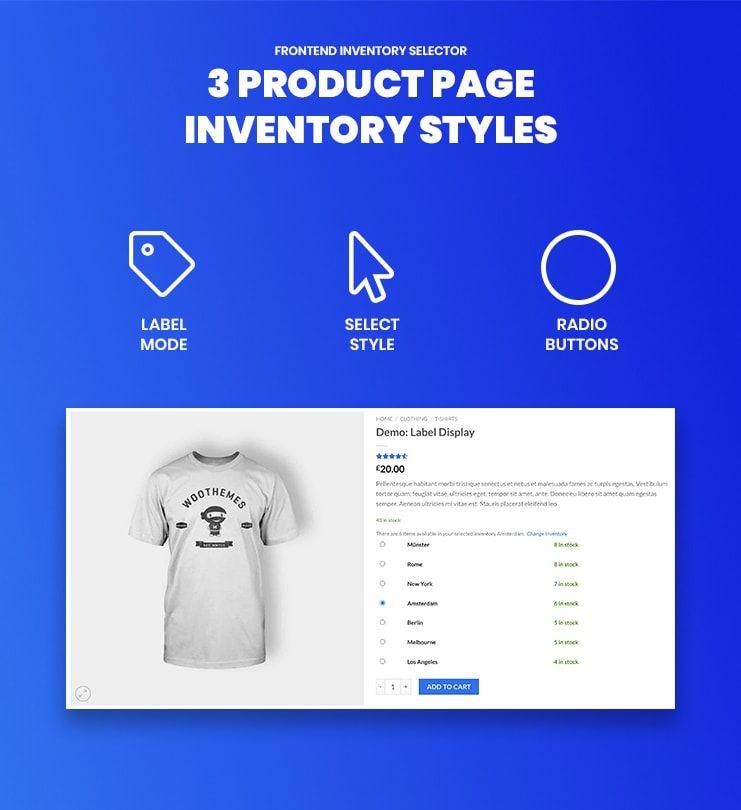 Beside our Popup choose between 3 different styles on the product page how customers can select their inventory warehouse.
Smart Multi Stock Inventory Manager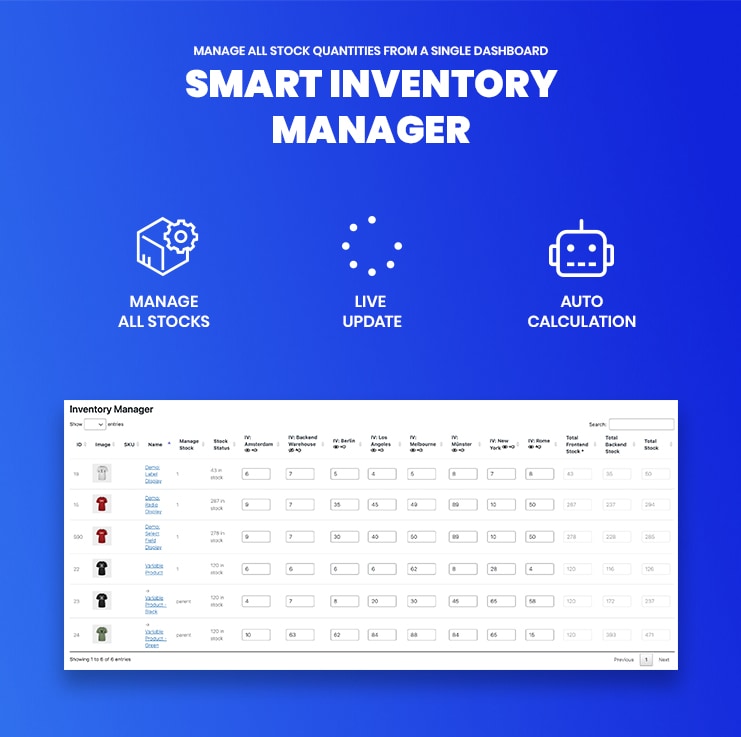 Don't waste your time editing each product manually. Use our smart inventory manager to update stock quantities for all locations from one single dashboard.
Frontend and Backend Inventories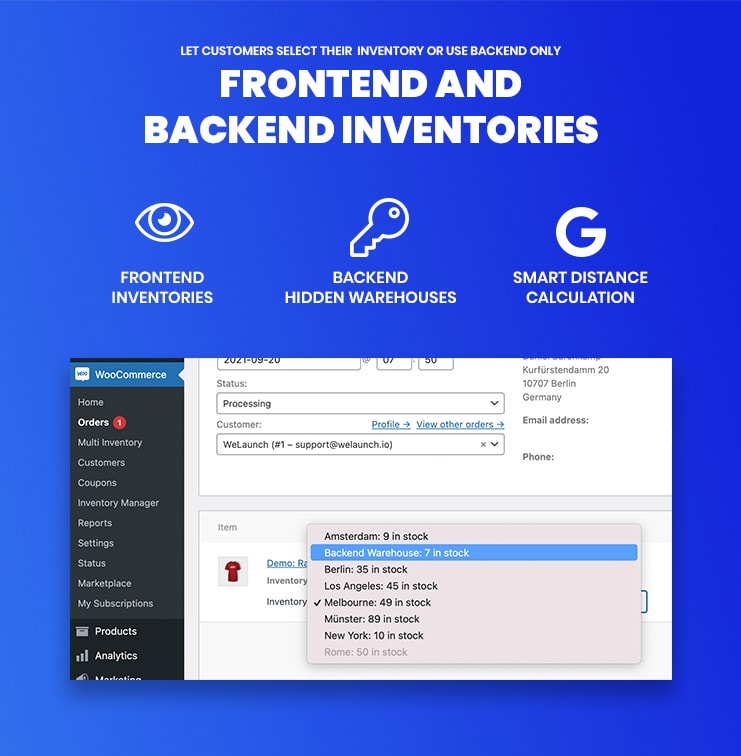 Mark your inventories as frontend, backend or both. Frontend will show in your shop page, while backend is only selectable for shop manager self created orders. Use this to satify big B2B customers for example. Our built in Google Distance Matrix API based order flow option allows to select nearest store automatically.
Import & Export Stock Quantities via Excel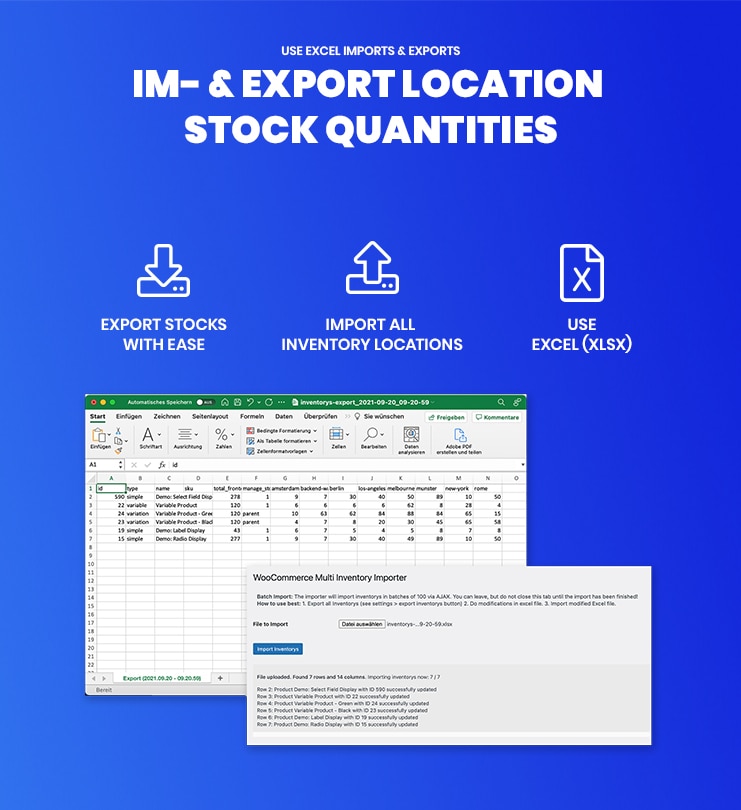 Want to import using Excel sheets? No Problem! Our plugin allows you to import excel (xls or xlsx) files so you can update all inventory quantities with ease.
More features
Own Inventory Pages
Each warhouse page can get it's own page with all products listed, that are on stock.
Multiple Order Flow options
Choose between different order flow options:
Nearest Inventory
Most Stock
Lowest Stock
Name
Custom Inventory
Custom Sort order
Assign nearest Store automatically
Use distance based calculations to automatically assign new orders to nearest inventories.
Hide Shipping / Payment Methods
For each inventory location you can disable / hide payment and shipping methods.
Latest WPMP, WooCommerce & WP Support
Our plugin was tested with latest versions of WordPress, WooCommerce and WPML.
Well documented
As all our products, we created an easy to follow documentation including an explanation & setup video.
> Online Documentation
Plus
We are an Envato Elite Author and provide you with fast support.
Changelog

======
1.1.3.1
======
- FIX:    Inventory ID not set

======
1.1.3
======
- NEW:    Rewritten the checkout validation
- FIX:    Most / Lowest stock order not working

======
1.1.2
======
- NEW:    "By Country" Order Flow 
        Set countries you ship to on inventory level, 
        our plugin will then take users shipping / billing country
        and match them
        

View post on imgur.com


- NEW:    Text (only selected inventory) display option
        

View post on imgur.com


- NEW:    Select2 in Backend
        

View post on imgur.com


- FIX:    Empty stock unset inventory term connection

======
1.1.1
======
- NEW:    Added variation support for select fields
- NEW:    Redirect popup change inventory with a query parameter
        (first step to avoid caching issues)
- NEW:    Reload page after location changed
- FIX:    When inventory stock was not set, but custom price
        it should not show the price
- FIX:    Inventories not show up

======
1.1.0
======
- NEW:    Hide unavailable Products in Categories & Listings
        

View post on imgur.com


- NEW:    Modify Price when inventory selected
        

View post on imgur.com


- NEW:    Modify Stock Quantity
        

View post on imgur.com


- NEW:    WPML Support
        

View post on imgur.com


- NEW:    Added an option for select plaholder:
        

View post on imgur.com


- NEW:    Hidden Display Option
        

View post on imgur.com


- NEW:    Enable / Disable inventory required
        Allow Products to be added to cart that has empty (not zero) stock
        

View post on imgur.com


- FIX:    Optimized the stock management on variation level

======
1.0.3
======
- NEW:    Set custom prices per inventory
        

View post on imgur.com


- NEW:    Only show stock info text option:
        

View post on imgur.com


- NEW:    Inventory Logger
        

View post on imgur.com


- NEW:    Completely rewritten the way stocks are updated in order to work with failed & cancelled orders
- NEW:    Customer can not change the quantity higher than available in cart
- FIX:    Inventory manager reduced ajax call & implemented loading spinner
- FIX:    Inventory Importer not updating total frontend Stock

======
1.0.2
======
- NEW:    See inventories + stock in products overview page
        

View post on imgur.com


- NEW:    Added support for our Store Locator Plugin
        

View post on imgur.com


- NEW:    When importing excel files, the total frontend stock
        get automatically calculated
- NEW:    Import stocks by SKU (fallback when ID is empty)
- NEW:    Added shortcode for product pages
        https://www.welaunch.io/en/knowledge-base/faq/woocommerce-multi-inventory-shortcodes/
- FIX:    The inventory manager works with change + keyup now

======
1.0.1
======
- FIX:    Shop managers can't access inventory manager
- FIX:    Multiple issues

======
1.0.0
======
- Initial release

Source