[ad_1]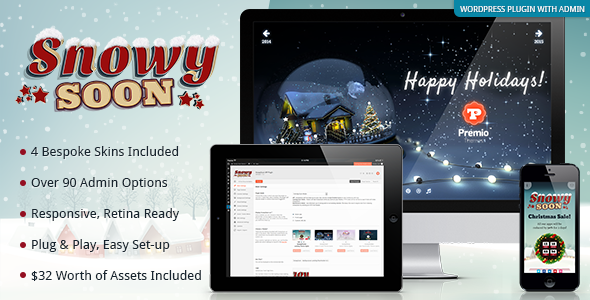 Greetings and welcome to SnowySoon, the latest evolution in our WordPress Plugin line-up!
As it's Holiday Season, the time for giving and receiving gifts, we figured we'd build one of the most useful and feature rich placeholder plugins on the market, bundle it with four bespoke skins and, to top it off, also include a bunch of cool commercial assets you can use. Overkill? Maybe, but that's how we do things.
In a nutshell, once installed, SnowySoon will act as a custom placeholder for your site while you work on your theme. But that's not all it can do, you can use it as a promotional landing page, an online e-card, an event page or a simple website, it's up to your imagination.
This level of flexibility is achieved by having multiple options in regards to where the plugin will show up (a custom URL list for example), how it will behave, plenty of shortcodes to build your content however you want and a ton of admin options (90+) to customize it. Please check out the screenshots above to see them, there's just too many to list.
Key Features :
Unprecedented customization ability in a product of this type.
Four distinct themes with bespoke design are included to help you get started faster.
5 Full Screen Background Types : Video (hosted or YouTube), Ken Burns Image Slideshow, Fade Image Slideshow, Continuous Fade and Solid Color background + customization options for each + overlay options like patterns, gradients or JS animated effects
Audio Support for hosted or remote mp3 files.
3 Styles of count down timer: Double Flip, 3D Square Flip and 3D Rounded (Piechart).
Fully Responsive and a smooth, lovely experience on all screens sizes.
Layered Photoshop PSD designs included for all skins as well as a Background Builder PSD and 50 ready to use background variations.
$32 worth of assets included – more to come – so that you don't have to buy them yourself if you want to use them

Note : All the included commercial assets have been outlined in the help file: http://www.premiothemes.com/help/snowysoon-wp/

To end, we sincerily wish you Happy Holidays and an amazing 2015! Thank you so much for checking out our product and please let us know what you think about it and if you have any suggestions.

Have an awesomely creative day!

PS: Don't forget to vote 5 stars after purchasing if you like SnowySoon and it proved to be as useful as advertised.

Updates:

Version 1.2 – December 22nd, 2015


- Added <strong>HTML Version</strong> as a bonus. <strong>Happy Holidays 2015, everyone!</strong>
- Updates and tweaks


Version 1.1 – November 24th, 2015


- Updated Options Framework
- Performance Enhancements


Version 1.0 – December 27th, 2014


- Initial release

[ad_2]
Source