[ad_1]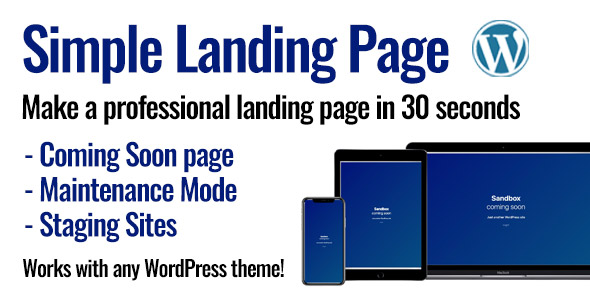 Simple Landing Page for WordPress – Get a Coming Soon, Staging or Maintenance Mode landing page in under 30 seconds.
Simple Landing Page lets you create a simple landing page on any WordPress site, that looks great and is working in under 30 seconds!
Add a Coming Soon page – Start using your new domain with a basic coming soon page. This will let Google start to index your domain name and promote SEO growth. If you're someone who had a lot of domain names, very often getting a landing page up is hard work. Not with Simple Landing Page plugin, just install the plugin and you can have a beautiful coming soon page up and running straight away.
Activate Maintenance Mode – If you're doing updates or making changes to your site, activate maintenance mode to temporarily stop all access to your site. Guests, visitors, Subscriber and Customer user roles all get redirected to the landing page. This means basic members and WooCommerce customers are blocked while maintenance mode is activated making sure they cannot login.
Use Staging Mode – Perfect for staging sites. Web hosts like WP Engine, WPX and more offer staging sites, but these sites can be found by your customers and also by Google. Simple Landing Page makes sure you are penalised for using a staging site.
Simple Landing Page hides all of your websites pages from guests, visitors and even registered users (with Subscriber or Customer roles). As an Editor or Administrator user, you can develop or update your site without unauthorised access.
We've made this plugin with developers and web development agencies in mind. The plugin has a dedicated Staging Mode designed for staging sites to stop unauthorised access and also stop Google indexing the staging site. The Staging Mode can make use of the new WP_ENVIRONMENT_TYPE constant to identify staging environments, and can automatically activate the landing page for staging sites whenever a new staging copy is generated. Out of the box, the landing pages look good without doing further changes, saving you time whenever using this plugin.
Simple Landing Page Features:
Get a landing page setup on your WordPress site in under 30 seconds
Chose from Coming Soon mode, Maintenance mode and Staging mode
Automatically runs on Staging sites when WP_ENVIRONMENT_TYPE is set to 'staging'
Fully translatable, use your own language for all text included in the landing page
Show or hide the site title, tagline, or login link to WP Admin
Everything is optional, include the content you want
Include custom text (such as an update message or anything else)
Choose from six beautifully simple color schemes
Fully responsive for mobile, tablet and desktop
Staging mode set to noindex for Google (prevents your site being indexed)
SEO friendly
Works with any WordPress theme
No upsell nonsense or overkill page builder features
Made by a trusted developer – over 800 sales on Code Canyon.
Use cases:
Your web host duplicates your live/production site to staging. Install this plugin on your production site, and when production is copied to live Simple Landing Pages plugin automatically hides your staging site without you doing anything based on your wp-config environment constants.
Your staging site keeps being found by Google and indexed. Bad for SEO! This plugin automatically hides your staging site from Google and tells it not to index it.
You need to take your website offline for maintenance. Activate the maintenance mode to prevent guests, subscribers and customers from viewing the site or logging in.
You register a domain and need an instant coming soon page while you work on the website.
For developers:
Simple Landing Page is the only landing page plugin to make use of the new define( 'WP_ENVIRONMENT_TYPE', 'staging' ); constant. Simply add this to your wp-config.php on your staging websites, and the plugin will protect them from unwanted visitors and from being indexed by search engine. You can give your clients login details so they can view the site in development.
We've tested this plugin with various web hosts who use staging sites and it works with all them. WPX Hosting, WP Engine, Pressable, Pantheon and many more.
Frequently Asked Questions
How can I preview the holding page?
If you are logged in, then it is difficult to test the landing page. The quickest way to test the landing page is to open a new browser window in private or incognito mode. This will let you view the website and landing page as a guest.
I have an issue, I have question, I need some support
You can post publicly on Code Canyon, view the plugins knowledge base or you can open a support ticket directly with me to get support.
Why does my site return a 503 status on the landing page?
By default, WordPress already returns a 503 when updating plugins or WordPress core. When a 503 Service status is set, search engines like Google know that you are in fact working on this page. Google knows that when this status code is returned to check the page again later on. Simple Landing Pages sets the retry time for Google to check the site again to 1 day.
This plugin doesn't have a page builder / blocks / widgets!!!!!!
Being complex is not the intent of the plugin. The intent of the plugin is to create a simple good looking landing page for with minimal issues or configuration.
Do this plugin work with Divi / Elementor / Gutenberg / Classic Editor?
This plugin works with all themes and plugins. It doesn't matter what plugins or themes you have installed as this plugin puts a barrier infront of them that guests cannot penetrate.
Can you add X feature?
Probably. Open a support ticket with me and I will consider adding the feature.
Instructions for Install
Download the plugin zip file.
Go to WordPress Admin > Plugins > Add New Plugin > Upload Plugin, and upload the plugin zip file.
There are other ways to install the plugin, please see the WordPress documentation here (http://codex.wordpress.org/Managing_Plugins).
Once installed, Activate the plugin.
A new settings page called Simple Landing Page will be present under Settings.
Requirements
The plugin is for WordPress, so requires WordPress to be installed. You should have WordPress 5.0 or above. It works with any theme, any plugin and any web host.
Seedprod Alternative
Simple Landing Page is a Seedprod alternative. Seedprod is bloated with features that many website owners simply do not need for straight-forward coming soon pages, maintenance pages or staging site protection. Seedprod charges $40+ per year for basic features, and you need to renew every year to keep getting updates. If you need a basic landing page to protect your site, it's definitely worth looking at Simple Landing Page for WordPress plugin.
Changelog
Version 1.0.0 (2020-08-03)
[ad_2]
Source