[ad_1]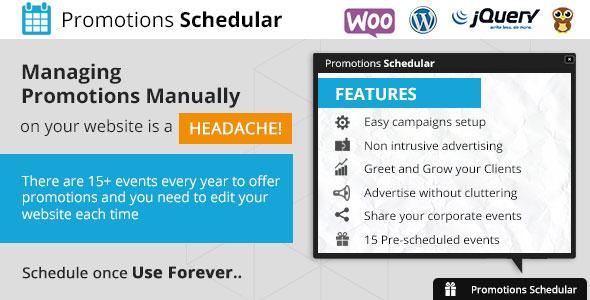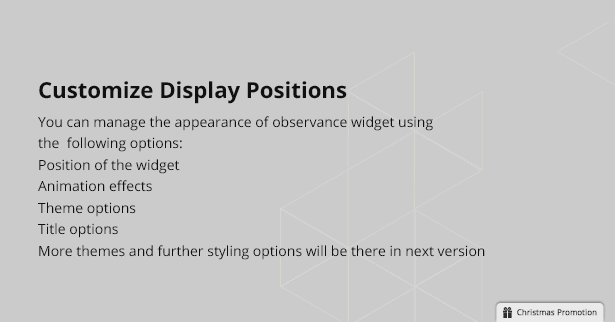 About the Plugin
The Promotions Scheduler plugin has been developed to empower WordPress websites to easily setup promotional offers and campaigns for events(like Christmas, Valentine, Halloween, Summer Sale etc.) that are celebrated and commemorated throughout the year around the globe and with the flexibility of adding website or company-specific promotions and celebrations.
How it works!
The Plugin facilitates setting up each Promotions by:
Specifying a banner.
The target URL which leads to the target promotional offer page. (This can be an external or internal link).
Schedule its visibility duration
Configuring appearance settings of the widget that will be shown on the front-end website
A stylish widget would automatically be shown up on the website during the scheduled observance period. This widget would intuit the visitor to view the attractive promotional banner specified for the event and further to its details. When the promotional campaign ends, this widget would be removed automatically without breaking the look and feel of the website. This plugin is well accommodating and can be added to any website. You would adore this practice for sure! So Promote, Celebrate and Commemorate.
Change Log
Version 1.3
- Woo-commerce Support Feature
- Multilingual Support added
- Unlocked Advanced Features
- Promotion Pop out Options
- Slider Updates for scheduling
- Updated Settings tab
- Support for latest WordPress added
- Support for adding HTML for banners in Advanced tab
Version 1.2
- Shortcodes to list events
- Shortcodes to change the theme
- Shortcodes to display Upcoming Events
- Shortcodes to display Recent Events
- Shortcodes to display Ongoing Events
- Shortcodes to display All Events
- Shortcodes to display Limited Number of Events
- Shortcodes to move Event Carousel Slides
- Shortcodes to display Current Event Image
- Shortcodes to display Calendar
- Front end Shortcodes added.
Version 1.1
- Changed the Name from Observance Promoter to Promotions Scheduler.
- Default Banner Pop Out mode added.
- Editor permissions enabled.
- Icons updated for light and dark themes.
- Icons updated for Backend.
Version 1.0
- Initial Release.
[ad_2]
Source