[ad_1]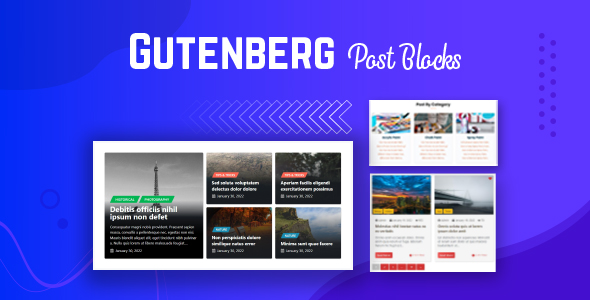 An innovative and latest collection of beautiful ready-to-use post blocks to make things convenient for site visits. The Gutenberg Post Blocks plugin is there to help you display your WordPress posts in post grid, post group, post trisect, and all other unique and attractive customization features.
This responsive plugin offers additional blocks, Post Grid and Filter Ultimate, that you can use for all types of Gutenberg posts and pages.
The main aims of this plugin are to extend Gutenberg's editing capabilities, offer the real page builder experience, and make the website's blog section more user-friendly and convenient.
If you want to showcase your news, personal blogs, recipes, review articles, food reviews, travel blogs, magazines, or other blog posts in an elegant and sophisticated way, this one's for you.
It is a powerful plugin that can add a lot of functionality to your WordPress editor without causing any bloat. All in all, this plugin is an SEO-friendly plugin that will help you to create professional-looking posts without affecting the site's performance.

This Plugin Provides 3 Blocks
Post Grid System
This block offers some stunning grid layout options that will make your content worthwhile. Each layout (grid, list, and overlay) comes in 6 different designs that can give your website's post section an amazing look.
It offers predefined global and query controls and content visibility settings for every part of the post like enabling or disabling thumbnails, excerpt, author, post title, post button, date, reading time, pagination, comments, etc. In fact, you can customize the taxonomy controls, pagination alignment, and ultimate color control options to choose categories.
Post Group
With the Post group block, you can group your posts category-wise. This means you can put all the similar category posts in specific group blocks.
The best part is that you can create as many groups as you want on your site using this post group block. It enables you to select and customize multiple categories, group images, enable or disable custom height, and many more.
Post Trisect
Another block is the Post Trisect which helps you to display your posts as 3 column blocks either in a 1×2 or 1×4 block with responsive height control. The height of the block will grow and shrink proportionally. With this, you can set one or multiple categories, column and row gap, excerpt word count, and customize featured and aside thumbnail size.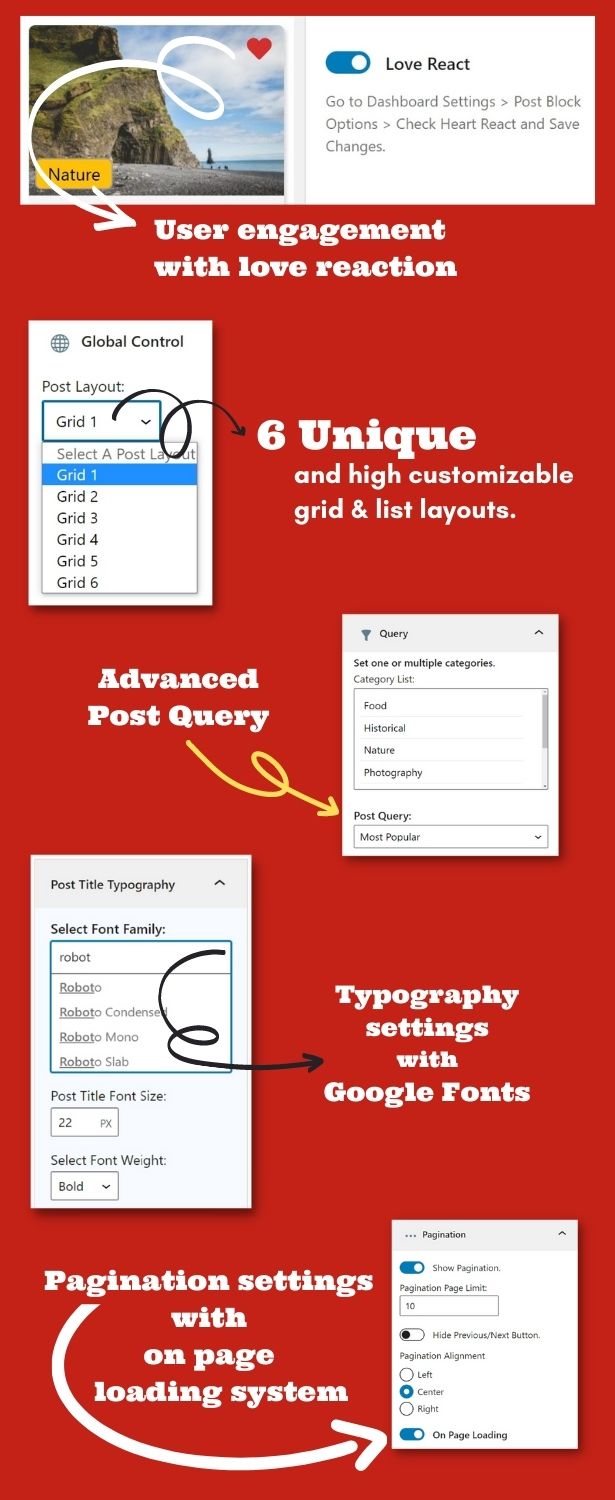 Key Features
Love React
You have the option to show or hide the love react icon for your visitors on your post blocks. This facilitates tour websites with improved user engagement.
Pre-Designed Layouts
With this plugin's predesigned and ready-to-use layouts, you don't need to have any coding knowledge. All you need is to choose the most suitable layout, and it will be added to your site automatically.
Advanced Post Query
Predefined post query filter and order let you select and display the posts in a specified way, either randomly or the most popular ones.
Google Fonts
The typography settings let you choose font-family, font-weight, font size, text transformation, and many more for your posts' title, meta, description, button, and category. All in all, this feature will help you to ensure an optimum user experience.
On-Page Loading
It is incorporated with Ajax pagination, which allows your web page to update content dynamically without even reloading the page within the browser. This way, you can ensure a more interactive and responsive website.
Top Features :
Several global controls like set the Column, Post Count, Column Gap, and Row Gap
Specify the Rounded Corner Size
Excerpt Word Count and Maximum Width Of The Block
Multiple post query options such as Ascending Or Descending Post Order
Equal size of posts
Featured image size controls
Read more button customization
10+ post content visibility control options, including Excerpt, Post Button, Reading Time, etc
Advanced color options within a color palette to match your theme
Pagination controls with on page loading
Category-wise group block with multiple settings
Highly customizable Post Trisect Block
Column gaps and spacing controls
Rounded corner options
Posts content control options
Multiple category display designs
Typography options

Changelog
= 5.1.0 = 30 May 2022
* Add: New Post Layout (Post Trisect Block)
* Fix: Disable anchors as clickable on editor page.
* Fix: Multiple block conflict.
* Fix: Pagination not working on home page.
* Fix: Feature image gliding.
* Fix: Top radius not change on grid 5.
* Fix: Fixed height conflict with grid 5.
* Fix: Flex conflict on grid 6.

= 4.0.0 = 27 May 2022
* Add: New Grid Layout (Grid 6).
* Fix: Pagination Limit.
* Fix: Pagination Preview-Nex Custom Text.
* Fix: Pagination current button color not changing.
* Fix: Bottom not aligned on Grid 2.

= 3.0.0 = 25 May 2022
* Add: Custom Typography.
* Fix: Inline meta (Grid 1)
* Fix: Button color (Grid 5)

= 2.0.0 = 20 May 2022
* Add: New Grid Layout.
* Add: Post Group Layout.
* Add: Group Image.
* Add: Equal Height.
* Add: Read More Button Custom Text.
* Add: New Grid Layout.
* Add: Rounded Column Size.
* Fix: Conflict with multiple blocks (WordPress 5.9)
* Add: New Grid Layout.
* Add: Post ordering.

= 1.0.0 = 9 May 2022
* Add: Multi level indexing.
* Add: Typography options.
* Fix: Post reading time not working.
* Fix: Author url not working.
* Fix: Meta prefix color not changing.
* Add: New style component.
* Fix: Pagination overflow.
* Fix: Post meta broken.
* Fix: Author link not working.
* Add: New Layout (Grid 2).
* Add: Thumbnail size option.
* Fix: Maximum width of the block not working.
* Fix: Column Gap not saving the value.
* Fix: Conflict with Twenty Twenty - WordPress theme.
* Fix: Color picker not working.

[ad_2]
Source