[ad_1]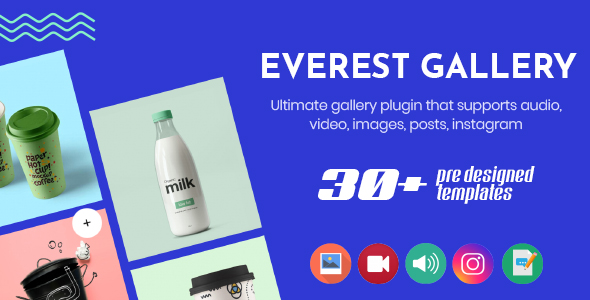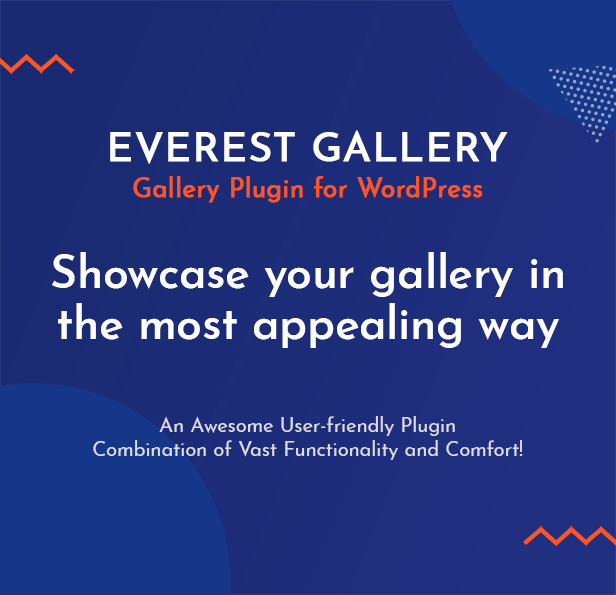 Everest  Gallery is the most versatile WordPress gallery plugin tailored with amazing features and spectacular designs. It is the ultimate gallery plugin that supports audio, video, images, posts, instagram and mixed gallery. It offers tons of multiple options with flawless functionalities. Add many as gallery items as you like, quick edit and manage them however you want. The plugin offers multiple layouts including grid layout, blog layout, slideshow layout, masonry layout, filmstrip layout and carousel layout. Besides, each of this layout comes along with multiple sub-layouts and various configuration options. You can simply enable or disable hover effect for your gallery. Two hover type available – overlay hover effect with 35 pre designed layouts and  filter image hover effect 10 pre designed layouts – choose any that better fits your need.
The plugin features, pagination options: you can control the number of items per page, choose the pagination type (page numbers/load more) and select the layout for pagination. To make your site look more delightful, Everest gallery comes with 4 different lightbox type, each having multiple lightbox theme. Moreover, if you are not satisfied with the options available you can add your own custom CSS and present your gallery as per your wish.
It is a fully responsive and shortcode ready plugin. It is an easy-to-use WP plugin with an intuitive interface. No coding skill required! Showcase your gallery in the most attractive way with Everest Gallery Plugin.
30+ Different Layouts – 30+ seamless gallery layouts available. Showcase your gallery in the most appealing way.

Grid – 2 Pre Designed Layouts
Masonry – 2 Pre Designed Layouts
Slideshow – 5 Pre Designed Layouts
Filmstrip – 5 Pre Designed Layouts
Blog – 7 Pre Designed Layouts
Carousel – 10 Pre Designed Layouts

Column Configuration Options for Grid and Masonry Layouts – Grid and Masonry Layouts with column configuration options. Configure column as per the screen size.

Configure columns as per the different devices such as Desktop, tablets and Mobile screens

Various Gallery items support -Designed for full flexibility – the plugin supports almost all the  gallery items.

Image
Audio
Video
Instagram
Posts

35 Pre Designed Hover Animations – Awesome overlay hover animations for fetching gallery items.
10 Pre Designed Image Filters – 10 stunning image filters to introduce your images in a unique way.
Filter Options for Masonry and Grid Layouts – Added filter feature for masonry and grid layouts. Use any filter layout from 10 pre-designed layouts available.

10 Pre Designed Filter Layouts

Pagination Configuration options – Order your page items with easy pagination options.

Load More

10 Load More layouts with 16 Pre Designed loaders

Page Number

10 Pre Designed Pagination layouts

Lightbox with various options -Showcase your gallery items in an alluring lightbox in just a touch.

Enable disable Lightbox
4 different types of lightbox

Prettyphoto
Colorbox
Magnific Popup
Inbuilt Everest Lightbox
Custom CSS insert option – Change the available design as per your wish – adding your own custom CSS.
Backend Preview Functionality -Feature to preview in backend – test with ease before going live.
Drag and Drop Gallery Ordering -Manage your gallery and gallery items' location by simple drag and drop.
Easy to Use Backend UI -No need to be a technical geek to use the plugin, it is really intuitive.
Gallery Import/Export -Easily import or export the gallery in just few clicks.
Backend font selection functionality – Various font available – choose any that better suits your web need.
Video Preview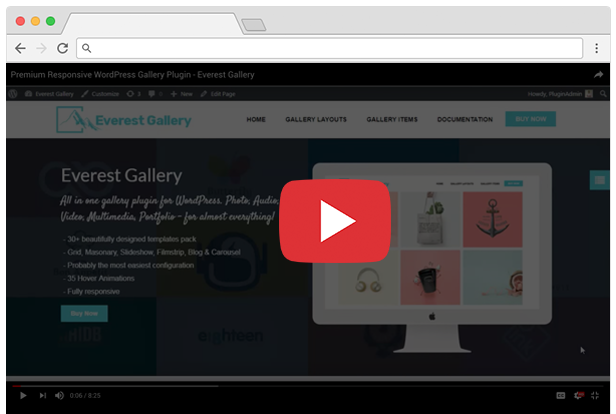 Detailed Documentation
https://accesspressthemes.com/documentation/everest-gallery-plugin-responsive-wordpress-gallery-plugin/
Change Log
1.0.7

1. Fixed Instagram Gallery issues and Updated Instagram APIs.
2. Made Compatible with latest WP Version.

1.0.6
Fixed backend issue on the Overlay Effect.
1.0.5
Fix compatibility issues
1.0.4

1. Issue with filmstrip layout and light-box and pagination not working earlier resolved. 

1.0.3

1. Added album link to gallery feature
2. Added link target option
3. Fixed few CSS bugs

1.0.2

1. Fixed CSS conflict for everest lightbox for Safari Browser
2. Added option to link image to item when lightbox is disabled
3. Fixed HTML sanitization for Custom CSS

Lifetime Dedicated Support
– You can find us anytime when you have some queries, problems or with any valuable suggestions for plugin or us. This plugin is supported. All you need to do is contact the developer through following ways:
Forum Support From here.
Plugin Comment here
Dedicated Support Forum – You can contact us through our support forum through https://accesspressthemes.com/support
Online Chat Support
Our Support Includes
Errors and Bugs

If your website reports any error due to our plugins, let us know. Send us the problem details with necessary links and screenshots, we'll dig into it and get it resolved.

Lifetime updates

We test and keep on updating our WordPress themes and plugins. So check for the new updates and keep your site secure and up to date with new technology.

Customer-friendly development

If our products' features don't quite fit your requirement and you have some better suggestions – we are always happy to hear from you. We are ready to equip your business with better options. For this you can request a paid customization.
Our Support Does not Include
Plugin installation

Our plugin price doesn't include installation service. But we have plenty of tutorials and extensive documentation that you can rely on. And in case of any issues detected during installation, we are there to help. If you need a professional installation done – you can ask us for paid installation and configuration.

Plugin customization

Any core customization of features and function of the plugin doesn't fall into our free support. However if you want the plugin to be customized to fit your need – ask us for the customization quotation. We work on a fixed price and hourly basis model.

3rd-party issues

We do not take care of issues that are related to 3rd party plugins and themes. Also, we do not provide support to integrate any 3rd party themes or plugins.
Constant Free Upgrades
– Not fixed on dates, but we assure you to provide you new updates and feature upgrade in the plugin at regular basis.
Get latest updates
Like our Facebook page and get latest updates:
https://www.facebook.com/AccessPressThemes
More WordPress Resources
Themes Compatible with the Plugin :
Everest Gallery works best with every WordPress theme. It's even more remarkable when used with popular themes like VMagazine and AccessPress Parallax.
AND IF THIS PLUGIN HAS IMPRESSED YOU, THEN YOU WOULD ENJOY OUR OTHER PROJECTS TOO. DO CHECK THESE OUT :
WPAll Club – A complete WordPress resources club. WordPress tutorials, blogs, curated free and premium themes and plugins, WordPress deals, offers, hosting info and more.
Premium WordPress Themes – 6 premium WordPress themes well suited for all sort of websites. Professional, well coded and highly configurable themes for you.
Premium WordPress Plugins – 45+ premium WordPress plugins of many different types. High user ratings, great quality and best sellers in CodeCanyon marketplace.
AccessPress Themes – AccessPress Themes has 50+ beautiful and elegant, fully responsive, multipurpose themes to meet your need for free and commercial basis.
8Degree Themes – 8Degree Themes offers 15+ free WordPress themes and 16+ premium WordPress themes carefully crafted with creativity.
Check out our other great plugins
AccessPress Anonymous Post PRO
AccessPress Social Icons Pro
AccessPress Social Pro
AccessPress Twitter Feed Pro
AccessPress Pinterest Pro
AccessPress Social Auto Post
AccessPress Social Login
WP Ultimate Social
AccessPress Instagram Feed Pro
Ultimate Form Builder
AP – Custom Testimonials for WordPress
WP Floating Menu Pro – One page navigator, sticky menu for WordPress
WP1 Slider Pro – WordPress Responsive Touch Slider for a Layman
WP Mega Menu Pro – Responsive Mega Menu Plugin for WordPress
Smart Logo Showcase – Responsive Clients Logo Gallery Plugin for WordPress
AP Pricing Tables – Responsive Pricing Table Builder Plugin for WordPress
Apex Notification Bar – Responsive Notification Bar Plugin for WordPress
Ultimate Author Box – Responsive Post/Article Author Section Plugin for WordPress
WP Popup Banners Pro – Ultimate popup plugin for WordPress
WP Media Manager – The Easiest WordPress Media Manager Plugin
New Release: the most Comprehensive FREE WordPress Theme – Punte

New Release: All in one Free WordPress theme – Bingle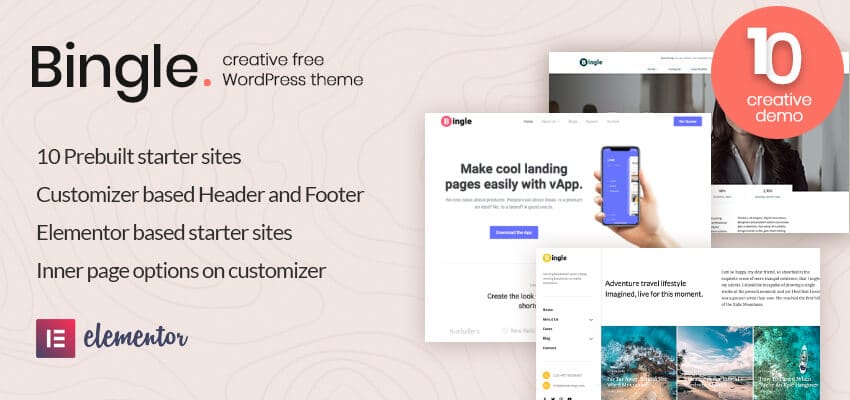 [ad_2] Source