[ad_1]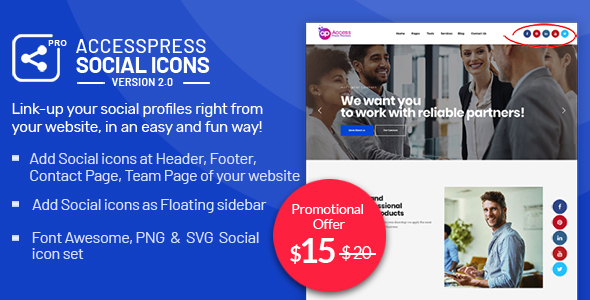 Display Interactive Icons On Your Website And Link To Your Social Profile.
Link-up your social profiles right from your website, in an easy and fun way!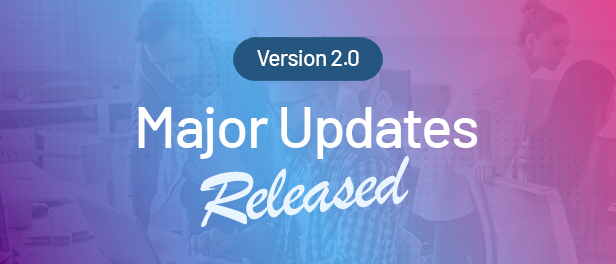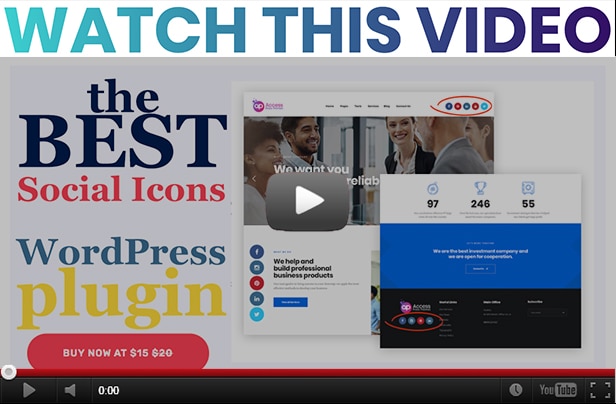 Inbuilt Icon Builder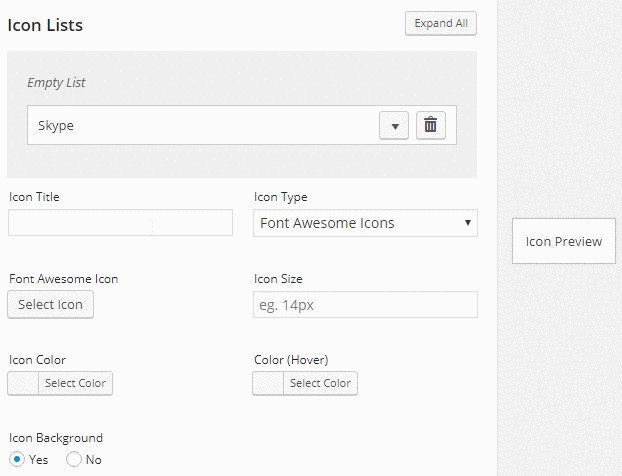 Features
Beautifully designed 16 icon sets

Select from pre available icons themes or upload your own

Strong customization options

Define size, set height, width of the icons
Set margin / spacing between icons
Link up your social media profiles, set link targets
Enable and disable the tooltips
Choose display type (vertical or horizontal), define no. of rows/columns

Multiple icon sets multiple places

Create multiple-instance of the icon sets and use them in multiple places

Font Awesome icons

Choose from 105+ font awesome icons, color/style them as you need!

SVG icon sets

High quality SVG icon sets, make your icons retina ready!

The social sidebar

Configure and setup social sidebar with lots of options for your site.

Easy integration

Get short code or use widgets for each instance you design
Use the short code anywhere you like: header, footer,in the content area

Get some styles!

Define styles like shadow, borders for icons
Define tooltips and style it with your own color, BG color.

Tooltips

Add some feel on your icons – add and customize the tooltip
Enable or disable tooltips

Interactive Icons

Make it interactive, define hover animation on icons.

Make your own layout

Vertical and horizontal display option
Select rows and columns

Real time live preview

Real time live preview – check how it looks on your website before using it.

Order the icons

Order the icons – they way you like by using easy drag and drop feature.

Fully Responsive

Fully Responsive – compatible with mobile devices

User friendly and very interactive user interface

Anyone can use it, its as easy as drag and rop.

SEO friendly

Use your own image alt/title tags for hover-over text
Google will love it!

Paid customization available

Do you want to extend the plugin or add more features? Ask us for premium support

Support

Forum support, Online chat support and dedicated email support

Free updates

Get free updates for lifetime.
Lifetime Dedicated Support
– You can find us anytime when you have some queries, problems or with any valuable suggestions for plugin or us. This plugin is supported. All you need to do is contact the developer through following ways:
Forum Support From here.
Plugin Comment here
Dedicated Support Forum – You can contact us through our support forum through https://accesspressthemes.com/support
Online Chat Support
Our Support Includes
Errors and Bugs

If your website reports any error due to our plugins, let us know. Send us the problem details with necessary links and screenshots, we'll dig into it and get it resolved.

Lifetime updates

We test and keep on updating our WordPress themes and plugins. So check for the new updates and keep your site secure and up to date with new technology.

Customer-friendly development

If our products' features don't quite fit your requirement and you have some better suggestions – we are always happy to hear from you. We are ready to equip your business with better options. For this you can request a paid customization.
Our Support Does not Include
Plugin installation

Our plugin price doesn't include installation service. But we have plenty of tutorials and extensive documentation that you can rely on. And in case of any issues detected during installation, we are there to help. If you need a professional installation done – you can ask us for paid installation and configuration.

Plugin customization

Any core customization of features and function of the plugin doesn't fall into our free support. However if you want the plugin to be customized to fit your need – ask us for the customization quotation. We work on a fixed price and hourly basis model.

3rd-party issues

We do not take care of issues that are related to 3rd party plugins and themes. Also, we do not provide support to integrate any 3rd party themes or plugins.
CHANGELOG
2.0.3

* Checked compatibility with the WordPress version 5.7 
* Refined CSS code to fix sidebar design

2.0.2

* Fixed Issue: Fixed custom icon upload issue

2.0.1

* Fixed Issue: Fixed icon preview button showing unnecessarily through code refinement in js.
* Fixed Issue: Checked compatibility and added few notice lines while uploading an image in backend so that image will be visible in frontend otherwise if the link URL is empty image will not be visible.
* Fixed Issue: Added image of (other product by accesspress themes) to image folder which was missing previously and corrected one of the links which were incorrect.
* Fixed Issue: While allowing the social sidebar, at the frontend one icon of the font-family linear icon was not showing, instead, it was showing square. So, solved this issue by adding a linearicon.css file and font folder of linear icon to linear-icon folder inside CSS folder.

Customer Feedback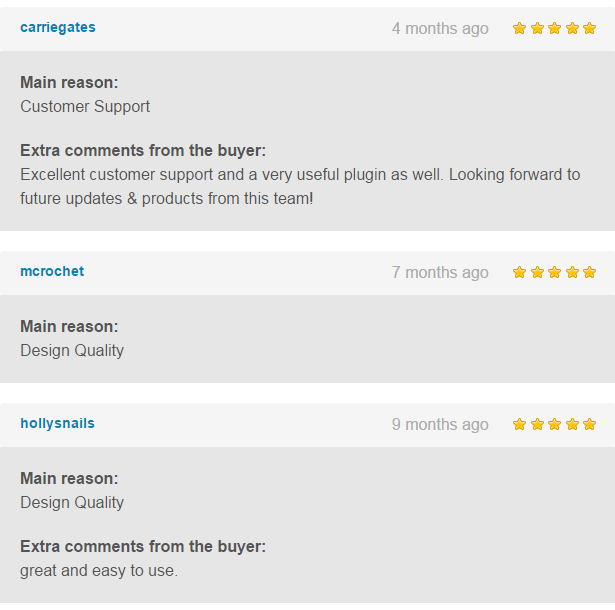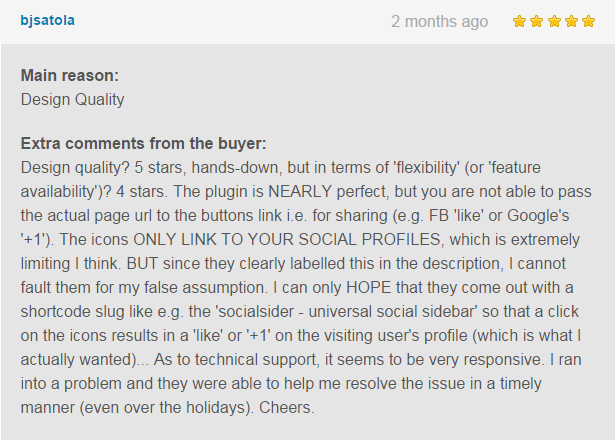 Documentation:
We've detailed documentation which leaves you with no question. Find the plugin documentation here:
https://accesspressthemes.com/documentation/plugin-instruction-accesspress-social-icons-pro/
Video tutorials:
We've prepared detailed video tutorials to setup and use the plugin. Find video tutorials here:
https://www.youtube.com/user/accesspressthemes/playlists
View plugin change logs here:
https://accesspressthemes.com/wordpress-plugins/accesspress-social-icons-pro/
Get latest updates
Like our Facebook page and get latest updates:
https://www.facebook.com/AccessPressThemes
Feature request:
Click here to submit feature request. It can also be used to notify bug .
https://accesspressthemes.com/contact/
More WordPress Resources
Themes Compatible with the Plugin :
AccessPress Social Icons Pro works best with every WordPress theme. It's even more remarkable when used with popular themes like VMagazine and AccessPress Parallax.
AND IF THIS PLUGIN HAS IMPRESSED YOU, THEN YOU WOULD ENJOY OUR OTHER PROJECTS TOO. DO CHECK THESE OUT :
WPAll Club – A complete WordPress resources club. WordPress tutorials, blogs, curated free and premium themes and plugins, WordPress deals, offers, hosting info and more.
Premium WordPress Themes – 6 premium WordPress themes well suited for all sort of websites. Professional, well coded and highly configurable themes for you.
Premium WordPress Plugins – 45+ premium WordPress plugins of many different types. High user ratings, great quality and best sellers in CodeCanyon marketplace.
AccessPress Themes – AccessPress Themes has 50+ beautiful and elegant, fully responsive, multipurpose themes to meet your need for free and commercial basis.
8Degree Themes – 8Degree Themes offers 15+ free WordPress themes and 16+ premium WordPress themes carefully crafted with creativity.
Check out our other great plugins
AccessPress Anonymous Post Pro
AccessPress Social Pro
AShop Slider Pro
AccessPress Twitter Feed Pro
AccessPress Pinterest Pro
AccessPress Social Auto Post
AccessPress Social Login
WP Ultimate Social
AccessPress Instagram Feed Pro
Ultimate Form Builder
AP – Custom Testimonials for WordPress
WP Floating Menu Pro – One page navigator, sticky menu for WordPress
WP1 Slider Pro – WordPress Responsive Touch Slider for a Layman
WP Mega Menu Pro – Responsive Mega Menu Plugin for WordPress
Smart Logo Showcase – Responsive Clients Logo Gallery Plugin for WordPress
AP Pricing Tables – Responsive Pricing Table Builder Plugin for WordPress
Apex Notification Bar – Responsive Notification Bar Plugin for WordPress
Ultimate Author Box – Responsive Post/Article Author Section Plugin for WordPress
WP Popup Banners Pro – Ultimate popup plugin for WordPress
Everest Gallery – Responsive WordPress Gallery Plugin
WP Media Manager – The Easiest WordPress Media Manager Plugin
Everest Counter – Beautiful Stat Counter Plugin for WordPress
WP Blog Manager – Plugin to Manage / Design WordPress Blog
Everest Coming Soon – Ultimate Coming Soon, Maintenance Mode Plugin for WordPress
Everest Review – Post / Page / Custom post type Review plugin for WordPress by User and admin
Everest Google Places Reviews – Best WordPress Plugin To Showcase Google Places / Business Reviews
Everest Timeline – Responsive WordPress Timeline Plugin
WP Viber Contact Button – Premium Viber Contact Button Plugin for WordPress
Everest Comment Rating – Display Like/Dislike With Reaction Emojis For WordPress Comments
Everest FAQ Manager – Responsive Frequently Asked Questions (FAQ) Plugin for WordPress
Everest Tab – Responsive Tab Plugin For WordPress
WP FB Messenger Button – Premium FB Messenger Button Plugin for WordPress
Everest Admin Theme – WordPress Backend customizer
Total Team – Responsive Team Showcase Plugin For WordPress
WP WhatsApp Button – Premium WhatsApp Button Plugin for WordPress
WP Comment Designer- Customize And Design WordPress Comments And Comment Form
WP Product Gallery – Responsive Products Showcase Listing for WordPress
WP Cookie User Info Pro – Cookie Notification Plugin for WordPress
Ultimate Contact Buttons – Connect To Viber, WhatsApp, Messenger & Skype Via WordPress
Inline CTA Builder – Call To Action Layer For WordPress
Contact Form 7 Store to DB – CF7 Extension to Store Form Entries (Fully GDPR Compliance)
WP Skype Contact Button
Smart Scroll to Top – Faster and Smarter scroll to top plugin for WordPress
New Release: the most Comprehensive FREE WordPress Theme – Punte

New Release: All in one Free WordPress theme – Bingle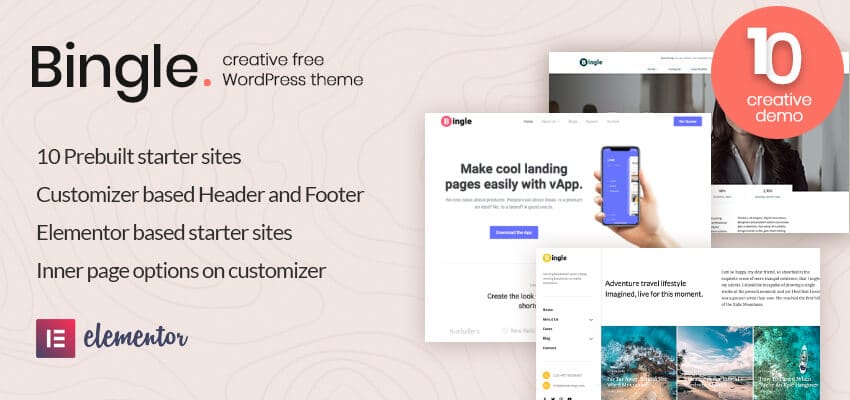 [ad_2]
Source