[ad_1]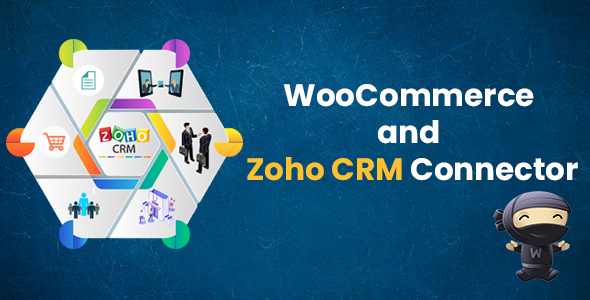 Woocommerce Zoho CRM Connector is only full catalog synchronization with Zoho CRM which sync your WooCommerce store Products, Customers and Orders with Zoho CRM modules like Contacts, Accounts, Leads, Sales Orders and Invoices. This plugin supports two way synchronization.
Features: The Plugin supports the following synchronizations.
Real time, two way synchronization of product catalog, inventory and orders between WooCommerce and Zoho CRM.
Sync WooCommerce Customers to Zoho CRM Accounts, Contacts and Leads.
Sync WooCommerce Products and Inventory to Zoho CRM Products.
Sync WooCommerce Orders to Zoho CRM Sales Orders and Invoices.
Sync Zoho CRM Products, Contacts and Accounts to WooCommerce.
Developed with most secure and latest Zoho CRM V2 API.
Installation
Go to your WordPress admin area and click on Plugins » Add New.
Click on Upload Plugin button and select zip file and click on the install now button.
Once installed, you need to click on the Activate Plugin link to start using the plugin.
Notes
Zoho Sales Orders, Products, Invoices modules are available only in Zoho Enterprise and CRM Plus editions.
Plugin does not support variable products and custom fields. For customisation please contact us on support@elsner.com
You can also try to add custom fields sync using filter hook "wc_zoho_request". i.e. add_filter( 'wc_zoho_request', 'wc_zoho_custom_fields', 20, 2 );
WooCommerce and Zoho Inventory Connector is coming soon!
Have any Question?
Email: support@elsner.com
Skype: sales.elsner
About Elsner Technologies Pvt. Ltd.
Elsner Technologies is a premier web development and design company in Ahmedabad in Gujarat, India. We specialize in developing professional websites and high end web based applications such as large scale e-Commerce solutions and custom shopping cart development. You may choose from an array of service offerings such as feature rich website design and development, website upgrade and SEO services.
Connect with Us
Facebook
[ad_2] Source