[ad_1]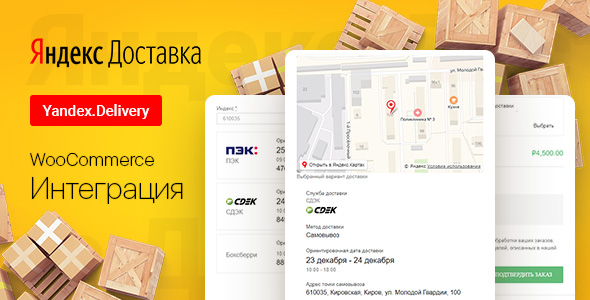 ENGLISH / НА РУССКОМ ↓
WooCommerce Yandex.Delivery Integration is a plugin for integrating the Yandex.Delivery service with your WooCommerce online store. After installing the plugin, your customers can choose the delivery methods available in your Yandex.Delivery account on the shop checkout page.
FEATURES:
Automatic addition of the settlement, street (old account) and house (old account) number on the checkout page.
Automatic zip code detection (old account).
Yandex map with the ability to select a pickup point.
Own set of packages for accurate calculation of shipping costs.
Automatic translation of measure units for Yandex.Delivery.
Create a draft order in Yandex.Delivery with all the data from the checkout page.
IMPORTANT NOTES:
This plugin requires a minimum 3.2 `WooCommerce` version.
HOW DO I GET UPDATES?
For information about the new version and the installation of updates, you can use the plugin from Envato – Envato Market WordPress Plugin.
RUSSIAN /
ОТКРЫТЬ ДОКУМЕНТАЦИЮ
WooCommerce Яндекс.Доставка Интеграция это плагин интеграции сервиса Яндекс.Доставки с вашим интернет-магазином на WooCommerce. После установки настройки плагина ваши покупатели смогут выбирать способы доставки, доступные в вашем аккаунте Яндекс.Доставки, на странице оформления заказа.
ОСОБЕННОСТИ:
Автоматическое дополнение населенного пункта, улицы (Старый личный кабинет) и номера дома (Старый личный кабинет) на странице оформления заказа.
Автоматическое определение почтового индекса (Старый личный кабинет).
Яндекс карта с возможностью выбора точки самовывоза.
Собственный набор упаковок, для точного расчета стоимости доставки.
Автоматический перевод единиц измерения товаров для Яндекс.Доставки.
Формирование черновика заказа в Яндекс.Доставки со всеми данными со страницы оформления заказа.
ВАЖНО:
Для работы плагина требуется `WooCommerce` плагин версии 3.2 и выше.
КАК ПОЛУЧАТЬ ОБНОВЛЕНИЯ?
Для информации о новой версии и установки обновлений, вы можете использовать плагин от Envato – Envato Market WordPress Plugin.
ПЛАНИРУЕМЫЙ ФУНКЦИОНАЛ:
Поддержка редактирования черновика заказа, оформление заявки на забор, печать ярлыка напрямую со страницы заказа в административной панели сайта;
Синхронизация статуса заказа и статуса доставки;
Поддержка виджетов.
CHANGELOG
v2.4.1

- Fix: Hide delivery fields if shipping not required

v2.4.0

- Add: Option to replace default _billing_city _billing_address or _shipping_city _shipping_address with values from plugin fields
- Add: Buttons to change map scale

v2.3.3

- Fix: Remove incorrect delivery points from pickup method

v2.3.2

- Fix: Bug in street input field (while pressing space)
- Chore: Hide map and add message in no results for post ans pickup methods

v2.3.1

- Fix: Russian Post delivery option to hide specific delivery method not working

v2.3.0

- Add: Russian Post delivery method for new Yandex.Delivery account
- Fix: Proper initialization of Yandex.Map on AJAX themes

v2.2.0

- Add: Delivery method title field to settings page
- Add: Option to use delivery price with custom rules for old Yandex.delivery account

v2.1.1

- Fix: Fix delivery address on order page
- Chore: Precision setting check moved to Helper and added to all request for new Yandex.Delivery account

v2.1.0

- Add: Campaign ID setting, link to Yandex.Delivery order New Yandex.Delivery account
- Add: Delivery service and delivery address display to "Thank you" page, emails, order edit page.
- Fix: Hosting / PHP version depending fixes, various other fixes. 

v2.0.1

- Add: Default product params for Yandex.Delivery New account

v2.0.0

- Add: Support of Yandex.Delivery New account

v1.0.2

- Chore: ceil product price before creating order draft

v1.0.1

- Chore: better support of yandex map
- Fix: fix bug on checkout page when only one shipping method available

v1.0.0

- Initial public release

[ad_2]
Source