WooCommerce Simple Storewide Sale is a plugin and excellent marketing tool which allows you to have sitewide sales like for Black Friday, Christmas, clerance, store anniversary or some other special day. You can define discount in precentage or fixed value, sale start and end date, you can exclude some products, product categories, product types, tags, add sitewide notification about sale or have notification before sales start.
WooCommerce Simple Storewide Sale Overview and Features:
Works with latest WordPress and latest WooCommerce and previous versions
Add sale as precentage or fixed value
Exclude allready discounted products
Use discounted price as storewide sale price
Set start and end date
Exclude from sale products, product categories, product types, SKU or tags
Include product category, SKU, tag or specific products
Set sale sitewide (storewide) notice
Set before sale sitewide (storewide) notice
Schedule storewide sale
WPML compatible, PO file available for translations in lang/ dir
Screenshots: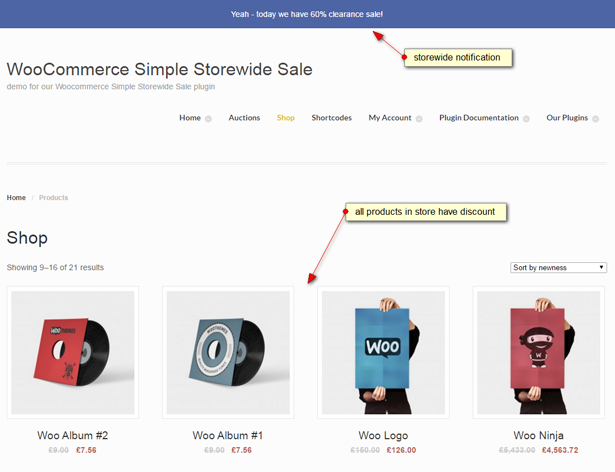 Changelog:

** Version 1.1.7 **
- Fix: fix for WPMU activation
- Fix: taxonomy bug

View complete WooCommerce Simple Storewide Sale change log here. Make sure to read documentation and check our demo.
Source