[ad_1]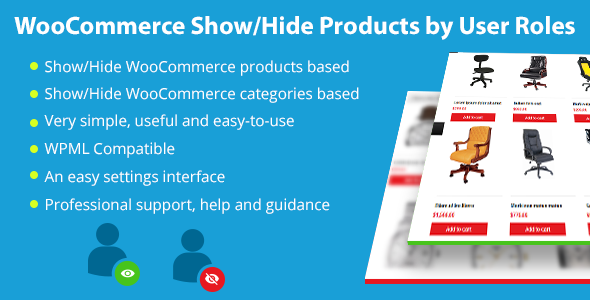 DESCRIPTION
The "WooCommerce Show/Hide Products by User Roles" plugin extends the popular e-commerce plugin WooCommerce to show products catalog based on user roles. This plugin allows you to control the visibility of WooCommerce Products on an individual role basis.
HIGHLIGHTS
Show/Hide WooCommerce products based on user roles whole over the website ( eg: WooCommerce Search, WooCommerce Shop, Product Categories, Product Tags, Products Listing Widgets etc. )
Show/Hide WooCommerce categories based on user roles whole over the website
Not limited only to product settings or to category settings at one time and allows to set both together
WPML Compatible
Very simple, useful and easy-to-use
An easy settings interface
Professional support, help and guidance
INSTALLATION
Upload the `woo-products-by-user-roles` folder to the `/wp-content/plugins/` directory.
Activate the plugin through the 'Plugins' menu in WordPress.
OR simply upload the plugin from WordPress admin section under Plugins >> Add New >> Upload Plugin.
Visit the "Dashboard >> WooCommerce >> Settings >> Products by User Roles" Menu.
CHANGELOG

= 1.2 =
* Fixed plugin tweaks so it works properly with all kind of products
* Fixed issue where plugin didn't allow to remove last product from the settings

= 1.1 =
* Fixed conflicts with WooCommerce 3.x

= 1.0 =
* Launched the initial version of the plugin
[ad_2]
Source