[ad_1]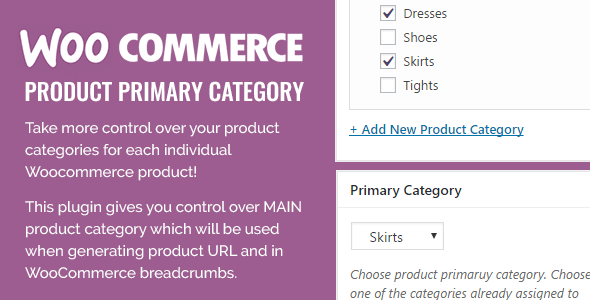 Take more control over your product categories for each individual Woocommerce product!
It will help you choose the default category when product is assigned to two or more categories. Currently, Woocommerce choose on it's own, which one is the default category and use it for permalinks and breadcrumbs.
Woocommerce Product Primary Category plugin allows you to define product category which will be used when generating product URL and in WooCommerce breadcrumbs.
It gives you missing control over the MAIN category that you would like to use for permalinks and breadcrumbs.
DISCLAIMER:
Due to large number of plugins and themes customer could have installed:
If you have any issues with plugin, it may be in conflict with some other plugin, or your theme. In that case, please open a support ticket on http://support.beocode.com and we will help. Only if we cannot make it work with your other plugins or theme, you may be eligible for a refund. Thanks for your understanding.
NEW FEATURES
Widget – Our own product category widget which marks current product category (it will pick up basic Woocommerce product category styling)
Bulk edit – you can now do a products mass edit in category admin list (useful if you have large amount of products in your store) and assign primary category easily
SEE IT IN ACTION
EASY SETUP AND USE
1. Once Woocommerce Product Primary Category has been installed and activated, new 'Primary Category' meta box will be shown on product edit pages.
2. Select one of categories product is assigned to and save the product. Product permalink will be updated to include selected category.
3. When visiting the product page on frontend, selected primary category will be used in breadcrumbs.
Product permalinks also depend on site configuration in Settings > Permalinks > Product Permalinks
If permalinks are not configured to include product category, this plugin will only affect WooCommerce breadcrumbs.
Included in Download Package
Plugin zipped file to install on WordPress self-hosted site with free WooCommerce plugin installed.
Detailed installation & user guide documentation.
This plugin is included FREE in our Woocommerce theme:
Latest Module Versions / Updates
VERSION 0.1.2 – September 18th 2017

- New feature:  Bulk edit availability - you can now do a products mass edit in category admin list (useful if you have large amount of products in your store) and assign primary category easily

VERSION 0.1.1 – June 6th 2017

- New feature:  Product category widget which marks current product category

[ad_2]
Source