[ad_1]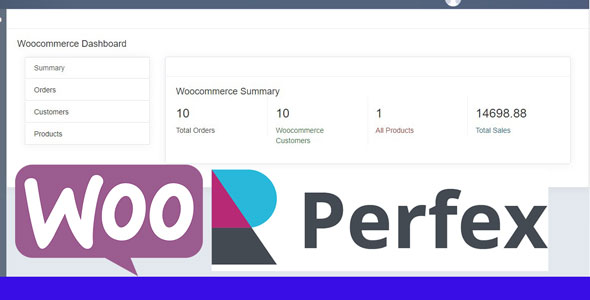 Note: This is a module for Perfex CRM. Not a standalone script. Perfex CRM that can be purchased here
Brief description
WooCommerce module for Perfex CRM is a module that enables you to view and manage your WooCommerce store from Perfex CRM.
You'll be able to :
View all Orders
View summary of Orders
Update Orders status
delete Orders
view Orders data
Edit Products
delete products
add Products as items
View all Customers
edit Customers
delete Customers
View summary of Customers
Add woocommerce Customer to perfex
Invoice WooCommerce orders in Perfex CRM
Restrict staff access to view/manage stores from perfex
Add an unlimited number of stores
Assign Stores to Staff
edit/delete individual stores
View products by store
filter Products by status
filter Products by type
View Customers by stores
View products by stores
filter Orders by status
Multisite wordpress support
Set-up
Requires at least Perfex CRM V2.4.2
Recommend use of SSL
Cron Job
WooCommerce 3.5+
WordPress 4.4+
Pretty permalinks in Settings > Permalinks so that the custom endpoints are supported.k
You will not need any coding skills to set this module up. You will be able to configure it in a few clicks (we do provide documentation for that). we are available to assistance regarding installation and set-up, upon contact request.
FAQ
Why are Orders/Products/Customers tables are empty?

Kindly wait for few minutes let cron job run. after which table will be populated.

I customised my module can I upgrade to latest version ?

Kindly note that if you already customised a previous version of this module, updating to the
New version will override changes in made to the older version .

How do I update to the latest Version ?

Backup your database (using the database backup option)
Upload the newly downloaded (upto date) version on modules page/li>
click upgrade database on the module option
Support
If you have any questions, feel free to raise a support ticket at our support area. Guys from the support department will get back to you as soon as possible with a reply.
Changelog
VERSION 2.2.1

fix: import, not auto-selecting customer company and country
fix: invoice import, not auto-selecting currency, client, payment gateway name
fix: auto-fill customer permission during import based on default
fix: order table does not show time of order
feat: order table now shows the imported invoice
fix: duplicate order on the table when converted to invoice multiple times
optimization for webhook support in next release

VERSION 2.2.0c

fix: sometimes products&customers, not auto synchronised
fix: added optimised JS for some outdated browsers

VERSION 2.2.0
Added support for multiple stores
Added Multisite WordPress support
added option to test individual stores
Assign stores to selected staff
moved settings to store page
added status filter for orders
added status filters for products
added type filter for products
improved Italian translation
moved existing stores to the new store page and DB table
assigned existing order, product, customers to the existing store
assigned imported orders, products, customers to the existing store
bug fixes

VERSION 2.1.0
added delete/edit customers
added delete/edit products
added import product
made more text translatable
some woocommerce plugin conflict resolved
preparation for support of multistore
improved imports.
other fixes

VERSION 2.0.0
Major update.
all orders are now available
updated to WC/V3 API
woocommerce Settings page moved to Perfex Settings Page
staff permission issue fixed
fixed order id showing instead of formatted order number set by custom plugins
the issue with Perfex CRM running slow with stores having 1,000,000+ orders resolved. CRM now loads faster [secs]. 
added summary for orders, products and customers

[ad_2]
Source