[ad_1]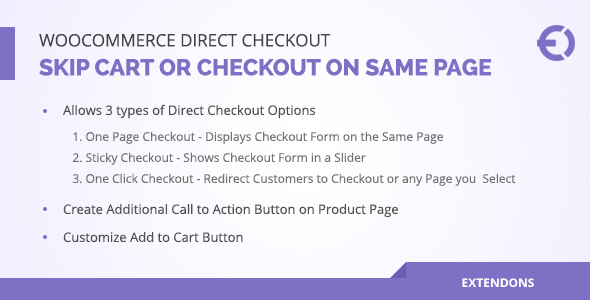 WooCommerce Direct Checkout plugin features 3 different checkouts that allow you to enhance the shopping experience.

Sticky Checkout: – Demo
Open checkout in slider on the same page. As soon as the user clicks on the cart/checkout button the checkout form will slide-in on the page.
OnPage Checkout: – Demo
Display the checkout on the same page. For example a user will be able to see the whole checkout at the bottom of the product page.
One Click Checkout – Demo
One click checkout leads user direct to the checkout page on one click i.e Skip Cart.

Sticky Checkout
With WooCommerce Direct Checkout plugin, you can configure sticky checkout that facilitates customers in knowing the order detail while filling billing and shipping details. The sticky note exhibits product name, quantity, and price, subtotal and total order amount.
On-Page Checkout – Display Checkout Form on Same Page
Configure WooCommerce one page checkout so that users can fill all details at once on the same page. It display the checkout form on the same page to customers whether they are on product or catalog page. Let the users fill shipping and billing details, and pay the order amount in a go.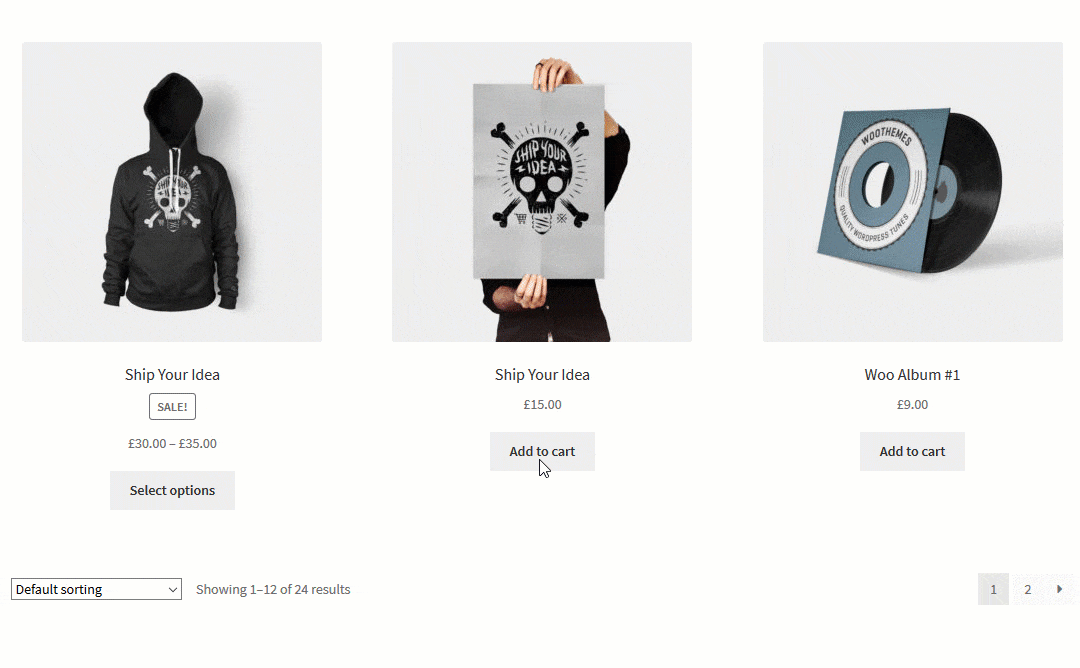 One Click Checkout – Skip Cart
WooCommerce one click checkout facilitates your potential buyers with the hassle free shopping experience. It redirects customers directly to checkout page when customers click "Add to Cart" Button.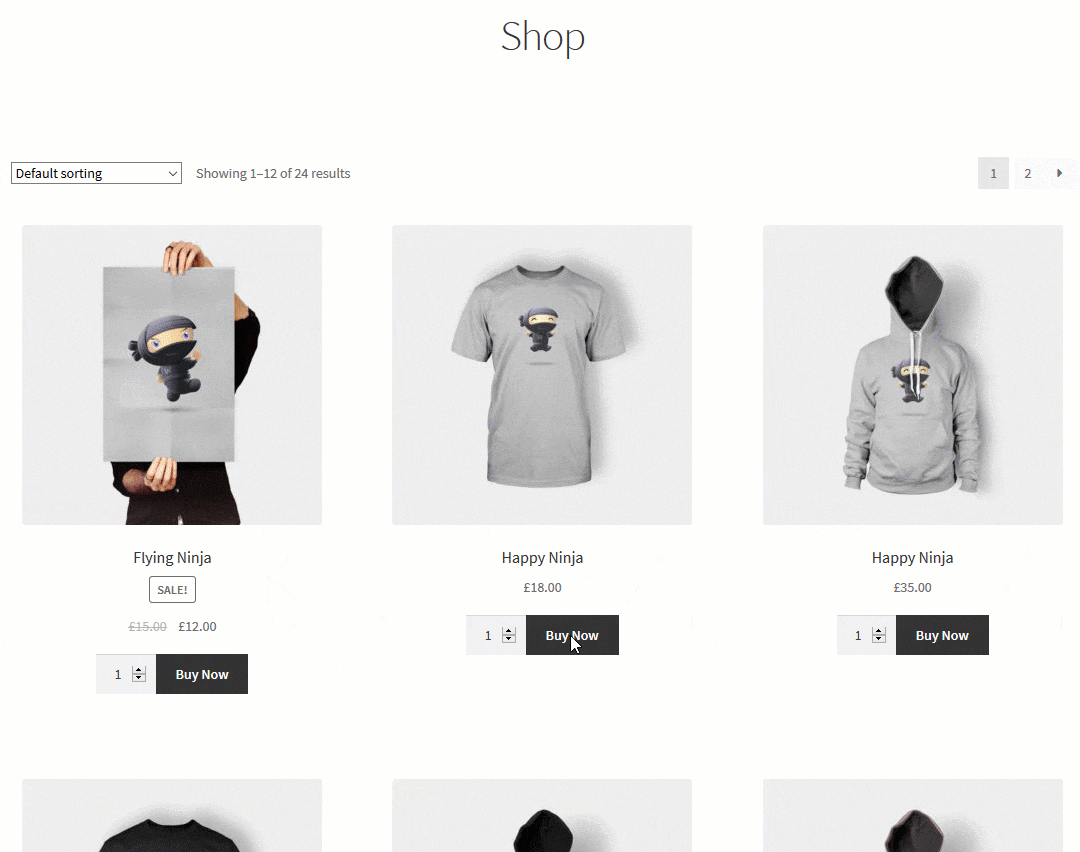 Configure One Click Checkout
You can customize the text and URL of the one-click checkout button so that customers can knowingly click to add the product to cart, checkout, or go back to 'my account' or shop page.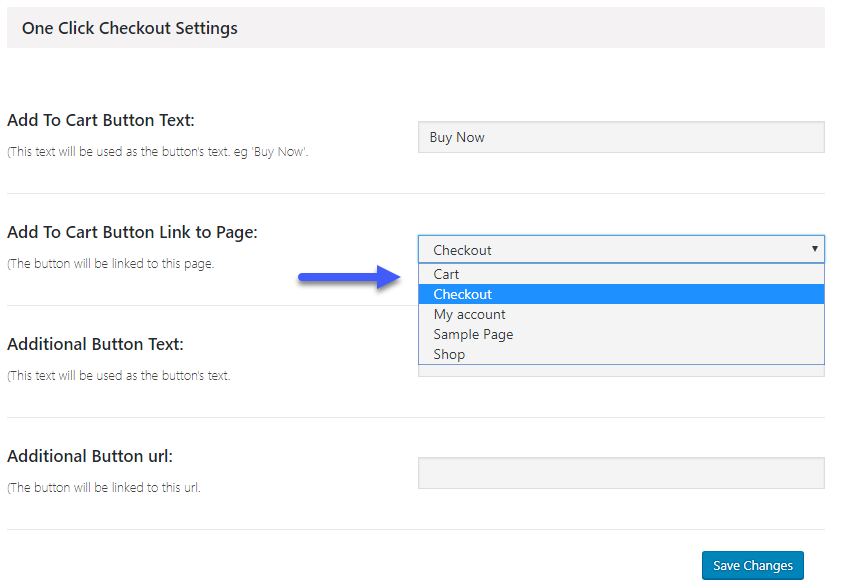 Description in Dautch
WooCommerce Direct Checkout plugin heeft 3 verschillende kassa's waarmee u de winkelervaring kunt verbeteren.
In een klik Afrekenen – Met In Een klik afrekenen wordt de gebruiker direct Tot de afrekenpagina geleid, met een klik, bijvoorbeeld een winkelwagentje overslaan.
Op pagina Afrekenen: – Geef de kassa op dezelfde pagina weer. Zo kan een gebruiker bijvoorbeeld de hele kassa onderaan de productpagina zien.
Sticky Afrekenen: Open de schuifregelaar voor het afrekenen op dezelfde pagina. Zodra de gebruiker op de Winkelwagen/checkout-knop klikt, schuift het afrekenformulier in op de pagina.
Description in French
Le plugin WooCommerce paiement direct comprend 3 caisses différentes qui vous permettent d'améliorer l'expérience d'achat.
Paiementen un clic : Le paiementen un clic conduit l'utilisateur directement à la page de paiementen un seulclic,c'est-à-dire en sautant l'étape du panier.
Sur la page paiement : Afficher le paiement sur la même page. Par exemple, un utilisateur pour avoir l'intégralité de la commande au bas de la page du produit.
Paiement Intégré: Ouvrez le paiementen un slide sur la même page. Dès que l'utilisateur clique sur le bouton panier/bouton de paiement, le formulaire de paiement se glisse sur la page.
Description in Italian
Il plug-in WooCommerce Direct Checkout include 3 diversi checkout che ti consentono di migliorare l'esperienza di acquisto.
Checkout ad Un Click: Il checkout con un clic conduce l'utente direttamente alla pagina di checkout i.e Skip Cart.
Checkout sulla Pagina: Visualizza il checkout sulla stessa pagina. Ad esempio, un utente sarà in grado di vedere l'intero checkout nella parte inferiore della pagina del prodotto.
Checkout sticky: Apri checkout nel cursore sulla stessa pagina. Non appena l'utente fa clic sul carrello / checkout, il modulo di checkout verrà inserito nella pagina.
Description in Spanish
El plugin de pago directo para WooCommerce dispone de 3 formas de pagar diferentes que te permiten mejorar la experiencia de compra.
Pago con un clic: El pago con un clic lleva al usuario directamente a la página de pago con un clic; es decir, se salta el carrito.
Pago en página: Muestra la opción de pago en la misma página. Por ejemplo, el usuario será capaz de ver la opción de pago en la parte inferior de la página del producto.
Pago fijo:Abre la opción de pago en un control deslizante en la misma página. Tan pronto como el usuario hace clic en el botón de carrito/pagar, el formulario de pago aparece deslizándose en la página.
Description in German
WooCommerce Direkte Kasse Plugin bietet 3 verschiedene Kassen, die es Ihnen ermöglichen, das Einkaufserlebnis zu verbessern.
Ein-Klick-Kasse: Die Ein-Klick-Kasse führt den Benutzer direkt zur Kasse-Seite mit einem Klick, d.h. den Warenkorb überspringen.
Kasse Auf Seite: Zeigen Sie die Kasse auf der gleichen Seite an. So kann beispielsweise ein Benutzer den gesamten Bestellvorgang unten auf der Produktseite einsehen.
Haftende Kasse: Öffnen Sie die Kasse im Schieberegler auf der gleichen Seite. Sobald der Benutzer auf die Schaltfläche Warenkorb/Kaufabwicklung klickt, wird das Bestellformular auf der Seite eingeblendet.
Change Log

Version 1.2.0 Updated:
Functionality Improved
Add to Cart & Checkout Button options


Version 1.0.1 Updated:
New Features added:
1) WPML Compatible.
2) Compatible with all major WooCommerce themes.


Version 1.0.0:
Initial release of plugin.

[ad_2]
Source