[ad_1]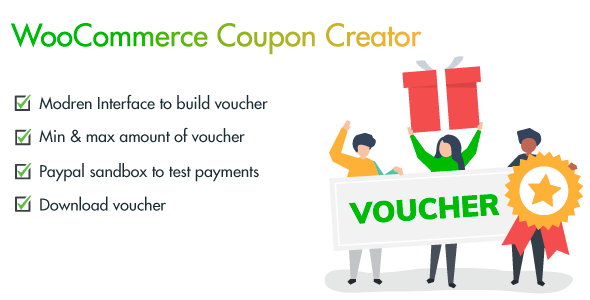 WooCommerce Coupon and Voucher Creator plugin allows you to offer coupons and gift vouchers to your online store visitors to encourage them for their next visit.
People are always seeking ways to spend wisely. Most customers look for a Coupon before visiting a retailer because everyone wants to save money. WooCommerce Coupon and Voucher Creator plugin provides the opportunity of saving a few bucks that leads to more sales for your online business
WooCommerce Coupon Creator allows you to create your desired deal, Gift Cards, eCards, Promo Codes, Coupons, Discount Cards, and Voucher design for you online store. This plugin allows your customers to send these coupons to anyone and they will apply coupon code at the checkout time to get their discount.
Main Features
WooCommerce Voucher Creator plugin is rich in features and easy to use. Let's take a look at the plugin features and functionality.
Modern interface to build Vouchers, Gift Cards, Promo Codes, Discount cards, and Coupons.
You can easily create different types of appealing and fascinating vouchers template by using Canvas.
WooCommerce Voucher Creator allows you to set the minimum and maximum coupon amount.
WooCommerce Coupon Creator helps you to increase your brand awareness and company revenue by adding logos and company images to the voucher.
By choosing the EXPIRY DATE, the admin can easily set for how many days the Coupon will be valid since the creation.
User can easily add WooCommerce coupon amount in their vouchers or gift cards.
You can set voucher Currency according to your requirements.
Admin can san set a payment success page.
WordPress Voucher and Coupon Creator Plugin let's you to see a live preview of the coupon as you make it.
Admin can use the shortcode of this plugin to show gift cards in their posts or pages on the front end.
This plugin allows you to download the PNG format of the voucher.
Paypal Sandbox to test payments
Admin can add email address that will send or receive vouchers bought by any user.
Admin can easily customize sender or receiver email content.
How it Works?
WooCommerce Coupon and Voucher Creator Plugin is the best way to create your own template instead of using images. After creating a coupon or a voucher template you have to add a new coupon or voucher and set the price, expiry date, select template, select WooCommerce coupon, and choose voucher form fields. After that, all you have to do is place the voucher shortcodes on any post or page you want. You can set the min and max coupon or voucher amount.
Use Cases
Give your dear and near ones a coupon for a dinner at their favorite restaurant
Give your customers who make a purchase, a discount coupon for their next visit
Give coupons for e-commerce stores available online, so you can buy your dream product wherever you are.
Most store owners give coupons so that their customers will be attracted to visit the store more often and purchase more items. Because stores that don't offer any coupons, consumers will likely shift or go to similar stores that offer coupons or discounts.
Store owners use coupons because, in their coupons, they can include their business name, brand logo, address, and other vital information customers need to know. Through this, their business will be recognized with discounts or freebies that will surely attract more customers and sales.
Change Logs
1.0.0 – 17 July, 2021

- initial release

[ad_2]
Source