[ad_1]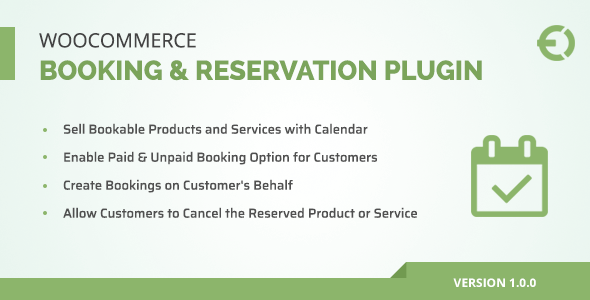 WooCommerce Bookings and Reservations plugin empower your customers to reserve your products and services online. You can add multiple bookable products with price and availability to let the customers book a duration of their choice. With the help of a booking calendar, customers can quickly select days to reserve a product. Create extra free or paid services and assign them to products for maximizing the revenue of your website.
Allow Booking & Reservation for Products & Services
Set Fixed or Customer Defined Reservation
Show Free and Optional Services Upfront
Dynamic Pricing for Various Person Types
Display Location Using Google Map
Determine Price Range for Persons, Person Types, and Rooms
Send Booking Notifications to Customers Via Email
Allow Customers to Book More than one Room
Booking Calendar to View all the Bookings
Create the Bookings on the Behalf of Customers
Compatible with WPML (New)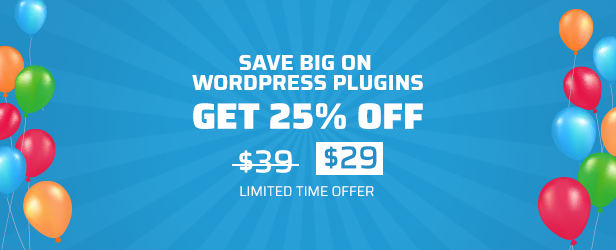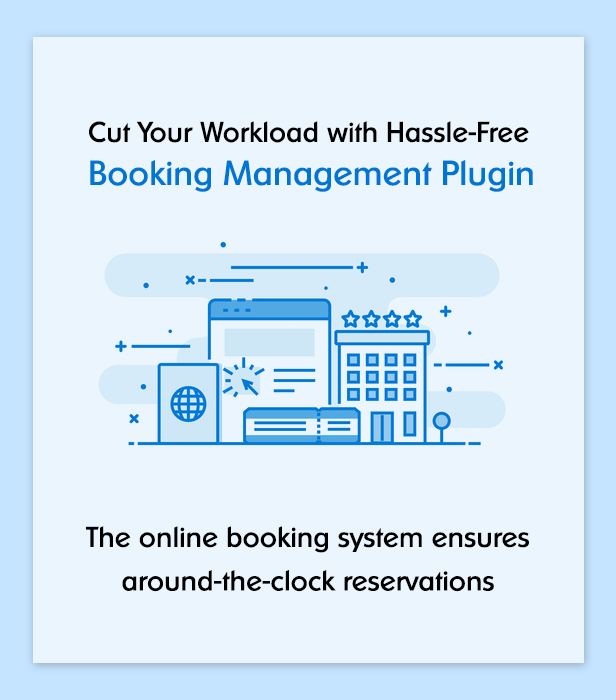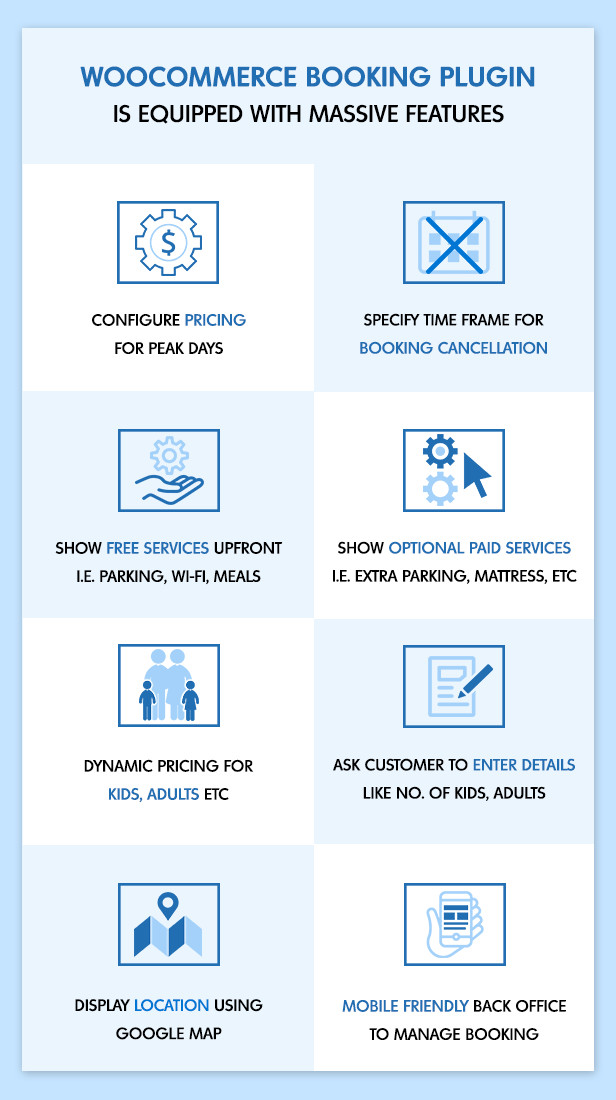 Create Bookable Products and Allow Customers to Reserve
WooCommerce booking plugin allows you to add bookable products to your eCommerce website. Examples allow customers to book a hotel room, apartment, guest house etc.
Simple Booking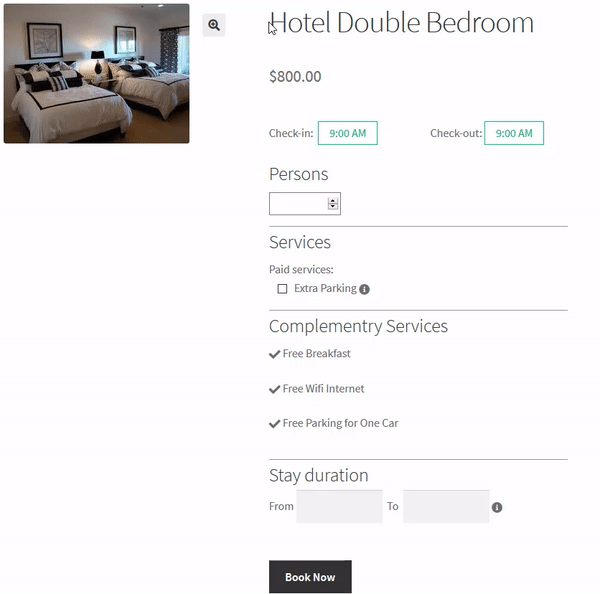 Person-wise Booking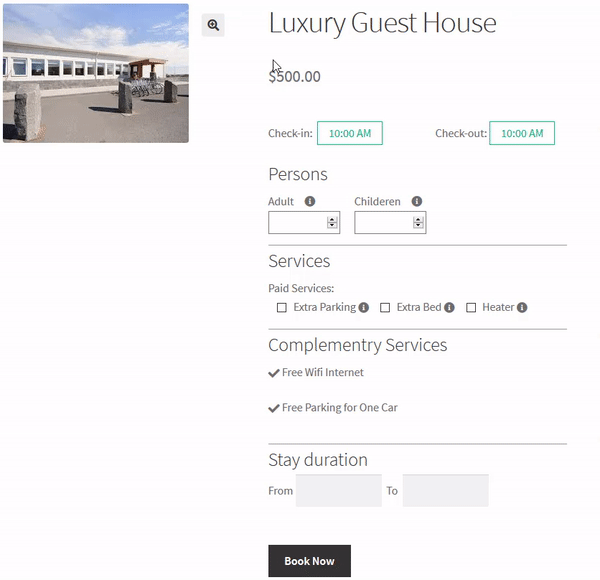 Create Bookable Services to Generate More Sales
In addition to the bookable products, you can create numerous mandatory & optional bookable services to boost revenues. For example, a hotel can allow customers to book hi-tea and buffets in addition to reserving a room by using WooCommerce hotel booking plugin. Generate more sales by imagining countless scenarios according to the nature of your business.
Set Fixed or Customer Defined Booking Duration
With a Fixed Duration block, you can allow customers to reserve a product in a specific time frame. Whereas customer defined block displays a booking calendar that gives them the freedom to select booking duration of their choice.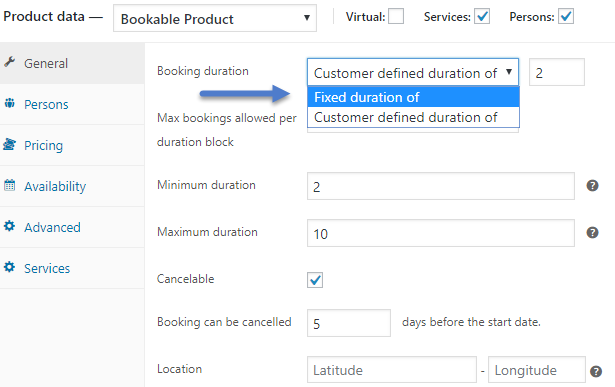 Allow/Disallow Customers to Cancel the Booking
Select either the customers can cancel their booking or not. You can also configure validity for cancelling the reservations.

Define Global Availability for All the Products
You can create booking availability for the products and options. You can determine the availability of bookable products in ranges of months, days, or custom date. By creating global availability, you can configure generalized booking slots for quickly adding them to products.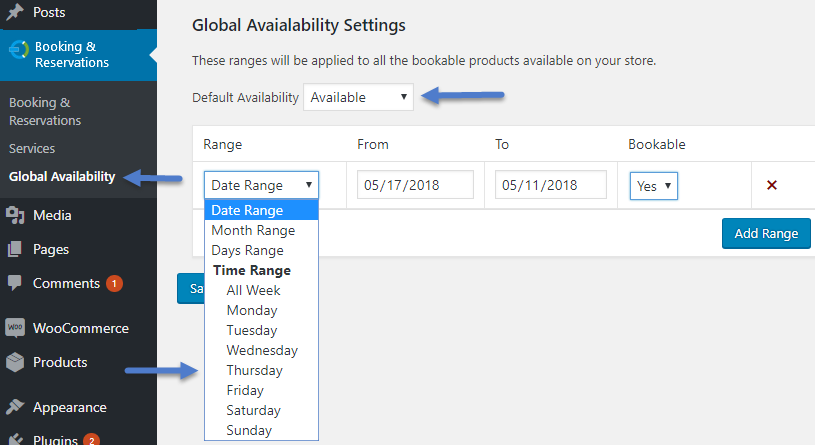 Determine Price Ranges for Different Duration, Rooms & Persons
Set a standard price for the bookable product. By creating different price ranges, you can allow discounts for the off-peak hours. For example, set a higher price for the weekends and lower for the weekdays, or swimming pools charge higher in summer season than winter.

Allow Customers to Book Single or Multiple Rooms
You can allow customers to book single or multiple rooms at once. You can set minimum and maximum number of rooms a user can reserve. Define price per room to enable room-wise booking calculation.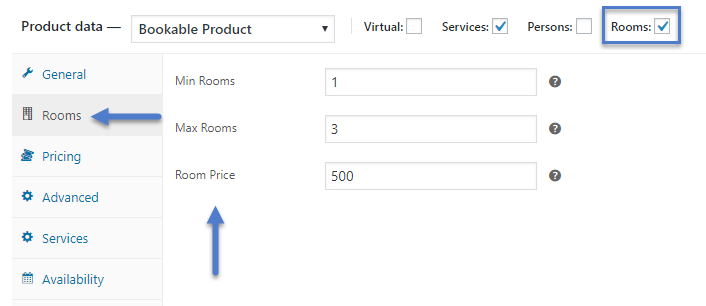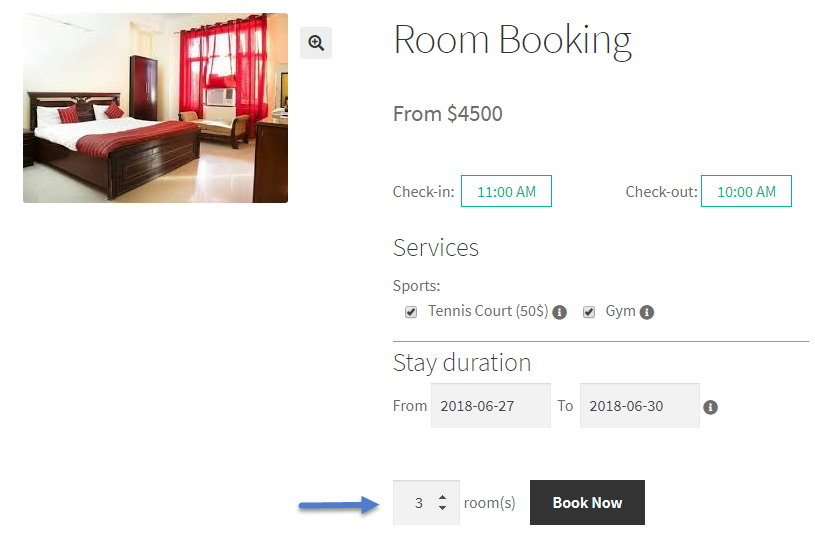 Admin can View All Reservations on Bookings Calendar
Click Bookings Calendar from the admin control panel to view date-wise reservations in a calendar. This facilitates merchants in briefly looking at all the bookings.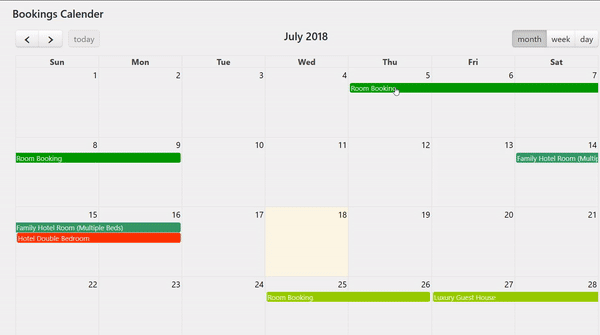 Allow Person-Wise Reservation of Bookable Products
WooCommerce Bookings and Reservations plugin empowers you to create a bookable product that has persons as well. Let your customers book a product according to their accompanying persons. For example, allow customer to reserve a room for 2 adults and 2 kids.
Set Minimum and Maximum Persons
You can set a minimum and maximum number of persons for booking a product. For example, restrict booking of a room for minimum 1 and maximum 2 adults.
Define Person Types
Create different person types along with name, price, and description to charge your customers properly. Person types can be kids, adult, couple, etc.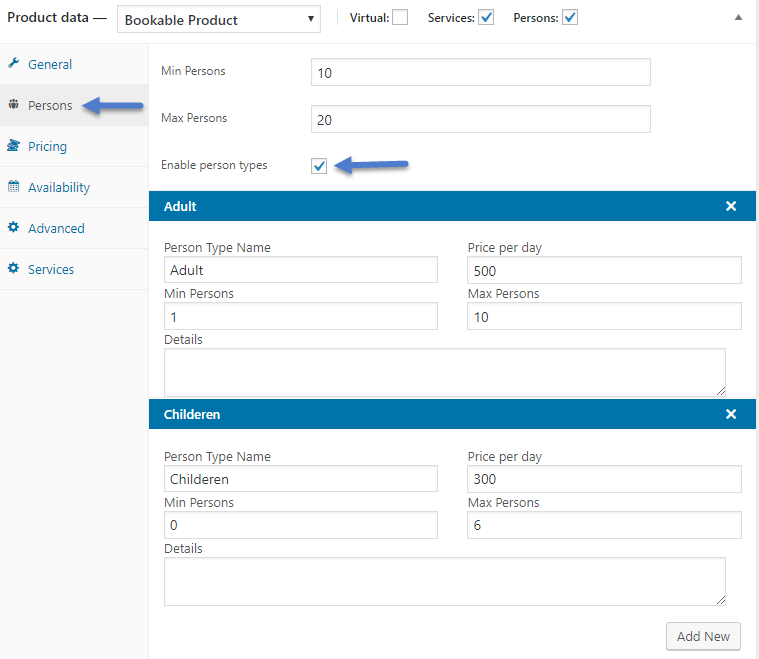 Create Bookings on the Behalf of Customers
If customers ask for booking through telephone or email then you can create bookings on their behalf from the admin panel.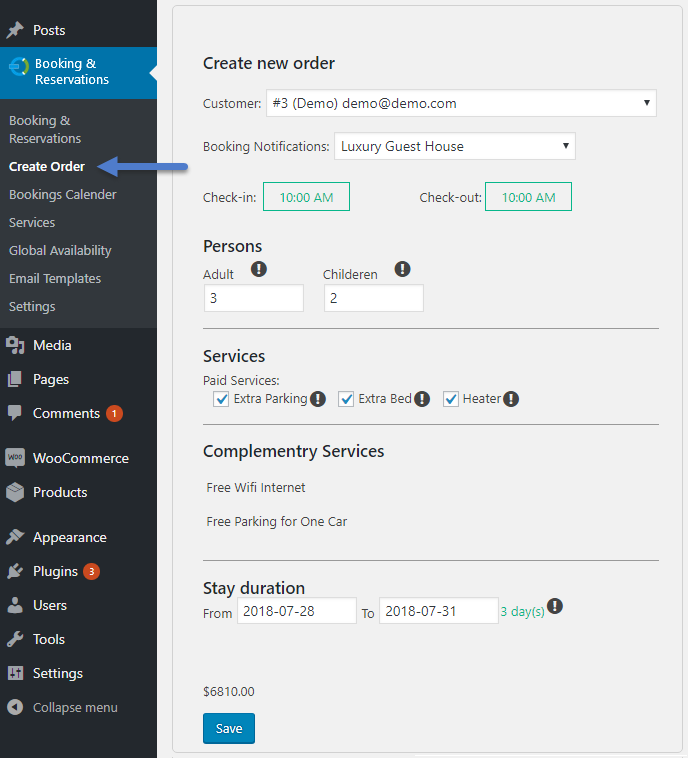 Enable Email Notifications and Customize Settings
With WooCommerce Booking and Reservation plugin, you can enable booking notifications to inform the potential buyers in time. You can customize the name and email address of the sender to streamline your communication with the customers.
Add Custom Email Templates
You can draft multiple email templates and configure their sending time. Pre-compose an unlimited number of messages with WYSIWYG editor and add media to them. These email messages can either be sent soon after booking, one day before check-in, or after check-out.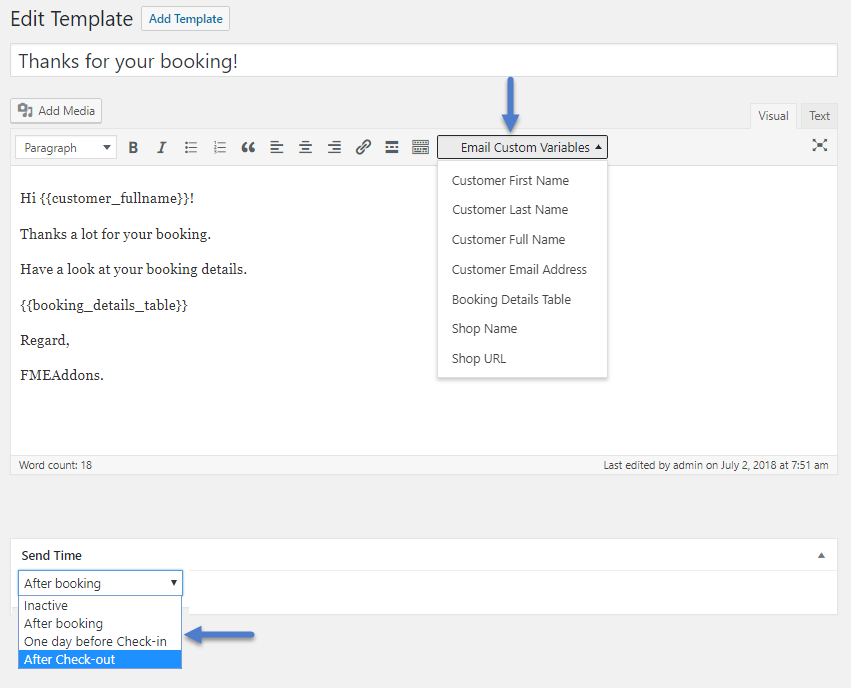 Add Google Map Location to Your Bookable Products
By providing latitude and longitude, you can display the physical location of a bookable product on Google map right on the product page. This facilitates users in reaching out to the exact location with easy map navigation.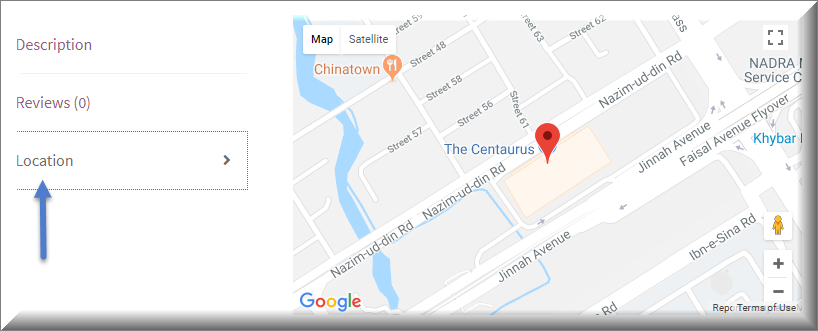 Compatible with WPML
WooCommerce booking and reservation plugin is compatible with WPML (WordPress Multilingual Plugin).
Change Log

Version 1.5.1 Updated:
- Bug fixes
- Show available and not available dates on product page


Version 1.5.0 Updated:
Bug fixes.


Version 1.4.0 Updated:
Backend Bug fixes.


Version 1.3.0 Updated:
Some JS error fixes.


Version 1.2.0:
A minor bug fix.


Version 1.1.0:
New Features:
1) WPML Compatible.


Version 1.0.0:

1) Initial release of plugin.

[ad_2]
Source