[ad_1]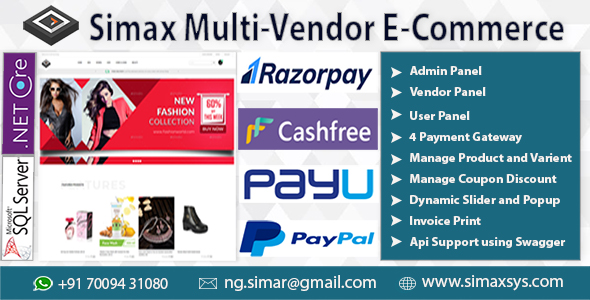 Simax Multi-Vendor E-Commerce Solution developed in Dot Net Core. In an e-commerce portal, users and vendors can buy or sell their products. 
The main feature of this portal is Multi-Vendor. Multiple Vendors can register and sell their own products in this portal. e-Commerce. vendors can also add and update multiple product variants
We are providing this project with full source code. Users can also log in and register with Google and Facebook. Project source code is written professionally in repository pattern and Entity Framework. In the e-commerce portal four payment gateway has integrated like PayPal, PayU, Razorpay, and Cashfree.
We have used layered architecture, repository pattern, and Entity Framework code-first approach. it supports many database providers such as Microsoft SQL Server, Oracle, PostgreSQL, SQLite, MySQL, etc.
Features
• Fully Responsive
• Swagger Api Support for Apps
• Powerful Search(search have image with text)
• Clean Urls with SEO friendly
• Real-time firebase notifications
• Featured Products
• Most Purchased Products 
• Product and Product Variant Entry
• Vendor Can Manage Product Variant and their orders
• Manage slider images from admin
• Manage offer popup from admin
• Multiple Vendor Registration
• Multiple Filters like Brand, Color, Size, Prices, Category, Sub Category, and Sub Sub Category
• Product Image Zoom Feature
• WishList 
• Product Reviews and Comment
• Related Products
• Cart Items
• Apply Coupon for Discount
• Pincode wise shipping charges
• Currency Feature
• Login with Google and Facebook
• Multiple Payment Methods 
• Orders 
• Invoice 
• Order Tracking
Installation Steps
Unzip Solution
Upload to your hosting domain or iis
Create a database in your hosting and run a given SQL script placed in "Database/script.sql"
Change Connection string of database in appsetting.json file
Run It
your application is ready to use now
Watch Demo Video


User Panel
Username: user01@gmail.com
Password: 111111
Admin Panel
Username: demo@gmail.com
Password: 111111
Vendor Panel
Username: vendor@gmail.com
Password: 111111
Contact Us on WhatsApp: +91 70094 31080
[ad_2]
Source