[ad_1]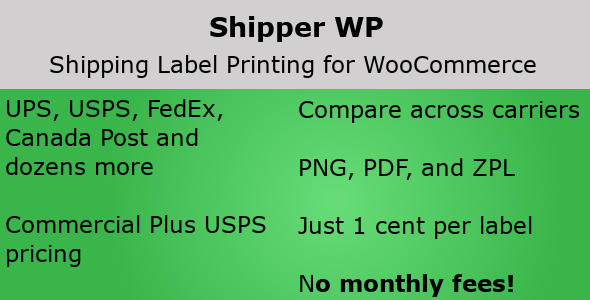 Find, compare, and print shipping labels from multiple carriers for your WooCommerce orders. Shipper WP integrates with EasyPost to provide you with a streamlined order fulfillment workflow.
Features
No monthly fees!
Instant access to Commercial Plus pricing from USPS.
Compare rates from over 100 different carriers including UPS, USPS, FedEx, DHL, Canada Post and Royal Mail (see full list: https://www.easypost.com/carriers).
Support for international shipments (complete with customs forms).
Labels available in PNG, PDF, and ZPL (Zebra) formats (just ask if you need more formats).
Integrated with EasyPost and WooCommerce.
Updates (1/28/2019)!
Support for PHP 7.3 (including 7.2)
Save tracking number and carrier to Order meta data
Added email for from/return address
Improved handling of ZPL labels
Fixes for WooCommerce 3.3.5
Updates (9/25/2017)!
Allow specifying label/ship date
Support for multiple sender/origin addresses
Company field on origin and destination addresses
Phone number populated from orders page (must be on billing address)
Support for metric and imperial units of measure
Address switcher for return labels
Better handling for PNG labels (particularly for Dymo printers)
Better handling for cases where carrier does not properly return a label image
Fix for sites that have WordPress installed in a sub directory
Fix for sites that have plugins that load AngularJS onto every Admin page
Quick Setup
Create a free EasyPost account at www.easypost.com.
Purchase and install the Shipper WP plugin.
Copy/paste your API key from EasyPost into the Shipper WP settings page.
Start Shipping!
Getting Started
You can search and print labels from either the "Shipper WP" menu, or from the WooCommerce -> Orders menu. Going through WooCommerce will pre-populate the buyer's address information into Shipper WP search form.
Test and Live Modes
Shipper WP can be used in either "Test" mode or "Live" mode. Test mode is useful for printing dummy labels if you are just experimenting or need to test a printer. Live mode is what you use when you are ready to print real labels. Note: USPS's Commercial Plus pricing does not appear in Test mode.
Additional Carriers
After completing these instructions you will see USPS rates in Shipper WP. To see other carriers (such as UPS or FedEx), simply set up those accounts through the EasyPost dashboard. Rates from those carriers will then appear in Shipper WP.
[ad_2]
Source