[ad_1]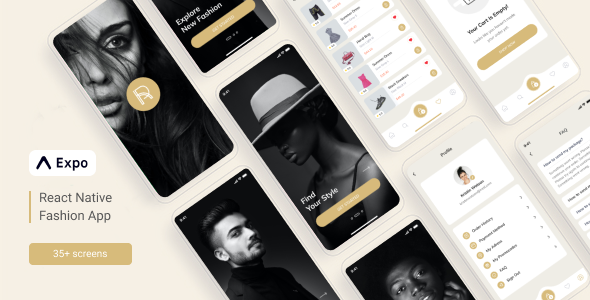 Important!

This project is a TEMPLATE. Not backend project. Built on expo

The images any media & elements that appear or are used in the template are not included in the main download file, thay are only for the preview purpose.
Features:

Rossi is a fashion mobile app template built on top of React Native. It is available and supports both Android and IOS platforms. If you don't wish to start development for your online fashion service from scratch ? Rossi is your answer. App has all the necessary pages. Use this app to bootstrap your online fashion service fast.

Pages Included:
01_Welcome Screen
02_Onboarding 1 Screen
03_Onboarding 2 Screen
04_Onboarding 3 Screen
05_Sign in
06_Forgot password
07_Forgot password (sent email)
08_New password
09_Sign up
10_Sign up (account created)
11_Verify your phone number
12_Confirmation code
13_Home
14_Searchs
15_ProductDetails
16_Reviews
17_Wishlist
18_Filter
19_Profile
20_Edit profile
21_Payment method
22_Add a new card
23_My Address
24_Add a new address
25_Order history
26_Track your order
27_Sign out popup
28_My promocodes
29_My promocodes (empty)
30_Cart (empty)
31_Order
32_Checkout
33_Checkout (Shipping details)
34_Checkout (Payment method)
35_Order successful!
36_Order failed!
Fonts:
Images & Icons:
"freepik"
"depositphotos"
"unsplash"
"flaticon"
[ad_2]
Source