[ad_1]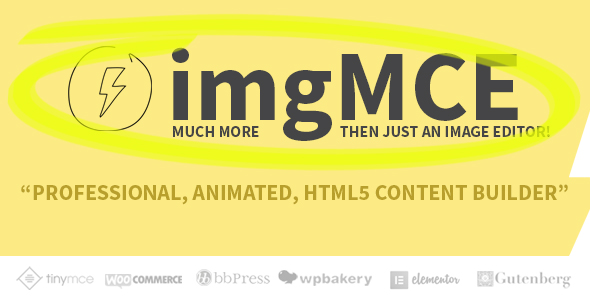 imgMCE – Much more then just an image editor
Easy to use, Professional, Animated, HTML5, Drag&Drop Element Builder
The best tool to blow life into your website! Decorate Notes, Improve your Photos, Animate Titles, … whatever you do with it, it has never been so Easy, Fast … and so much Fun!
We are happy to introduce ImgMCE!
All The Features You Need Bundled in One Element Creator
Finally, a WordPress plugin that gives you the power, speed and ease you always wanted to upgrade your content/images and push life into your website.
Design directly from the text editor!
The tool every text editor was missing. Just like the buttons for making text bold or cursive, You now have a button to make your content shine!

Main Features
Drag and drop interface
Add elements to your images and move them around using the drag and drop editor.
Content elements
From simple text or shapes up to advanced HTML and animations, imgMCE offers a comprehensive list of ready-to-use content elements to build any content you may need.
Element preview
See what your element looks like before adding it to your website.
Asset libraries
imgMCE image designer partners with various asset libraries like 'Font Awesome', 'GIPHY' and 'Unsplash'.
Google Fonts support
Access a full list of Google Fonts and use them to create appealing headlines, titles and articles.
HTML form builder
Create good looking animated html forms and collect user data on a much friendlier way. See live example.

Instagram-Like Filters
Apply Instagram-like filters to any image! Create images that are modern and visually interesting to make your content shine.
Zoom in/out
Apply a zooming effect to your images to focus on specific details. See live example.
Shoppable Images
Make your images useful, add animated buttons with popup option to specific spots to give the user more information. See live example.

Role manager
Control which user roles have access to the imgMCE features anywhere on your website.
No coding skills required
You don't have to be a web developer to create great animations. The imgMCE element builder will take care of all the code. So you just have to use your imagination.
localization files
This plugin uses localization files for translating the plugin to any language.
Online Preview
UPDATES

V1.3.2 - July 12 - 2019
    - CSS improvements.
    - Fixed plugin activation issue.

V1.3.1 - February 12 - 2019
    - Improved array_merge_recursive.  
    - Improved loading image template when DOING_AJAX.
    - Fixed IE and Edge issue with showing images.
    - Fixed missing dependencies warning.

V1.2.3 - January 24 - 2019
    - Fixed issue with duplicating layers not showing up in timeline.

V1.2.2 - January 3 - 2019
    - Added option to export projects as Image.
    - Improved animation popup window.
    - Fixed Gutenberg option.

V1.2.1 - November 22 - 2018
    * Added in-view support when images are loaded inside the iframe.
    * Fixed issue with animations not being saved
    * Updated ColoringPick to v2.0.0

V1.2.0 - September 26 - 2018
    * Added Elementor page builder support. 
    * Added Froala text editor support.
    * Fixed issue with rotate style.

V1.1.9 - September 11 - 2018
    * Added Timeline
    * Added drop shadow effects

[ad_2]
Source