[ad_1]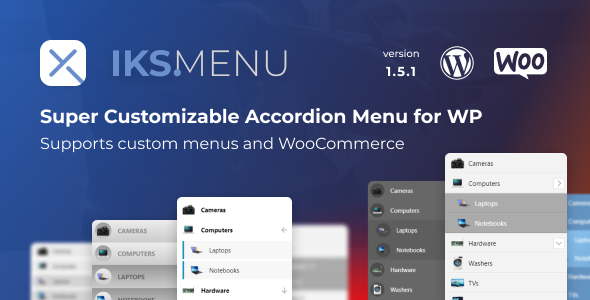 Iks Menu is a WordPress plugin that provides powerful customizable system, has loads of settings for creating Accordion menus.
Also has more than 15 starter skins – so it's super easy to use for beginners and very customizable for advanced users.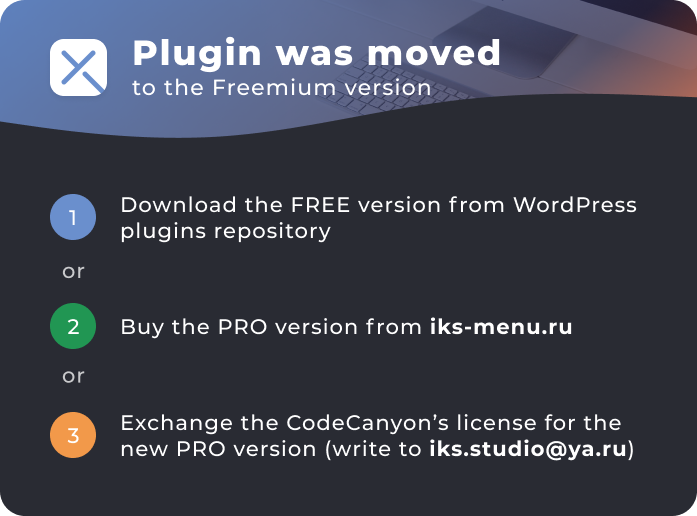 Advantages
1. Supports taxonomy and custom menus
2. Fast and usable menu editor
3. Unique settings for setting up menus
4. Customize appearance for any part of menu
5. Supports exporting and importing settings
6. Provides expand/collapsing animations
Skins
15+ Awesome looking menus out of the box. Start using skins with clean design right now with just one click.
Usage
3 variants of how to use plugin
1. Widget – Use it directly in widget area
2. Shortcode – Use it anywhere with shortcode
3. PHP code injection – Use it anywhere in your theme with PHP code
Help
1. Get help anytime 24/7
Ask your question on CodeCanyon and we will help you anyway
2. See documentation for plugin
Super detailed docs for better understanding how plugin works
3. Does not suit for you?
Offer new features for plugin and we will provide it in nearly future
Change Log
Scheduled
Ability to order content (link, image, toggle, etc.)
Search for terms
Customizing widget area (header, content, etc.)
Shortcode attributes
Loading menus by AJAX
Group skins by tags (like flat, white, colored, etc.)
Translate plugin into other languages
In progress
New skins every week
WP do_actions and filters
Releases

[1.5.1] - 17.09.2019
* Changed: "Hide empty terms" is now false by default
* Fixed: not smooth expanding for submenus with multiline items texts
* Fixed: appearance of skin #14 without image


[1.5.0] - 12.09.2019
* Added: Ability to set images for all taxonomies and custom WordPress menus
* Added: New setting "Placeholder" for images


[1.4.0] - 05.09.2019
* Added: Ability to display posts count for terms
* Added: Ability to set custom "class name" for Toogle Icon to use any other icons pack included in your theme
* Added: Containers of each menu now have unique IDs
* Added: New design for modal window of menus creation
* Fixed: Setting "Initial expansion - Disable" works better
* Fixed: Now some settings like "Animation", "Transition", "Image type / position" and some others are not "Appearance settings" and it won't be imported with skins


[1.3.0] - 24.07.2019
* Added: Settings "Initial Expansion" (allows you to expand certain terms when the page loads)
* Fixed: Menu collapsing bug


[1.2.0] - 18.07.2019
* Added: Setting "border-radius" for all menu elements
* Fixed: Sub-menus are now expanded immediately after the page loads
* Fixed: Errors with verifying license
* Fixed: Added check for the widget's empty title
* Improvements inside the "Skins" tab
* Editor now loads a little faster
* Other minor improvements


[1.1.0] - 10.07.2019
* Added: Now you can press CTRL+SHIFT+S or CTRL+ALT+S to save currently editing menu
* Added: Setting for changing editor's preview type (hide or show underlay background)
* Added: Settings "width" and "max-width" for Container
* Added: Inputs of type "Size" now can be set with percentage value
* Added: Better design for inputs in admin editor (focus added)
* Added: Better design editor tabs
* Fixed: Removed unnecessary div container for widget


[1.0.0] - 04.07.2019
* First release

[ad_2]
Source