[ad_1]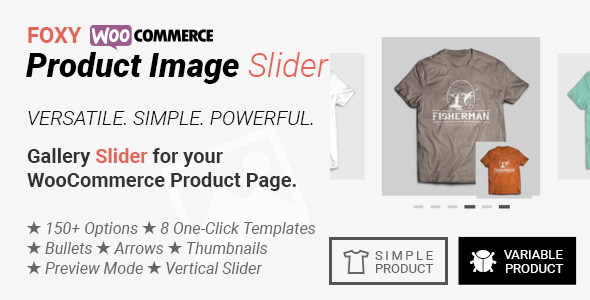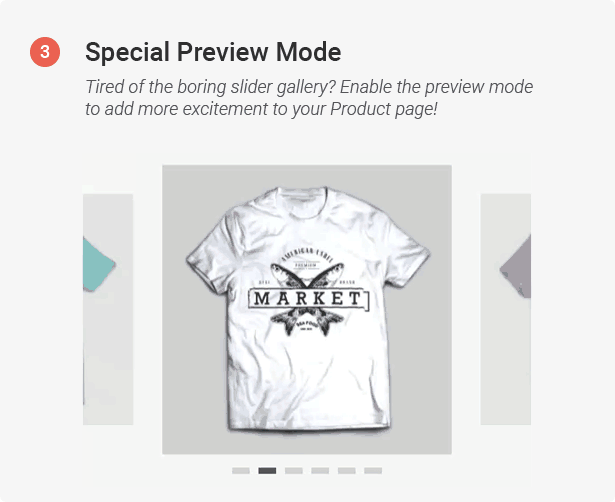 Foxy WooCommerce Product Image Gallery Slider Carousel
Want an eye-catching and user friendly Product Gallery on your WooCommerce product page? Foxy can instantly transform your product images into a fully responsive beautiful carousel slider with a simple one-click installation.
Create a unique and customized Product Gallery without any coding knowledge. Add bullets, arrows, thumbnail sliders and image previews to your product images, and customize colors and style that matches your brand!
Main Features
150+ Options
8 One-Click Templates
Vertical or Horizontal Thumbnail Sliders
Thumbnail Preview
Bullet and Arrow Options
Autoplay Settings
Zoom and Lightbox Customization
Supports Simple & Variable WooCommerce Products
Slider
Slide Animation: Slide or Fade
Slide Infinitely
Slider Direction: Horizontal or Vertical
Slider RTL
Autplay
Autoplay Speed
Pause on Hover
Lightbox
Disable Lightbox
Lightbox Background Opacity
Hide Lightbox Caption
Hide Lightbox Fullscreen Icon
Hide Lightbox Zoom Icon
Hide Lightbox Image Count
11 Lightbox Icons
Lightbox Icon Position
Lightbox Icon Offset
Lightbox Icon Size
Lightbox Icon Color
Lightbox Icon Background Width and Height
Lightbox Icon Background Color
Lightbox Icon Background Border Radius
Arrows
Arrow Style: Icons or Product Preview
Arrow Preview Padding
Arrow Preview Scale
8 Arrow Icons
Arrow Behavior: Always Show Arrows or Show Arrows on Hover
Arrow Hover Animation: Slide or Fade In
Arrow Color
Arrow Hover Color
Arrow Icon Size
Arrow Line Height
Arrow Padding
Arrow Offset
Arrow Background Width and Height
Arrow Background Color
Arrow Background Hover Color
Arrow Background Border Size, Color and Style
Arrow Background Border Hover Color
Arrow Background Border Radius
Bullets
Bullet Style: Dots, Bars, Line and Number
Bullet Position
Dot Offset
Dot Direction: Horizontal or Vertical
Dot Margins
Dot Width and Height
Dot Background Color
Dot Background Hover Color
Dots Border Size, Color, Style
Dots Border Hover Color
Dots Border Radius
Dots Background Color
Dots Background Padding
Bar Offset
Bar Height or Width
Bar Color
Bar Hover Color
Bullet Arrow Offset
Bullet Arrow Line Size
Bullet Arrow Color
Number Font Size
Number Color
Number Margin
Number Background Width and Height
Number Background Color
Number Background Hover Color
Number Border Size, Color, Style
Number Border Radius
Bullet Thumbnails
Bullet Thumbnail Width and Height
Bullet Thumbnail Offset
Bullet Thumbnail Animation
Bullet Thumbnail Border Size, Color, Style
Bullet Thumbnail Border Radius
Thumbnails
Show / Hide Thumbnails
Thumbnail Position
Thumbnail Offset
Thumbnail Width or Height
Thumbnail Background Color
Active Thumbnail Color Overlay
Non-active Thumbnail Color Overlay
Non-active Thumbnail Hover Color Overlay
Thumbnail Padding
Miscallenous
Disable Zoom
Hide Unselected Variable Images
Custom CSS
Fully Translatable and includes all .po and .mo files
Developer Options
Export Settings
Import Settings
Create Custom Template for your Theme!
Compatibility
PHP 5.4+
WooCommerce 3.0+
WordPress 4.8+
WooCommerce Additional Variation Images
Changelog

Version 1.0.7 (21 Jun 2018)
    - Fixed bug lightbox not working with some themes

Version 1.0.6 (5 May 2018)
    - Fixed bug for gallery not showing when no product image is set
    - Added filter to edit product image html in gallery

Version 1.0.5 (4 May 2018)
    - Bugfix hide variation images not working for thumbnails on mobile
    - Changed gallery default size and added hook for changing gallery image size

Version 1.0.4 (2 May 2018)
    - Bugfix match exact variation image
    - Fix hide images before slider initialized

Version 1.0.3 (18 Apr 2018)
    - Added compatibility with plugin: WooCommerce Additional Variation Images
    - Added option to hide unselected variable images

Version 1.0.2 (13 Apr 2018)
    - Bugfix variation class error
    - Improved theme compatibility

Version 1.0.1 (23 Mar 2018)
    - Bugfix carousel thumbnail not using correct image size

Version 1.0.0 (8 Mar 2018)
    - Initial release

Credits
[ad_2]
Source