[ad_1]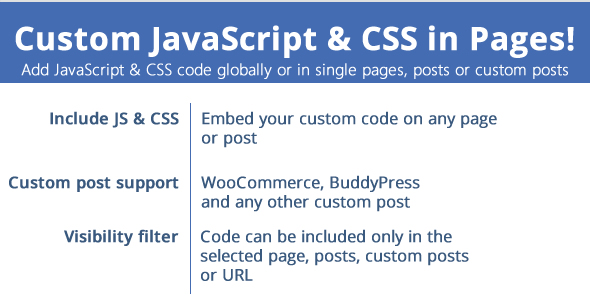 The Custom JavaScript & CSS in Pages! plugin allows you to add CSS, Javascript code directly in any post, page or custom post!
LIVE DEMO
https://www.codecanyon.eu/wpjce/wp-admin/
user: demo
pass: demo
How to automatically update the plugin
To receive automatic updates just install and configure the Envato updater plugin: httpss://goo.gl/pkJS33 .The official guide that explains how to configure it can be found in the following link: httpss://envato.com/market-plugin .
How it works
The plugin allows you to embed CSS and Javascript code into any page (or just in the selected ones). It can be done through the Global code feature or directly by editing the page/post/custom post you need. Main features:
Text editor with syntax highlighting
Print the code inline or included an external file
Print the code in the header or the footer
Add as many codes as you want in any frontend page
Keep your changes also when you change the theme
Global code
Through the main Custom JS & CSS you will be able to create Code objects by which you can define the:
Custom Javascript/CSS code and where it has to be included (footer or header)
External Javscript/CSS libraries that have to be included (footer or header>
Visibility options: Optionally you can specify where have to be included and specify a visibility filter (by page, post, url, …)
Pages, posts and custom posts!
Code can be included by directly editing any page, post or custom post (like WooCommerce products, BuddyPress, etc.). You will find the Custom JS & CSS metaboxes that allow you to embed the code you need!
SCREENSHOTS
Global code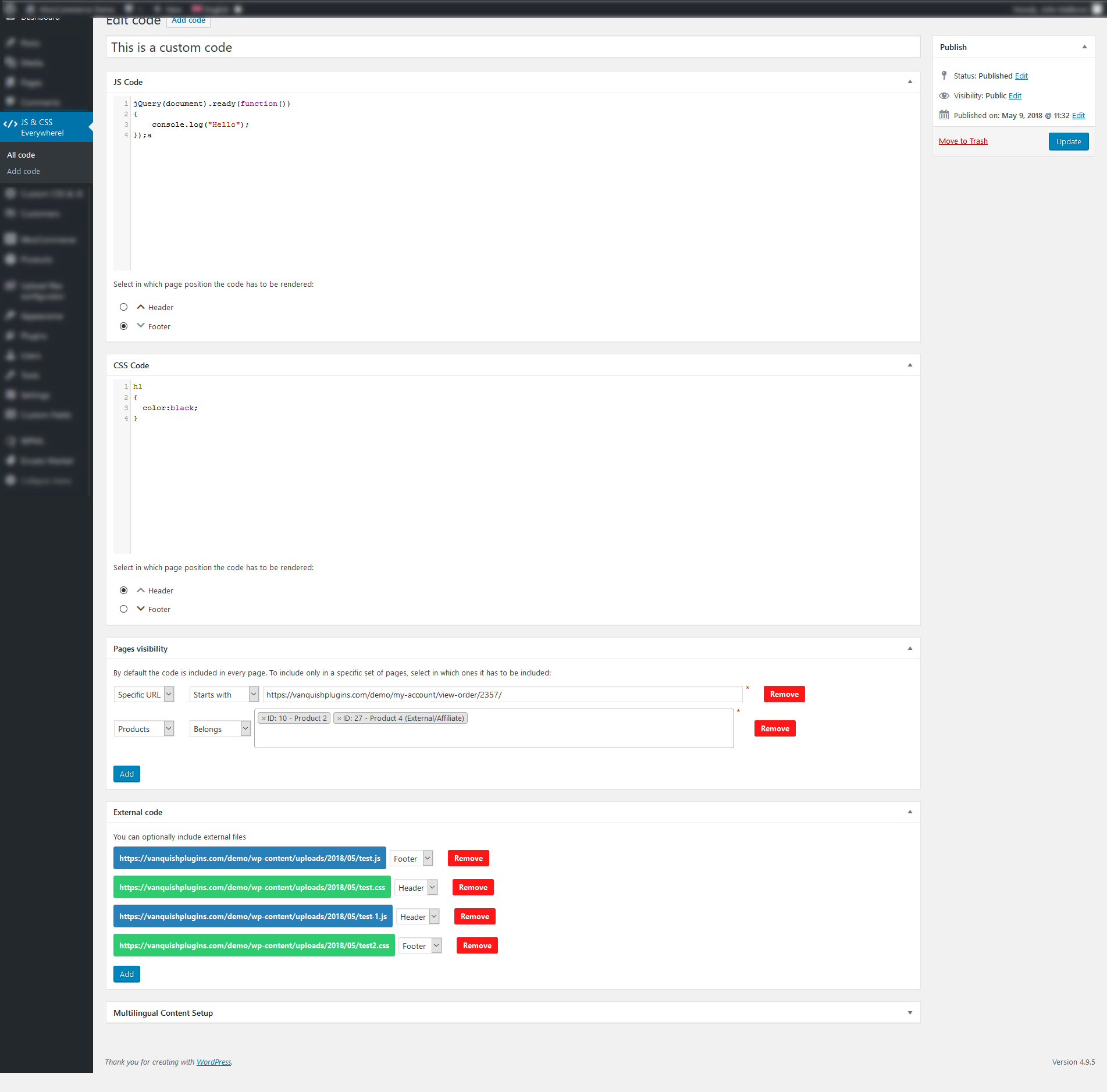 Meta boxes added to pages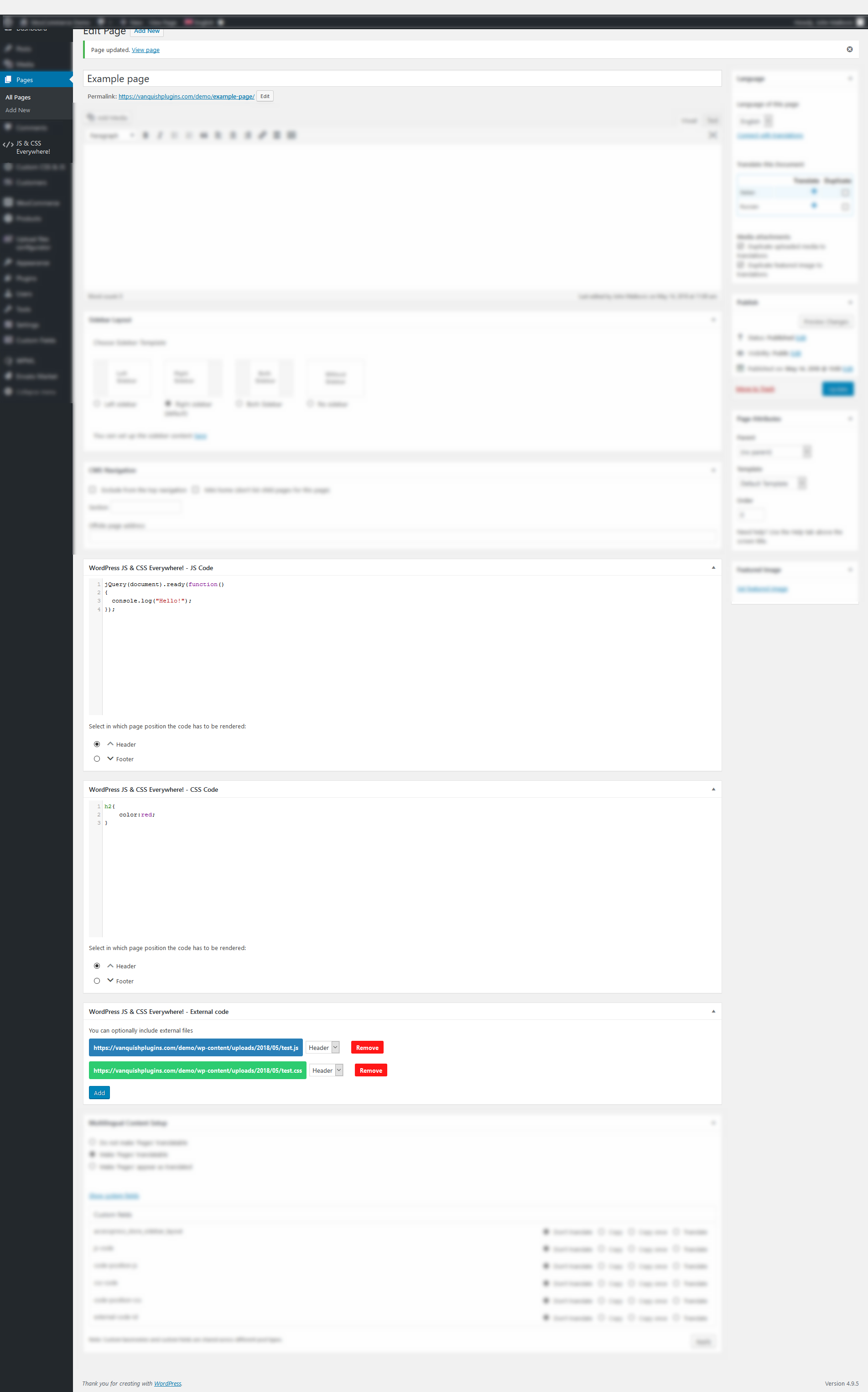 Meta boxes added to any custom post (Example: posts, woocommerce products, etc.)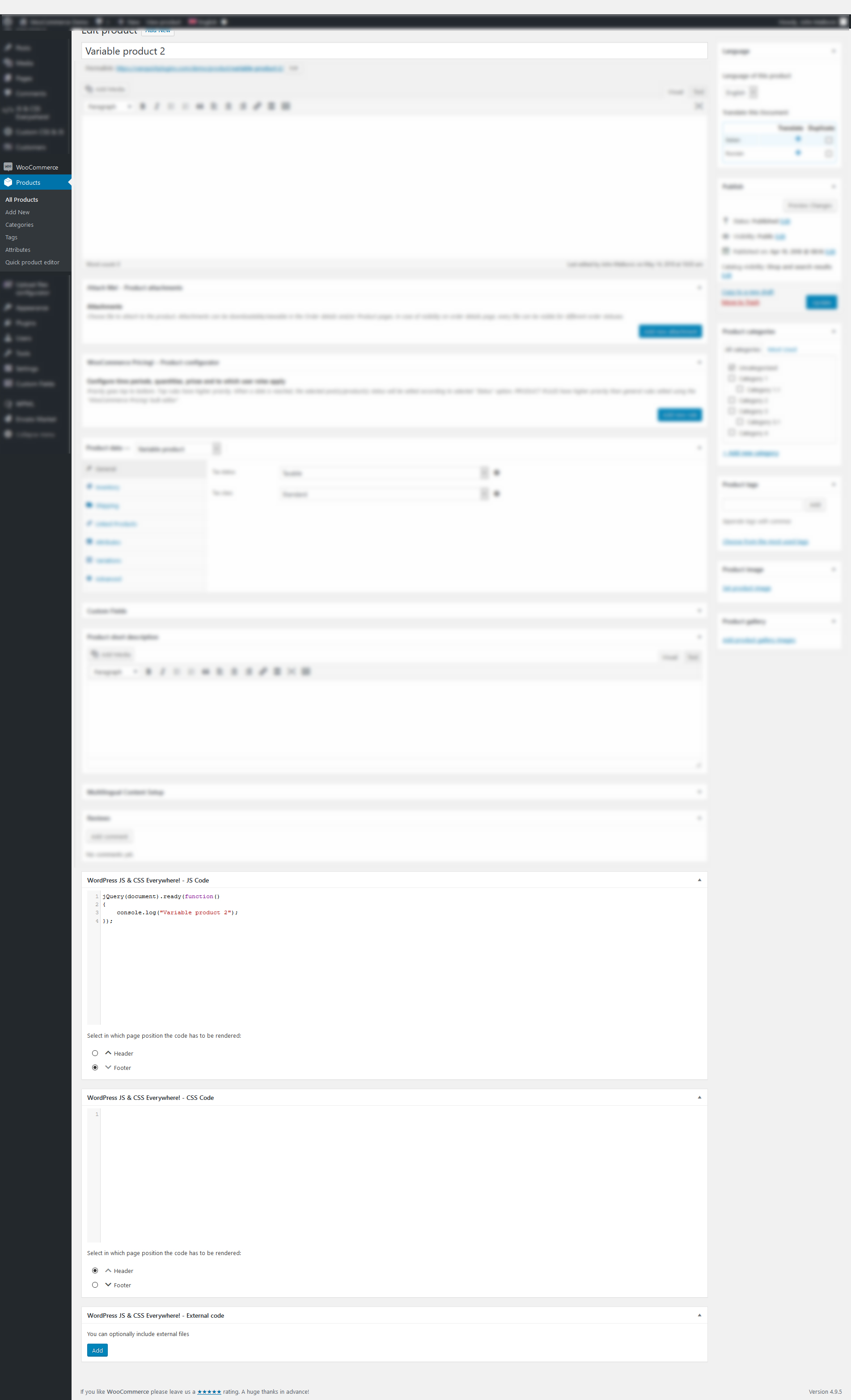 = 3.2 - 17.03.21 =
* Added new option to filter by categories

= 3.1 - 25.02.21 =
* Fixed an issue due to product and post cannot be selected

= 3.0 - 13.10.19 =
* Minor bugfix

= 2.9 - 10.09.19 =
* Option to temporary disable external scripts

= 2.8 - 09.09.19 =
* Minor bugfix

= 2.7 - 09.09.19 =
* Is now possible re-order external files order

= 2.6 - 06.09.19 =
* Improved menu icon

= 2.5 - 06.09.19 =
* Improved code editor

= 2.4 - 06.09.19 =
* Typo

= 2.3 - 09.08.19 =
* Is now possible link remote CSS/JS files

= 2.2 - 27.07.19 =
* Fixed an issue related to the Avada Fusion Builder plugin

= 2.1 - 26.07.19 =
* Fixed an issue due to JS and CSS were not be uploaded

= 2.0 - 15.03.19 =
* Custom global CSS and JS now can be included also for admin pages 

= 1.9 - 04.02.19 =
* Fixed an issue due to Selected product were not properly displayed when editing a Code istance

= 1.8 - 24.09.18 =
* Prevente some cases in which 3rd party plugin and themes were generating some interference preventing the user to properly 
  load external js and css files

= 1.7 - 03.08.18 =
* Fixed an issue that prevent the "set featured image" to properly work

= 1.6 - 06.07.18 =
* Fixed an issue relative URL filter

= 1.5 - 06.07.18 =
* Minor bugfix

= 1.4 - 06.07.18 =
* Fixed an issue with page selector

= 1.3 - 05.07.18 =
* Minor bugfix

= 1.2 - 22.05.18 =
* Fixed an issue due to global code was not embedded on all pages

= 1.1 - 22.05.18 =
* Fixed an issue due to the menu was inaccessible

= 1.0 - 14.05.18 =
* First release

[ad_2]
Source