[ad_1]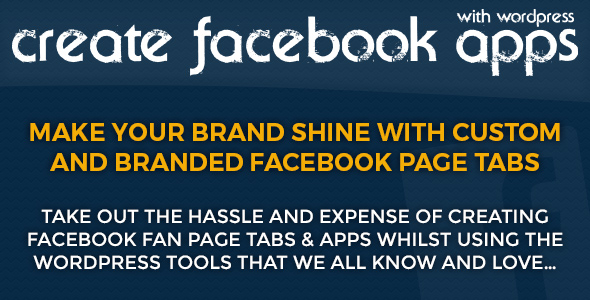 This lightweight social plugin is stacked with industry leading features
Please note that as of 16 May 2019 Facebook introduced a new policy to their platform where only pages that have more than 2000 page likes can install custom page tabs. We are in regular contact with Facebook's developers encouraging them to remove this policy but for the time being this is their current rules for building custom page tabs and it exists across all page tabs services & addons (not just this plugin).
No limits and full control
There are no limits to the number or types of Facebook page apps you can create whilst using your WordPress self-hosted website.
Easy to use and white labelled
It's never been easier to create and manage your own white labelled and custom branded Facebook page tabs to give your brand that extra edge against the rest.
Mobile Friendly
Until now, one of the drawbacks of using custom Facebook page app tabs was that they only work on desktops and laptops.  We ensure that you can now use your Facebook apps mobile friendly links within your marketing.
Single and multi page apps
Equipped to handle both single and multi page (mini-sites) Facebook page apps for when you're ready to take your page tabs to the next level.
Facebook Ads Integration
Are you looking to evolve your Facebook Ads and remarketing efforts with the use of Facebook page app tabs. Bundled with Facebook Pixel and Standard Events tracking means you can track conversions (with value & currency fields) and retarget ads to anyone who visits your custom page tabs.
Google integration
Integrated with Google Adwords and Analytics with conversion goal tracking compatible to monitor and measure to evaluate the success of campaigns that use your custom Facebook Page Tabs.
Completely self-hosted on your server
Say good bye to relying on third party services when managing your custom page apps now and allow our plugin to manage the apps from your server.
Theme and Plugin Compatability
We're compatible when used with well-built themes, plugins, shortcodes and widgets meaning you can create Facebook apps using your favourite plugins and their respective functionality.  Great compatibility with Visual Composer, Revolution Slider, WooCommerce and Buddypress.
Custom Templates
The plugin also handles custom theme templates where you can create custom appearance or functionality to the apps using WordPress' standard theme template hierarchy. Custom Templates can apply to all apps or individual apps.
Extend your apps with custom functionality
Take your Facebook page tabs to the next level by building customisable and advanced functionality into your theme templates or as an add-on plugin.
WordPress Multisite Ready
Create Facebook Apps with WordPress plugin is multi-site ready and due to its lightweight code, it works great with large networks of sites.
Try out a few types of Facebook page apps and tabs that you could be creating within minutes…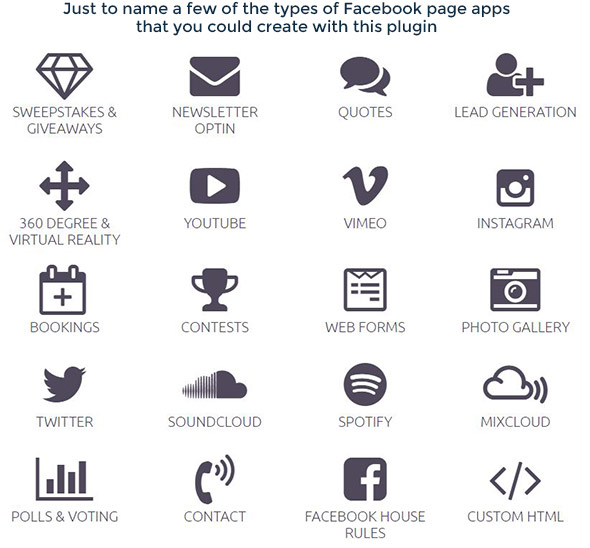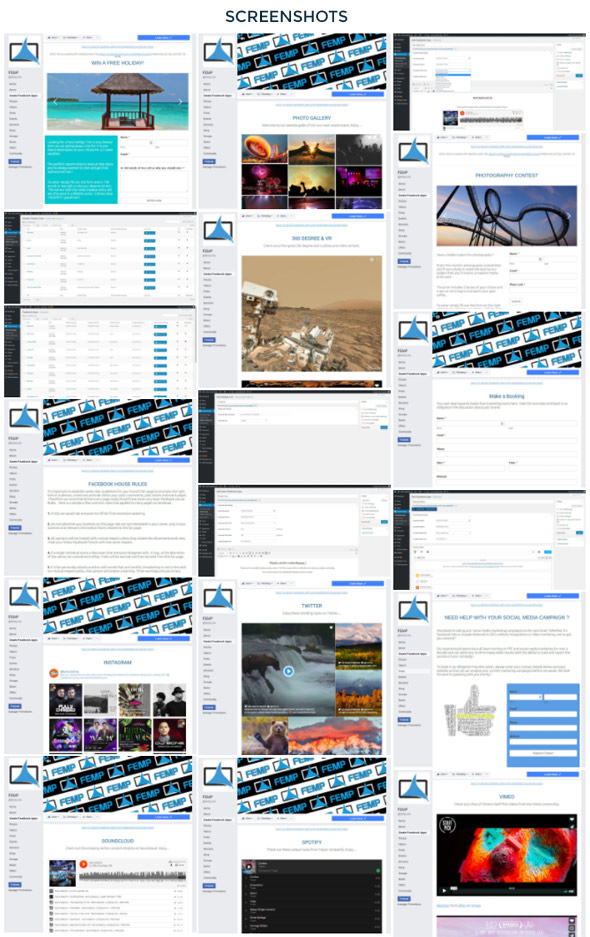 Text Version
This plugin takes the hassle and expense out of creating Facebook apps and Facebook page tabs by simply using the WordPress tools that we all know and love…
Gone are the days where you would need to pay a cloud-based service on a per app & per month basis !
In the past, if you had no coding knowledge then creating a Facebook page tab for free would involve having a limited app with either a powered by or advertised message within your app, or alternatively pay for cloud service white-label app that gave you restricted design and features at an expensive cost. If you wanted a completely custom app that suited your needs and brand then previously you would've needed a developer to hard code the entire app for you (the best option until now).
See the demo apps in action
This lightweight social plugin is stacked with features:
No limit to the amount of the Facebook apps you can create
Easy creation of custom and branded Facebook Apps
Create single page or multi-page mini site apps
Completely self-hosted on your server, no relying on third party services or servers
Facebook Pixel integration for remarketing ads
Facebook Conversion Tracking integration
The ability to use any Facebook Standard Event (conversions) including purchase with value & currency fields
Google Analytics integration & goal tracking ready
Compatible with majority of well-built themes, plugins, shortcodes and widgets
Custom appearance, look and feel
Custom templates for your theme (to apply to all apps or different templates for individual apps)
Custom and advanced functionality is able to be built into your app
Compatible with Visual Composer, Revolution Slider, WooCommerce and Buddypress.
Compatible with WordPress Multisite
Just to name a few of the types of Facebook page apps that you could create with this plugin are:
Contest Facebook Apps
Lead Generation Apps
Product Apps
Newsletter Opt-in Apps
Sweepstakes Facebook Apps
Photo Gallery Apps
YouTube Facebook Apps
Vimeo Facebook Apps
Web Form Facebook Apps
Instagram Facebook Apps
Twitter Facebook Apps
360 Degree & VR Facebook Apps
Soundcloud Facebook Apps
Mixcloud Facebook Apps
Spotify Facebook Apps
Giveaway Facebook Apps
Poll & Voting Facebook Apps
Interactive Multimedia Apps
Product Launch Apps
Contest Facebook Apps
Event Apps
Facebook House Rules Tab
Mini Facebook App Websites
Custom HTML
and much more, the skys the limit…
Notes: This plugin is for self-hosted WordPress systems only (not wordpress.com) and it requires an SSL Certificate (see our in built plugin FAQ to learn how to enable an SSL certificate).
Demo Logins:
User: createfbappsdemo
Pass: createfbappdemo12345
Login: https://demo.createfacebookapp.com/wp-admin
[ad_2]
Source