[ad_1]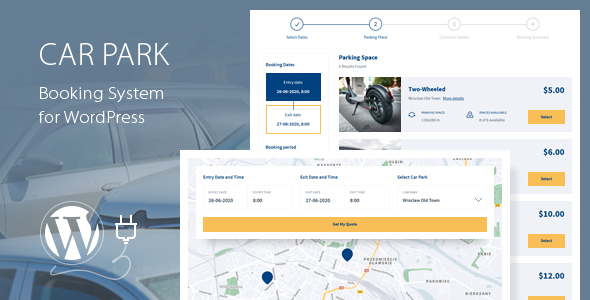 Car Park Booking System is a powerful online reservation WordPress plugin which provides all the tools and features needed to run your parking lot business. It provides a simple, step-by-step booking process with online payments, e-mail and sms notifications, WooCommerce and Google Calendar integration and an intuitive backend administration.
The plugin is designed to support an unlimited number of locations (parking lots). It allows you to define an unlimited number of types of parking spaces, e.g. for a car, camper or van. The system shows the number of parking spaces of a given type and their occupancy.
The plugin is loaded with rich features such as an unlimited number of booking forms, map of parking lots, pricing rules tool, integration with payment services, multiple currencies support, coupons with a coupon generator and more…

Latest Version: 22.12.2020 – v1.6. Check the changelog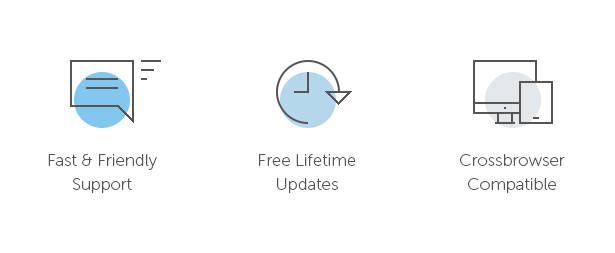 Car Park Booking Core Features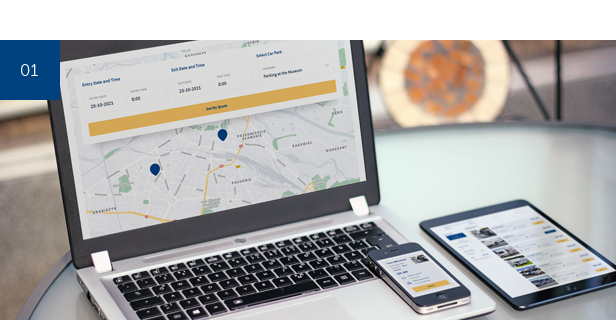 Responsive Layout
Car Park Booking is fully responsive which means each and every plugin element adapts perfectly for any screen size.

Step Based Navigation
The navigation in the plugin is based on convenient steps with the possibility of returning to already completed steps (remembers once completed forms).

Map of Car Park Locations
The locations assigned to a given form are displayed on the map. Clicking on the location marker displays a convenient popup with information about parking, address details, opening hours and types of parking spaces supported. You can create an unlimited number of locations and assign them to different booking forms.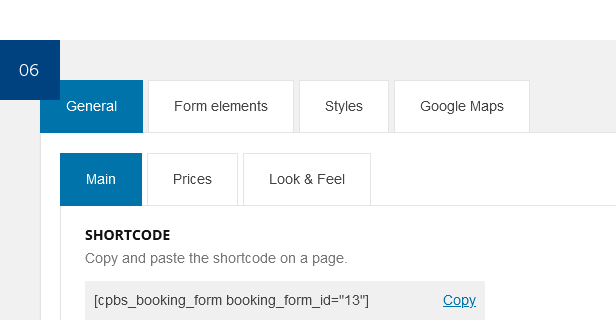 Multiple Booking Forms
You can create an unlimited number of booking forms and set different options for each form, assign different locations, etc. Thanks to this, you can place many reservation systems on your single website, depending on your needs.

Custom Color Schemes / Custom Map Styles
Use the convenient styling configurator and set the colors to match the booking form to your website. You can style different forms independently. In addition, the plugin supports google map styles. Generate JSON (https://mapstyle.withgoogle.com/) code and change the look of your map – independently for each of the booking forms.
Unlimited Locations
The plugin supports an unlimited number of locations. Each location has assigned parking space types with their number, exact address, contact details, map coordinates, business hours and dates excluded from the booking system, supported payment methods, booking notification options, google calendar options, and many smaller but important options such as the minimum or maximum booking period, in advance booking etc.

Unlimited Types of Parking Spaces
Define your parking spaces, e.g. for a car, van or motorhome. Specify the dimensions of the parking space, select the icon, color and set prices. The plugin supports an unlimited number of types of parking spaces.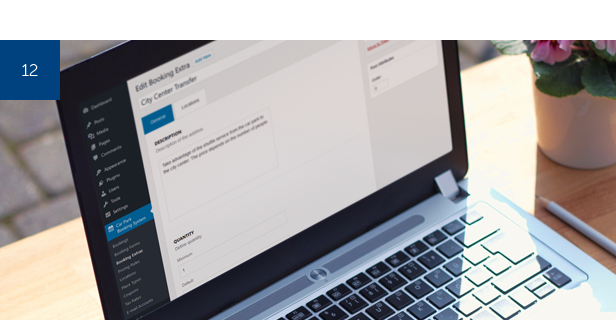 Booking Extras
Add an unlimited number of add-ons which can then be selected by the customer, like hail protection cover or additional services e.g. car wash or meet and greet.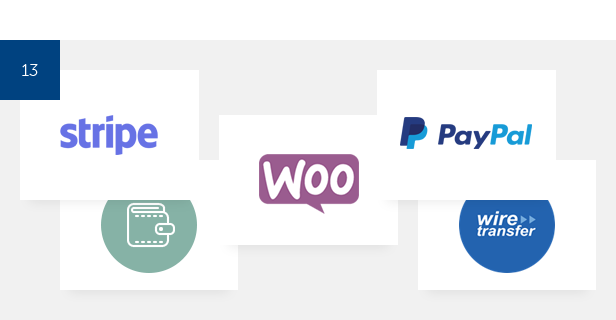 Multiple Payment Methods
Car Park plugin provides multiple payment methods including PayPal, Stripe, Cash and Wire Transfer. If you use WooCommerce on your website you can use the payment methods supported by the WooCommerce.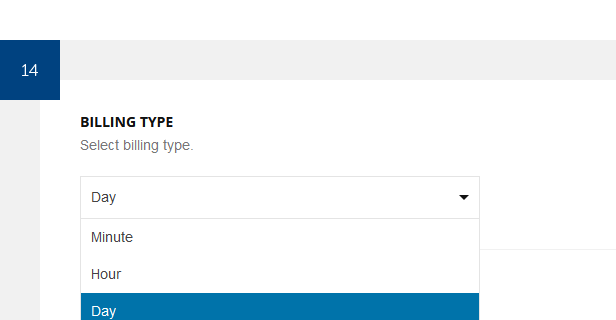 Different Billing Types
The plugin supports various payment handling methods. Settlement per day, hour, minute, day+hour, hour+minute.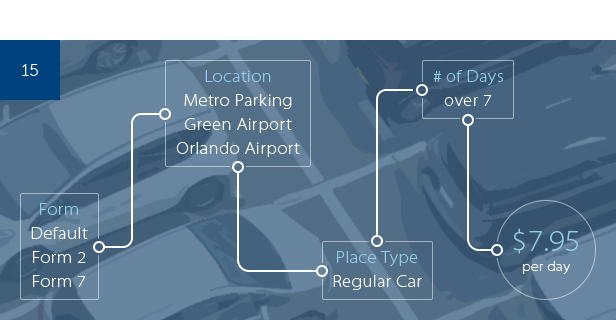 Extensive Pricing Rules
You can define your own pricing rules depending on the booking form, location, type of space, week day number, rental dates, days, hours or minutes quantity.

Coupons / Multiple Currencies, Tax Rates
The plugin allows you to create coupons with predefined interest rates, dates, usage limits, etc. You do not have to create each coupon manually. The built-in tool can automatically generate the desired number of coupons in one second.
You can define available tax rates like 0%, 8%, 23% and select the plugin base currency (160 currencies are available). In addition the plugin comes with integrated exchange rates importer which allows you to convert the base currency of the plugin into one of the many available currencies. You can create one booking form that supports multiple currencies (e.g. for different language versions of the page).

Business Hours / Excluded Dates
The plugin fully supports working hours and also has the option of excluding specific dates from the possibility of booking them.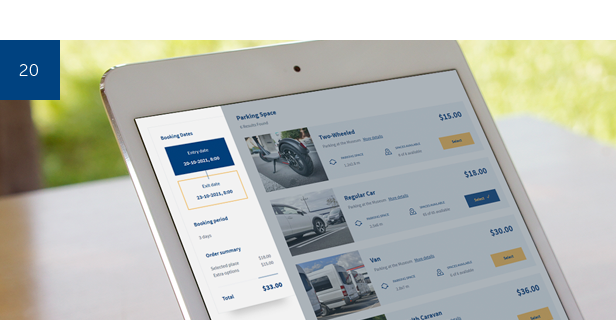 Smart Sticky Sidebar
Booking details with the summary of your order is always visible even when scrolling the page.

WPBakery Page Builder Integration / Google Calendar Integration
Car Park Booking comes integrated with popular WPBakery Page Builder for WordPress plugin and Google Calendar for bookings.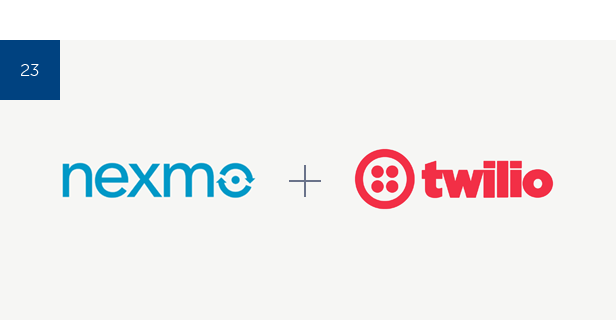 SMS Integration with Nexmo and Twilio
The plugin comes integrated with Nexmo and Twilio API for SMS notifications to improve the customer experience. By adding e-mail notifications, your clients will always be well informed.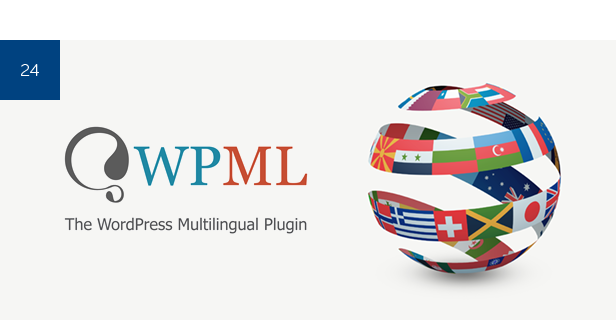 Compatible with WPML
Car Park Booking is compatible with WPML, supporting multi-language websites. The .po and .mo files allow you to translate your installation.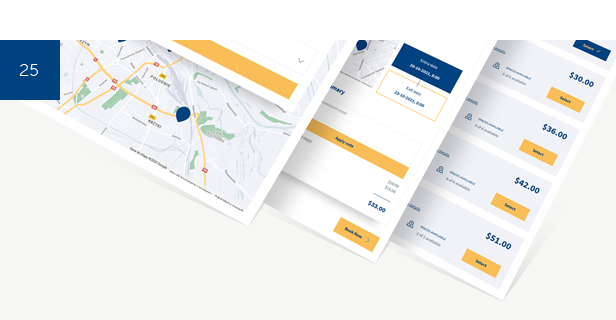 One Click Demo Install
Import demo data to start with by using plugin settings menu.

Backend Feature List of Car Park Booking System for WordPress
Frontend Feature List of Car Park Booking System for WordPress
Responsive Layout
Retina Ready
Ajax Driven
WooCommerce Integration (the Plugin is Also Fully Functional without WooCommerce Installed)
Google Calendar Integration
Telegram Integration
Compatible with WPML, Supporting Multi-Language Websites
Visual Composer Page Builder Integration
Step Based Form with Easy Steps Navigation
Google Map with Parking Lots Locations
Popup with Location Summary
Smart Sticky (Floating) Summary Sidebar
Integrated with Paypal, Stripe and WooCommerce Payment Gateways
Support for Cash and Wire Transfer Payment Methods
SMS Integration with Nexmo and Twilio
Unlimited Booking Forms with Different Settings
Unlimited Bookings
Unlimited Number of Locations
Unlimited Number of Types of Parking Spaces
Unlimited Add-Ons (Booking Extras)
Number of Parking Spaces of a Given Type
Number of Spaces Occupied
Different Types of Billing: Day, Hour, Minute, Day + Hour, Hour + Minute
Pricing Rules
Multiple Currencies
Tax Rates
Coupons with Coupon Generator
Custom Color Schemes
Business Hours
Email and SMS Notifications
Detailed Documentation
Demo Content Available with One Click Importer
Fully Translatable with .po / .mo Files
Valid HTML5 Code
Crossbrowser Compatible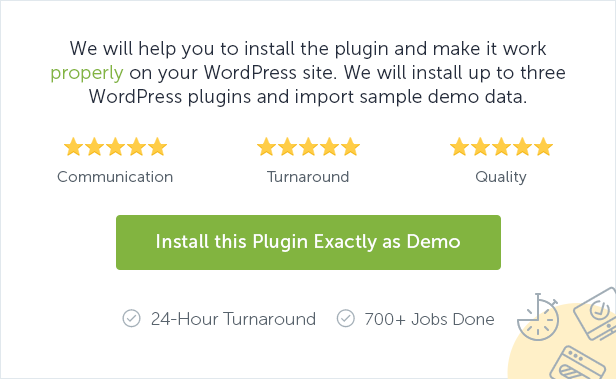 This Item is Supported
Support is conducted through our Support Forum. We're in GMT +1 and we aim to answer all questions within 24 hours in weekdays. In some cases the waiting time can be extended to 48 hours. Support requests sent during weekends or public holidays will be processed on next Monday or the next business day.
We Are Trusted by 100,000+ Customers
We are a team of passionate people with 15+ years of experience and 10+ years of our presence on Envato Market. We specialize in WordPress, design, and development. Please follow us to stay up to date as we continue to craft our works.
Updates
22.12.2020 – v1.6
11.12.2020 – v1.5
Added support for WP 5.6.
04.12.2020 – v1.4
Improved code,
Improved performance of the plugin,
Added several new options to manage payments,
Added option to hide billing details in step #3,
Updated Stripe payment gateway to the newest version of API.
31.08.2020 – v1.3
05.08.2020 – v1.2
04.08.2020 – v1.1
03.07.2020 – v1.0
[ad_2]
Source