[ad_1]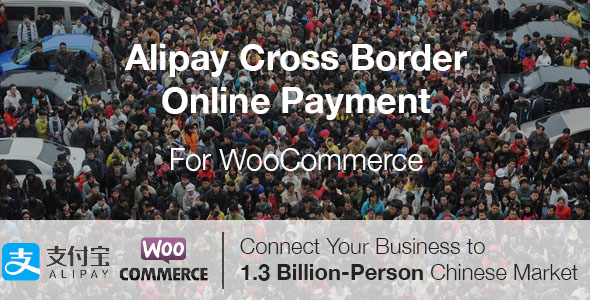 The Alipay Cross-Border Online Payment plugin for WooCommerce allows your business which is not in China to accept payment from the 1.3 billion-person China market.
With 700 million users, Alipay is the most-used payment gateway in China. Although your business is not in China, with the Alipay Cross-Border Online Payment plugin, your website will be able to accept payments from residents and businesses inside Mainland China using a payment method they are familiar and comfortable with. This will give you access to a massive potential customer base.
You may refer to the step-by-step demo at Youtube for more detail.
Supported Currency List
Your website can sell product using either of below currencies:
Australian Dollar, Canadian Dollar, Confederation Helvetica Franc, Danish Krone, Euro, British Sterling, Hong Kong Dollar, Japanese Yen, Korean Won, Norwegian Krone, New Zealand Dollar, Swedish Krona, Singapore Dollar, Thai Baht, U.S. Dollar, Russian Ruble
Note: Alipay user from China can pay with RMB. Alipay will auto convert these currencies to RMB in their payment page.
Key Features
Fully integrated into WooCommerce (with standard Woocommerce Payment Gateway Settings screen, adapted for Alipay).
Quick easy setup. Just enter your Alipay "Partner ID", "Security Code" and "Account Type" into the settings screen.
Supports multiple account types including Cross-Border (PC), Cross-Border (WAP), Cross-Border (AUTO Detect), AlipayHK (PC2Mobile), AlipayHK (WAP) and AlipayHK (AUTO Detect). The AUTO account type can auto redirect visitor to Alipay mobile or PC payment page based on their device. For Alipay Hong Kong Wallet, our plugin can supports customer from China and Hong Kong.
Always up-to-date, because we work and follow closely to any Alipay latest changes and update the plugin from time to time.
Fully supports the Alipay test account. The Merchant can use this to perform FREE test transactions using Alipay sandbox account to check that the plugin is setup and working correctly.
Complete user guide. The documentation will covers detail explaination of plugin features, setup & configuration, how to test and method of translation for Alipay payment page and more.
Security & privacy protection verified by professional staffs from CodeCanyon and customers as shown in comment section. Not storing any sensitive data elsewhere.
Premium and fast support within a day or latest by two. You are buying not only a piece of plugin, but also our service for support. This is the main reason why our customers like and choose our product.
Note: Please note that you must have an Alipay Cross Border Online Payment account (Global) in order to use this plugin. You may apply the account from Alipay
[ad_2]
Source