[ad_1]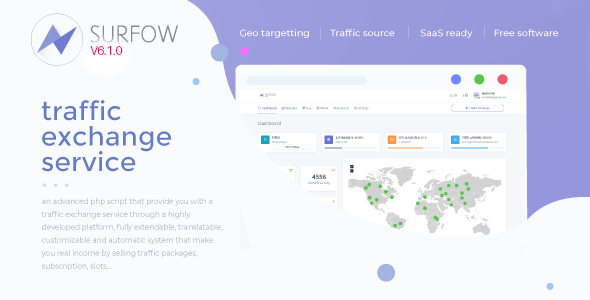 ADMIN DEMO / USER DEMO

SURFOW V6.1
it is the most advanced script available for traffic exchange, it function fully automatic with an integrated exchanger software for multiple platforms, Windows/macOS/linux, it quiqly provide you with a traffic exchange service for your clients, SaaS ready script which make it easy to generate real income by selling traffic packages, subscriptions, slots, fully customizable administration panel and user interface, built to perform fast and securely, it has a built in integration for : Paypal –
Authorize.Net –
Stripe –
2Checkout –
Robokassa –
Payza (EU) –
Coinpayments –
Coinify
, fully translatable with a 16 languages included, responsive and clean template, it comes with a homepage builder to let you customize the template of your homepage
PLEASE NOTE:

I'm here to inform you'll that surfow, for now, is not gonna work for regular users who just wanna click to install because it contains some issues, so you may face some technical issues, and I'm no longer offering support until I release SURFOW 7.0, so I don't advise you to buy it now if you don't know how to deal with those issues.

I'm going to do my best to list the most common issues and how to solve it in support page: https://codecanyon.net/item/surfow-v50-traffic-exchange-system/13557358/support
there is a lot of changes that happened and it causes that huge delay in the release, so I decided to go a step further and make something big and solid in version 7.0, so the script is not abandoned in any way and it is going to get much better.
but yet the script is still working if you know how to deal with the technical issues and the best proof is the demo (surfow.info) which is being hosted in a cheap hosting (namecheap.com) and it is the same code you get when you buy it now.
Regards, Hassan A.
Requirements:
To install Surfow V6.0 on your web server or hosting with main domain, make sure it meets these minimum requirements:
PHP 7.1.2 or higher
OpenSSL & Mod_Rewrite Module Enabled
PDO or MYSQLI installed
We greatly appreciate your 5-STAR POSITIVE review
please do NOT leave negative review without asking for help
Changelog:


------ Surfow V6.1 ------ 

>> fixing [bug] the blacklist/whitelist list functionality
>> adding ajax loading to the charts in user dashboard
>> adding latest payment to checking list
>> adding latest purchases to checking list
>> adding latest referrals to checking list
>> adding on/off reminder via email
>> adding confirmation of referrals after verified payment/deposite
>> fixing the permission issues
>> fixing issues in the default homepage template
>> fixing newsletters issue when you try to send emails for free users only
>> adding new homepage templates
>> adding new payment methods (cryptocurrency plugins)
>> and so much more...

------ Surfow V6.0 ------ 

>> Fixing all reported Bugs
>> Adding new features (software exchanger, wallet management, points reminder via email, new Design for both user interface and admin panel, live map, amnd so much more)

------ Surfow V5.0 ------ 

>> Fixing all reported Bugs
>> Adding new features (1ip per session, traffic source, custom useragent, browser extensions)
>> Updating the templates and documentation
>> use the extensions from the official stores

------ Surfow V3.0 - V4.0 - V4.0.1  ------ 

>> Fixing all reported Bugs
>> The installation become easy with a new documentation
>> Adding so many new features
>> Adding the social login

------ Surfow V2.1 ------ 

>> Fixing the referer source (now its working)
>> Adding the installation guides for browser extensions
>> Fix some issues in admin panel
>> Make the session more longer
>> Releasing new extensions at addons.surfow.info

------ Surfow V2.0 ------ 

>> Fixing some bugs.
>> Adding new features & new payment methods
>> improve the referral program
>> Fix the pagination issues in admin panel

------ Surfow V1.0  ------ 

>> Surfow says Hello to the world


[ad_2]
Source