[ad_1]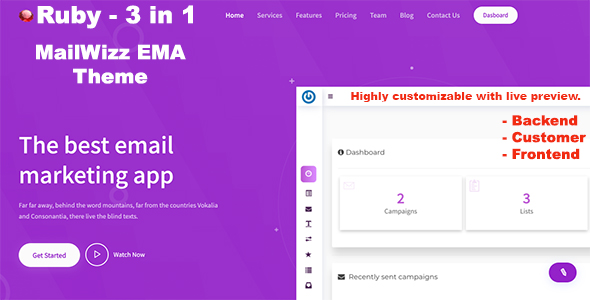 Ruby is a beautiful responsive modern theme for MailWizz EMA customer area, back-end (admin panel) and front-end (landing).
Spike your email business with modern front-end landing page and beautiful customer user interface (UI).
This theme is for MailWizz EMA powered
application! – a powerful
system for email marketing (SaaS and private use) with outstanding solid core.
MailWizz is highly extensible and scalable, high focus on core solidity leave us to deal with beautiful
interface.
Thanks to MailWizz extend-ability, it allow developers and business owners to add unlimited theme
customization
without
breaking the system.
We've developed Ruby for Mailwizz to give your Mailwizz instance a modern beautiful look and personalized
appearance.!
Even you customers can make their comfortable theming if you desire !.
Features
Theme option for backend (admin area), customer area and landing page with single license.
Personlized customer theming; you customer can make suitable layout and color if you permit this(from
admin theme settings).
Easy colouring and layout changing with fast instant preview
3 in 1; works for admin panel, customer panel and frontend.
Live customization with flash preview.
Light weight but powerful.
Comes with default theme that support dark and light mode.
Beautiful landing page easy full power customization and contact form.

Dynamic landing page content i.e change almost everything from backend.
Load pricing,blog, team e.t.c from backend.
Set custom webhook for contact form.
Add any custom js (i.e analytics) and css from backend.
Add color with live preview.
Boostrap 5 and highly responsive.
Questions/Support
MailWizz EMA from version 1.3.3.1 to latest version is required
We provide documentation with video illustration covering installation and usage.
We respond to your questions as fast as possible within few hours or days.
We dont provide refund for the theme after purchase, so confirm on demo site before purchase.
Any custom work including setup, installation and extension (that might require skilled hours) are not
free. You can hire us for this.
If you have existing theme aside default mailzwizz, we dont take responsibility for conflicting style
from third party theme. This theme is aimed to work perfectly along default mailWizz theme.
You can use the same theme in single purchase for backend, customer and the landing page.
Customer can make theme is allowed, but customer changes (without admin privilledge) will only be saved
to the customer current browser only.
View full documentation here
Demo
https://turnsaas.com/mailwizz/
Demo is in read only, you can make live preview but wont able to save.
Admin panel:
https://turnsaas.com/mailwizz/backend/index.php/guest/index
Email: admin@admin.com
Password: 123456
Customer panel.
https://turnsaas.com/mailwizz/customer/index.php/guest/index
Email: customer@customer.com
Password: 123456
Contact us on mail@turnsaas.com for support
CHANGE LOG
version 1.0 – 11/01/2022
[ad_2]
Source