[ad_1]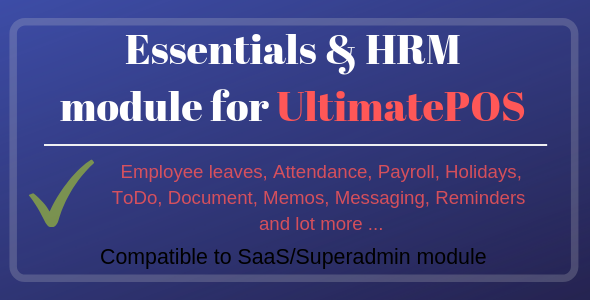 Support of this item is included with the support of UltimatePOS Advance
New release – V2.4 March 4, 2021
Before you Purchase: 
Note that this is not a Standalone application, it is an "Optional" extension to UltimatePOS Advance
This module is compatible with SaaS/Superadmin module.
UltimatePOS Advance is one in All Software with:
Stock or Inventory Management
POS (Point Of Sale)
Service & Invoicing 
It can be used for

All Services
Fashion & Clothing
Departmental Stores
Medical
Footwear, Liquor shops, Sanitary & Hardware
Salon & Spa
Home Appliances & Digital
Restaurants & many more …

Retails, WholeSale, Consulting.
Features in Essentials module for UltimatePOS:
Leaves management

Leave Type
Maximum leave counts
Leave count interval
Leave status – Added/Approved/Denied

Attendance

Clock-In & Clock-out
Clock-In, Clock-Out notes
Interval calculation

Payroll

Based on attendance
Allowances
Deductions
Payroll payment

Holidays

Holiday for a particular location or all locations.
Send notification to users.
ToDo List:

Add new to-do items
Mark items as completed.
Delete items
Date-Wise to-do list.

Document Storage & Sharing:

Easy document storage to cloud in your server.
Share documents with other users or other roles.
Download document.
Delete documents

Memos

Written message or short or Long notes.
Share with other users or roles
Delete

Reminders

Add reminder with event name, date, time.
One time reminder or Repeated reminder – every day or every week or every month
Nice calendar view.

Messaging

Send messages to everyone within your business.
Send to a particular location.
Permission to allow sending or only view in roles.

Compatible with SaaS/Superadmin module: Option to add this module as a part of subscription packages.
One Click installation.
Complete setup guide.
More updates coming soon…
Demo:
Link: https://pos.ultimatefosters.com/login?demo_type=essentials
Username: admin-essentials
Password: 12345
Support Link: http://ultimatefosters.com/support/
Complete Documentation: Document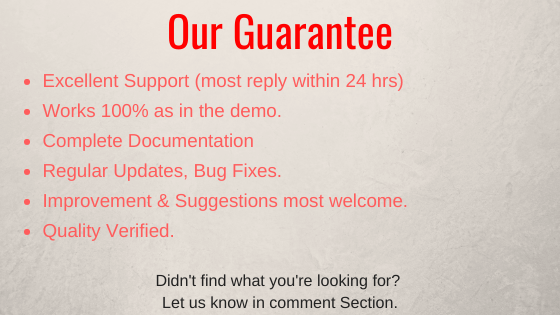 Version Log
New release – V2.3 Dec 31, 2020
Code improvement & fixes
New release – V2.2 Aug 25, 2020
NEW:New Dashboard
NEW: Add leave for multiple employees at once implemented
FIX: Clock out note issue fixed
Improvement: Department and designation added to payroll list
New release – V2.1 May 20, 2020
Users shift management: Create different shifts with start time, end time & holidays. Assign the shift to users based on their shift. The user will have to check-in in the assigned shift only.
Grace time before check-in, after check-in, before checkout, after check-out in shifts.
Improvements in admin adding of attendance of other users to allow adding different check-in & checkout time for each users
Import attendance from xls file.
Adding shift type: Fixed shift(fixed checkin-checkout time) & Flexible shift (fixed working hours)
Update designation error
New release – V2.0 February 27, 2020
Compatible with UltimatePOS 3.0
Many fixes & improvements
New release – V1.1 October 10, 2019
Permission for other users to approve leave.
Delete Payroll
Add pre-defined Allowances & Deductions for employees
Major improvements in To-Do: Assign to-do to other employee, Add Priority(Low, Medium,High, Urgent), Status (New, In-Progress, Hold, Completed), Start & End date, Estimated hours
Adding comments in To-Do
Document attachement to To-Do
New release – V1.0 August 7, 2019
Payment for Payroll
Deducting payroll payment in profit & loss report
IMPORTANT NOTE: before updating make sure you have version 2.15 of UltimatePOS released on august 7, 2019
V0.6, May 8, 2019
File size display in documents
Document viewer
Send notification to all users when message is sent.
V0.5
Initial Release
[ad_2]
Source