Description
LATEST VERSION: 5 SEPTEMBER 2020 – CHECK THE CHANGELOG
WPEvent – WooCommerce Event Ticket & Calendar Plugin is an easy-to-use, scalable and fully-featured event management plugin, which is designed to help you own a professional and user-friendly website, not only about event organization but also more. Because it has plenty of powerful features and able to customize to meet your needs.
WPEvent – WooCommerce Event Ticket & Calendar Plugin gives you the flexibility to create, manage and categorise events/classes on your website. Moreover, it supports a wide range of services provided by businesses, individuals that provide online booking services through websites. With this plugin, you can manage your services quickly and easily.
WPEvent – WooCommerce Event Ticket & Calendar Plugin is supporting PayPal, Stripe, SMS/Email notifications, reminders, manageable calendar, customizable templates, form-builder, multiple category levels, multiple vendor, multistore…and many other features. And the latest news, we are updating the feature of integration special WooCommerce for this plugin.
If you are interested in the product, please do not hesitate to contact us at project@netbaseteam.com, our support team will back to you shortly. WP Event Ticket & Calendar will make you satisfied.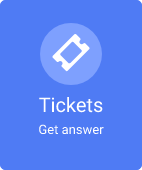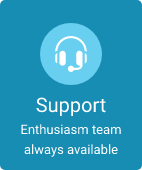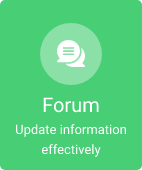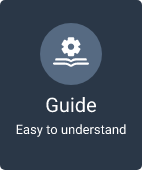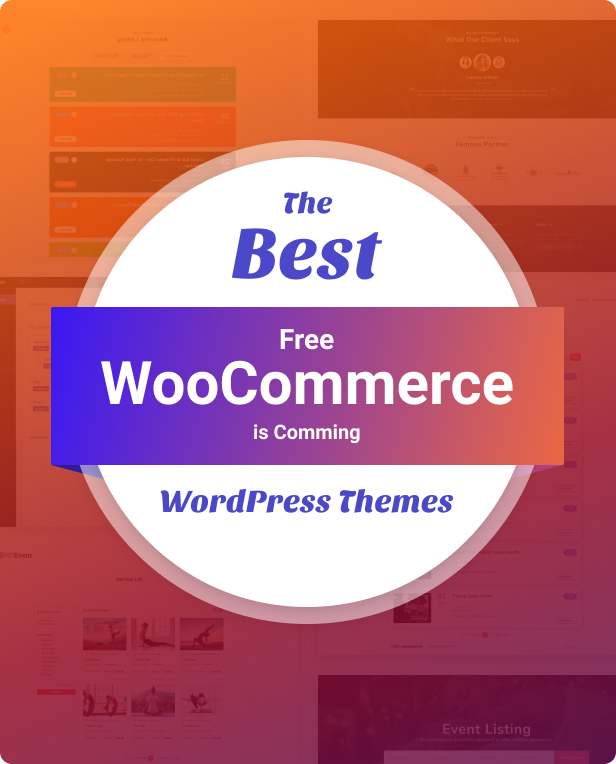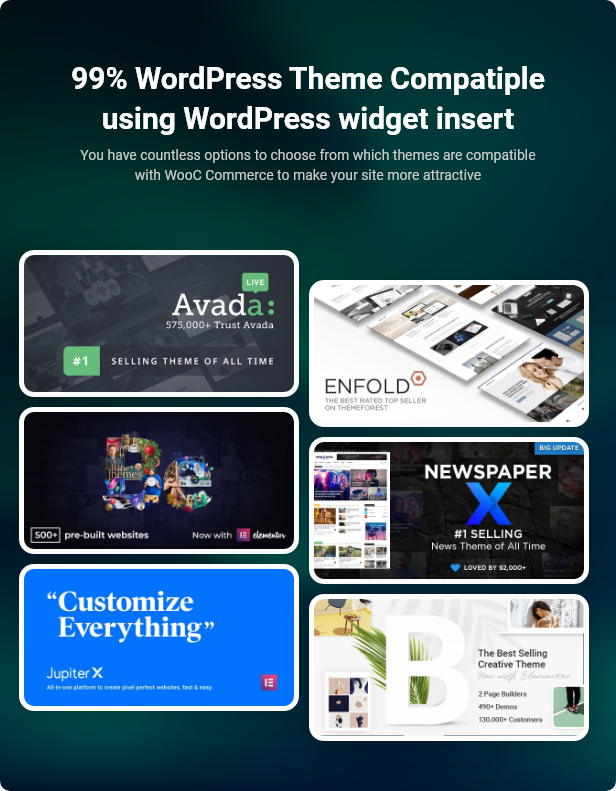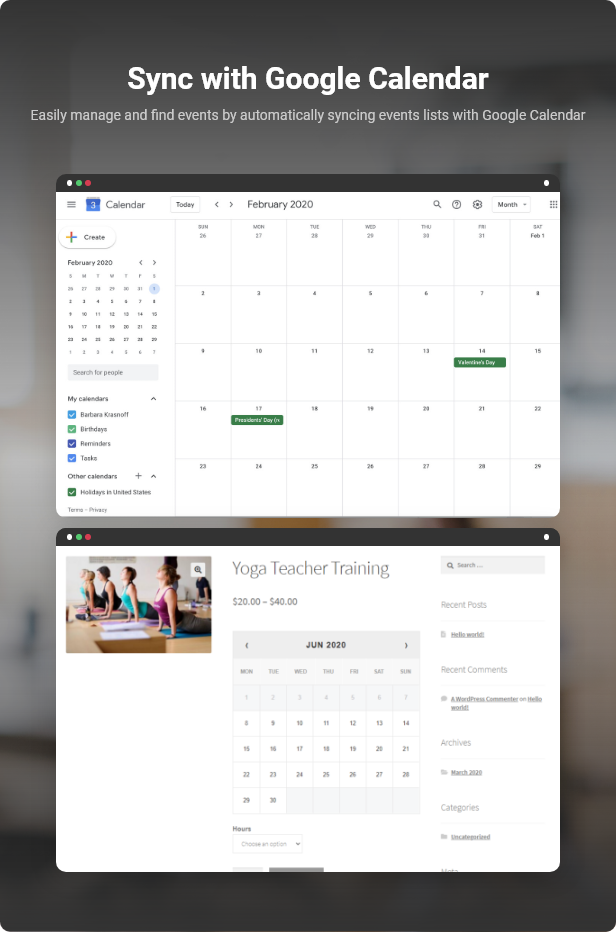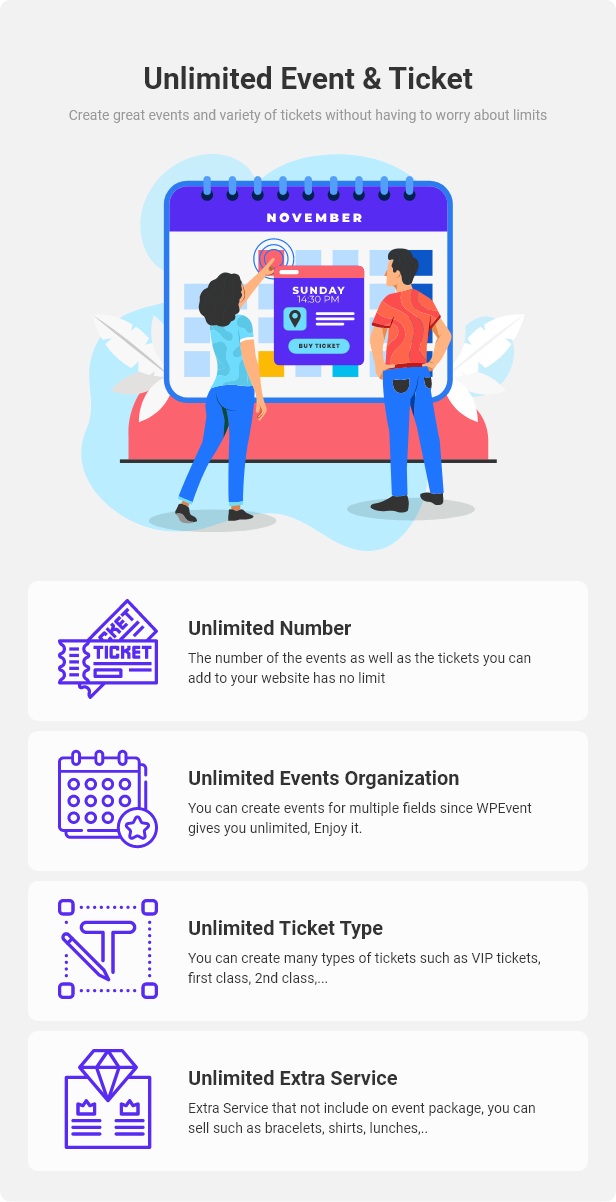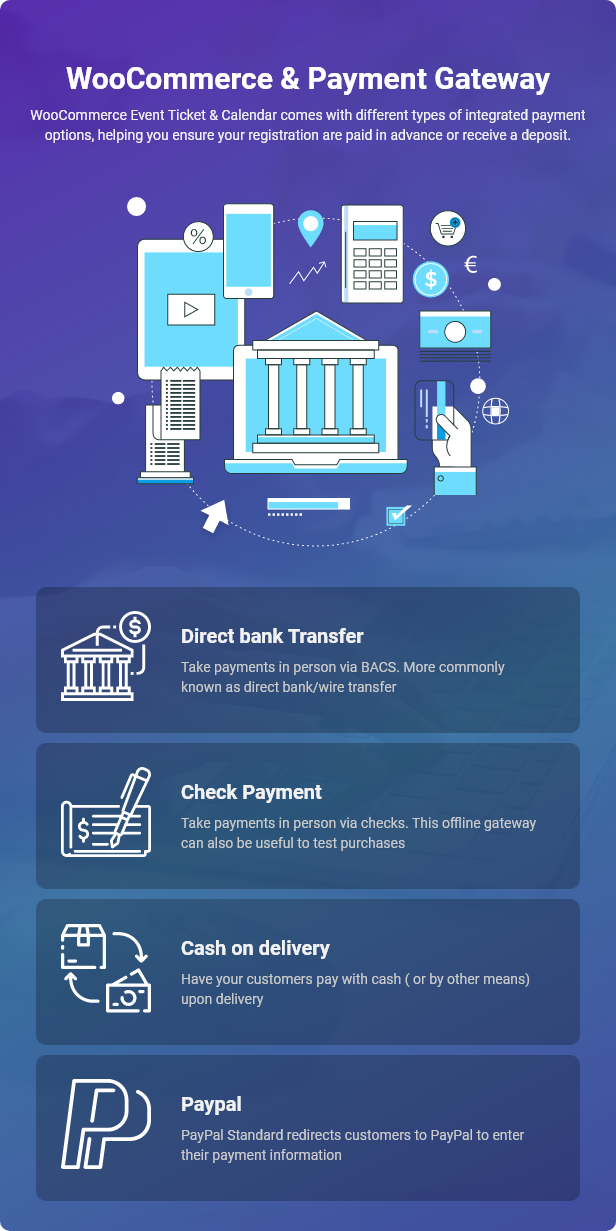 WHY USE WOOCOMMERCE EVENT TICKET & CALENDAR
WPEvent – WooCommerce Event Ticket & Calendar Plugin is a versatile scheduling software system. If you are a person who runs a chain of gyms and fitness club or other business like that and your business regularly organizes events and classes. Therefore, you want to create a website to help your customers easily find and participate the events, WPEvent has protected you. Great for anyone who requests a service.
WPEvent – WooCommerce Event Ticket & Calendar Plugin will bring many huge benefits as below:
No coding experience is required to set up WooCommerce Event Ticket & Calendar. Fully customizable WooCommerce Event Ticket & Calendar, you can easily change colours, labels, time slot layout without knowing HTML and CSS. We have done our best to make it as easy and fast as possible to install and start using it on your WordPress site.
For Attendees:
Friendly interface, easy navigation
Find all your events/classes at a glance on a calendar and in a list. Use dynamic filters, sorting, and custom columns
Customers need to fill out a simple registration form to participate in the event or classes
For Event Organizer:
Easily create one-time events or recurring events.
Website owner can set up time slot for sell and confirm/ reject the reservation
Display your event's calendar in WooCommerce product detail
Link automatically the booking list with Google Calendar to manage the operation of services team
TYPES OF SERVICES PROVIDER MUST USE THIS PRODUCT
Art & Sport: Convention and exhibition Centers, Fashion Brands, Sport clubs, Gaming Centers
Relaxation & Tourism: Homestay, Hostel, Hotel, Resort, Restaurants..
Entertainment venue: Nightclubs, Bar, Beer garden, Cinemas, Theaters, Music Organizations.
Medicine & Clinics: Medical Centers, Hospital, Home Health Agency.
Education & Class: Education Centers, Language Schools, Colleges, Universities, Coaching Centers.
Fitness & Gyms: Yoga Classes, Health Clubs, Fitness Centers, Dance Instructors; Aerobics Centers, Gyms, Swimming pools.
Professional Services: Tax Consultants, Insurance Agents, PR Services.
Training Institutes: Vehicle Training, Personality Development, Vocational Training.
Small and Mid-Size Businesses: Talkshows, Webinars, Seminars..
Consultancy & Services: Photography, Consulting Psychologist, Career Workshop.
Salon & Beauty: Hair Salons, Nail Salons, Cosmetology Centers.
HOW IT WORKS FOR SHOP OWNER
Using WP Booking Event & Calendar plugin is very easy by following 3 main steps as below:
Step 1. Install plugin: Plugins => Add New => Upload Plugin. Choose a file of this plugin to upload and install file
Step 2. Active plugin: After installing the plugin, you change the status of the plugin to a working state so you can use it.
Step 3. Config: Set up Configuration in the way you want.
or any other services which can be scheduled for events/classes and reserved online using the booking system.
ADVANCES SOLUTION ON ROADMAP
The booking form is fully customizable to suit your style and business. With this revolutionary booking plugin, you can:
Change the layout of each step in the booking process
Show or hide specific fields
Add new fields to the process
Change the colours to blend perfectly into your scheme
Reorder service provider list, categories list and list of services
Customize any of the text on the form.
Manage your customer base effortlessly
Don't let your client base get out of hand. With WP Event Ticket & Calendar, you get an unlimited, sortable and searchable customer list. But that's not all. You can also:
See booking and payment stats for each customer
Store internal notes about a customer
Add a new customer directly from the calendar
Create and assign WordPress accounts to customers
Delete associated WordPress account when deleting customers
customer lists
HOW IT WORK FOR ATTENDEES
For Attendees: With this WordPress scheduler plugin, your customers can easily register to attend the event / classes from anywhere from your website. They can search, view all your services, and choose the service that best suits them. No need for any call or meeting for the participation. Besides, this plugin allows your customers to easily determine the time, location and view details of service-related information.
Your customer can easily use WP Event Ticket & Calendar with steps below:
Step 1: Attendees can search for event / classes by choosing destinations, activities, experts or simply choose from the service list.
Step 2: Select the Time Slot, Experts or Other extra options and enter their information for booking confirmation.
Step 3: Booking confirmation by services provider manually or instantly
HOW IT WORK FOR SERVICES PROVIDER
For services provider: Admin can start creating services which can be provided to customers such as events, courses, meetings, trainings, consultations etc. WP Event Ticket & Calendar provides a powerful admin panel booking and services management tool with the help of this.
The administrators can easily change and customize the schedule settings for each service provider, staff members, schedule days and hours for the whole company and for each service provider separately. Admin can see the all events lists, customer data, payment transaction details information with filters on multiple criteria. WP Event Ticket & Calendar also provides an option to create and update events manually through the WP admin panel its help you to manage booking manually.
Using WP Appointment plugin is very easy by following 3 main steps as below:
Step 1: Install and Active Plugin
Step 2: Set up Category, Services Details and Team Detail with Time Slots
Step 3: Start receiving the orders
HIGHLIGHT FEATURES OF WOOCOMERCE EVENT TICKET & CALENDAR
Unlimited Event Ticket & Ticket: Unlimited number of events and tickets. Be it a talkshow or a live concert, our event plugin will make it easier to organize
Recurring Event, Event Reminder & SMS: Allows complex recurring patterns for events. Event reminder & SMS helps you not to miss any great events
WooCommerce & Payment Gateway: Integrated WooCommerce & Payment Gateway that helps attendees take payments with the provider that's right for them.
Multiple Listing & Detail Layout: Easily view details of service information and choose the service that best suits them.
Event Date, Location, Attendees: Each event page includes the event description, event date, Location on google map, event information, …
Advanced Event Management Panel: The feature that gives you the ability to solve problems in event management
Compatible with Any WP themes: You can use many types of themes to make your site more beautiful, more modern.
Sync with Google Calendar: Link automatically the event list with Google Calendar to set up event organization
FULL FEATURE LIST
Unlimited Event Ticket & Ticket
Unlimited services and clients
Unlimited colours
Unlimited variety of service suppliers
Difference view
Associate particular services to particular service providers
Set different service duration and buffer times
Single Event page
Set prices for different services
Easy to change colours for text and special elements
Recurring Events/Classes
Event Filter
Event Schedule
You can hide content, filters, labels and other info
Increase customers with great mobile registrations
Event calendar short-code and widget.
Custom time slots for vacation/closed dates and more.
Event Name & Event Description
Featured image displayed in the Plain List schedule and in the pop-up box
A powerful backend interface to manage registrations.
Customizable emails sent to you and your customers.
Front-end and admin are both fully responsive.
Customers can manage their account information.
Google Calendar API
Responsive Front-End Design
Simple WordPress and WooCommerce integration
Online Payment – PayPal integrated
Allow discount coupons
Each day calendar overview for all
Intuitive and Powerful Admin Panel
Email Templates – Editable e-mail notifications
Configurable e-mail reminders
Specific Time Bookings
Multiple Bookings
Edit Existing Bookings
Multi-User Functionality
Event Feedback's. Clients with attended the events can add feedback rating and comment. Staff can request a feedback.
Email notifications (Reminders, New Appointment, Appointment Cancelled, Request Cancellation, U pdated, Feedback notifications, Call-backs notifications)
Option to Edit, Delete, Cancel Events
Event Notes
Calendar type colour events in staff and client's area
It is a comprehensive booking event software, supporting:
Create custom events (classes, concerns, meetings, etc.) and allow your customers book their attendance through a nice & polished front-end event calendar.
Multiple services and service categories, Service Extras.
Keep your customers and employees notified and reminded of their appointments in real-time with SMS notifications.
WooCommerce integration.
Multiple business locations.
Special Days support – configure specific dates or date ranges with a different schedule.
COMING FEATURES
Define the number of clients each service provider can accept at once
Custom Fields for collecting custom information for every event.
Customized fields
Add to Google Calendar" buttons for your customers.
Customizable Form and Calendar
Loco Translate and WPML Compatible (POT File Included)
CUSTOMER SUPPORT AND BUSINESS HELP
Documentation & Tutorials: We provide detail tutorials online with Video user guides
Support (6 months included): For any technical and installation support, service assistance is available via live chat, phone call, and email assistance. We consider support to be just as important as the plugin itself. If you run into trouble, you can submit a ticket and we'll back to you as soon as possible (usually within 24 hours). If you need more support, you can extend it to 12 months at a discount when purchasing.
Presales Questions: Please feel free to contact us if you have any pre-sale queries or need assistance with your plugin installation/form setup, contact us at : sale@cmsmart.net
Customization & Full Project Development: For any advanced features requests or custom development of your Event Ticket & Calendar Project Website, please feel free to contact us at project@netbaseteam.com to discuss further.
Lifetime Updates: Your purchase on CodeCanyon includes updates for the life of the plugin. This means that if the plugin is updated with some amazing new features next week or in two years, you will get this update free of charge.
Customer Feedback & Review: If you have liked our service, then it would be really helpful if you can give us a 5-star rating on Codecanyon. We are constantly striving to provide great service to our clients and your review will motivate and help us to provide even better service in future to all our clients.
CONCLUSION
Responsive online booking & scheduling WordPress calendar booking plugin: fully customizable and translatable, notifications, Google Calendar sync, payment with Woocommerce, cart system, that allows your customers to check availability and make appointments for specific day(s) and time slots.
Is WPEvent the right booking plugin for your business?
You can only ask so much from a booking plugin, unless you're asking WP Event Ticket & Calendar. Unlimited customization, staff and customer management, fully automated – just a few reasons WooCommerce Event Ticket & Calendar Plugin is regarded as the best booking plugin for WordPress.
If you're ready to let clients register for an event on your website, it's time to choose WPEvent.
Just be sure you're ready to handle the mass of customers WooCommerce Event Ticket & Calendar Plugin is sure to reel in!
Get WPEvent – WooCommerce Event Ticket & Calendar Plugin now.
Thank you for reading. If you have any question please leave your feedback here project@cmsmart.net. And now, you can purchase this item in here: Check Out
Version 1.2.0 (5 September 2020)
+ Update order manager
+ Update event manager
+ Manager calendar employee
+ Integration woopanel
Version 1.1.0 (27 June 2020)
+ Change the structure of the plugin
+ Add google calendar
+ Appointment manage
+ Event manage
+ Event type manage
+ Employee manage
+ Location manage
+ and more feature
Version 1.0.0 (27 March 2020)
- Released
Source